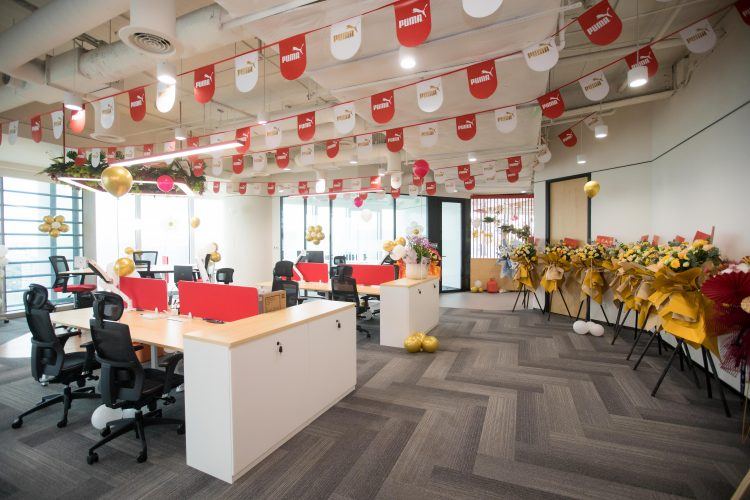 Grand Opening
PUMA Group Sourcing Opens a New Office in Xiamen, China
December 22, 2022
PUMA Group Sourcing Opens a New Office in Xiamen, China
December 22, 2022
Last month PUMA China celebrated the opening of their new office in Xiamen, China!

Located on the 28th floor of a seafront, sail-shaped complex in the heart of the Siming District, the new office is a new home for all footwear staff, product line management, labelling and packaging, and the footwear recreational center.

The office aligns with our offices in Vietnam to further develop and support the Chinese market and diversification across Asia. The production of footwear will remain in factory, but the other footwear teams can be found in the new office! The new home was celebrated with a grand opening with the footwear team from across the whole country as well as the cross functional teams in Xiamen.
Opening Ceremony
The office was officially opened on November 5th with a grand celebration! The global director of footwear sourcing and development Indy Sen was at the office to cut the ribbon with suppliers, while other global director of footwear sourcing and development Fabio Silva joined online for the celebrations. CSO Anne-Laure Descours and regional P&O director Sara Ng also joined online to congratulate and thank the teams and supply chain partners in China. It was a great moment for the team.
📍180-188, Yanwu Xi Road, Siming District, Xiamen
The office is located with an amazing sea view in the Siming District. In its close proximity are government institutions, corporations and lively sight-seeing areas.
Congrats on your new home, PUMAs!