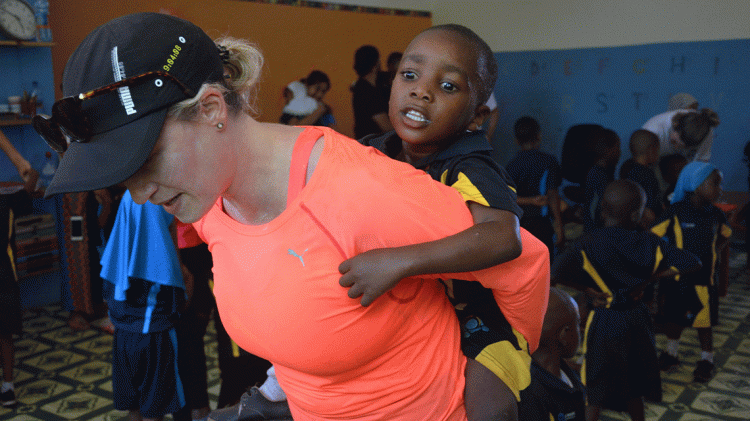 MAKING AN
IMPACT
PUMA employees made a positive impact on children's lives in Tanzania
December 23, 2021
PUMA employees made a positive impact on children's lives in Tanzania
December 23, 2021
A team of nine PUMA employees from PUMA Middle East cooperated with NGO CR HOPE Foundation and spent six days at a school ground in the village of Kizimkazi, in Zanzibar, Tanzania to make a positive impact on the kids' lives by providing underserved communities with on-site support and access to quality education.
We strongly believe that together we can do better! A team of nine PUMA employees from PUMA Middle East recently demonstrated they we can do this. Together with NGO CR HOPE Foundation, the PUMA volunteers spent almost a week at a school ground in Kizimkazi providing assistance in the classroom, participating in a local village clean-up,  handing out food donations to villagers and even doing a spot of manual work!  The large country in East Africa unfortunately remains a poor country, with a majority of the population struggling as subsistence farmers on semi-arid land. Thais Kelly, Manager Public Relations at PUMA says that this experience was one to not forget: "I have participated in most of our CSR initiatives since joining PUMA 3 years ago, but none have impacted me as much as volunteering at the CR Hope Foundation. Being able to implement our knowledge to help children and the wider community in Kizimkazi was an immense honor, and I have taken away important lessons on teamwork, determination and simply how to bring joy into my personal life and work space. I believe that this experience has also brought me closer to my colleagues and I will always remember it as one of my favorite projects working at PUMA." Nester Fernandez, Manager Purchasing at PUMA adds that these kids are much braver than they believe, stronger than they seem and way smarter than they think.
''In our busy lives, day and night we forget lot of things. The 7 days we spent in Zanzibar made me thankful''.
Every Year, we run one or two CSR initiatives, with the aim of making a difference in our local community. This time we decided we wanted to make a difference to the lives of those in need further afield. This is why we chose CR Hope Foundation. The foundation does a lot with very limited resources and I am very proud to have been part of the volunteer team and of the journey we made. It was a real eye opener to see how little some people have and yet how happy they can be- this is something that will stay with me forever".