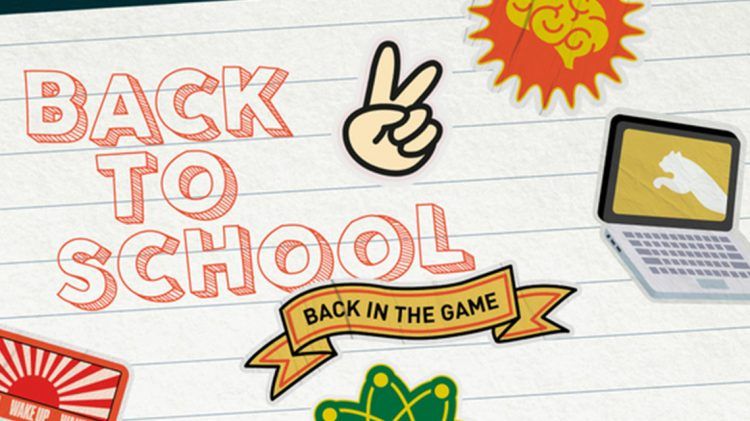 Kids, back
in the
game
PUMA employees kids take part in "BACK TO SCHOOL" video
August 3, 2020
PUMA employees kids take part in "BACK TO SCHOOL" video
August 3, 2020
During a challenging time for kids and parents with handling the COVID-19 pandemic,
Kids of PUMA employees volunteered

to take part in a

fun video

equipped with PUMA backpacks. 

Getting back to school in-style!

Life during the COVID-19 pandemic is and was difficult for parents and children alike. During that period, some of our PUMA parents were involved in a creative campaign with their children, filming a fun video with new PUMA backpacks. Check out the video! Now an increasing number of children are going to return to the classroom after the summer break. A welcoming step and exciting for many students that missed their friends. CATch Up asked PUMA parents that participated in our BACK TO SCHOOL video about the challenging time and what they and their kids look for the most with this re-start.
The BACK TO SCHOOL campaign was originally planned to be shot with models when suddenly coronavirus hit the world globally in March. We had to think outside of the box! Our Accessories team got in touch with a few parents from PUMA in the U.S, China, Russia and Germany. To our surprise, all kids and parents asked were happy to participate in the campaign. In a next step, we sent PUMA parents backpacks and a briefing for recording with their phones. As it turned out, it was a welcoming activity to do during lockdown – A clear win-win!
The video turned out A-M-A-Z-I-N-G!
Due to COVID-19, kids were not able to physically attend classes anymore. How did you and your child deal with this challenging circumstances? 
(Teresa Tayzon, Russia – General Management Team Russia & Ukraine)
Fortunately, the kindergarten that my son goes to started daily online Zoom classes so it was something Max looks forward to everyday as he was missing his friends and teachers. It was good as he was able to continue with lessons, reading, doing arts & crafts. I assisted him in these online classes for 3 months, everyday for an hour in the morning which I'm glad because I was able to see how he cope and progress. Though nothing really compares to face to face learning and interaction so I was very pleased that the school opened up two weeks before the summer break after the government eased up on distancing regulations. Max was very happy to see his classmates once again.
Did PUMA as an employer help you dealing with it? If so, how? 
(Andrea Eichenseer, Germany – Senior Product Line Manager Accessories)
Definitely!! PUMA was a great employer in that period. There was no issue with working from home as the infrastructure was already in place. As I still had to go to the office here and there to check samples etc.,  I had the chance to bring my daughter. We did not need the kids care, as Nelli is 11 already and had her homework she was busy with for a few hours. Lastly, and with a big thanks, we received a used laptop also for Nelli from PUMA. This was really amazing and we are very grateful! That made our day a lot easier!! 
The new school year hopefully starts after the summer break again. How do you and your kid prepare for it/ what are you looking for the most?
(Romy Paulisch, Germany – Senior Product Line Manager Accessories)
The situation has thought me not to prepare for anything but staying flexible. I hope that we can come back to normal school routine. Actually Ella is one week at school and the other week home schooling. Most of all we try to stay positive and see rather the good than the negative aspects of this special situation.
(Matías Infante, USA – Head of Strategic Partnerships and Consumer Insights)
Looking forward for several things! A quiet house to work for me and them seeing their friends again! We are also preparing them for the unexpected, and there might be cases where schools might be shut down a few weeks or more if there is a resurge in cases. We work with them, making them understand that this is a long fight against COVID-19, not a short one.