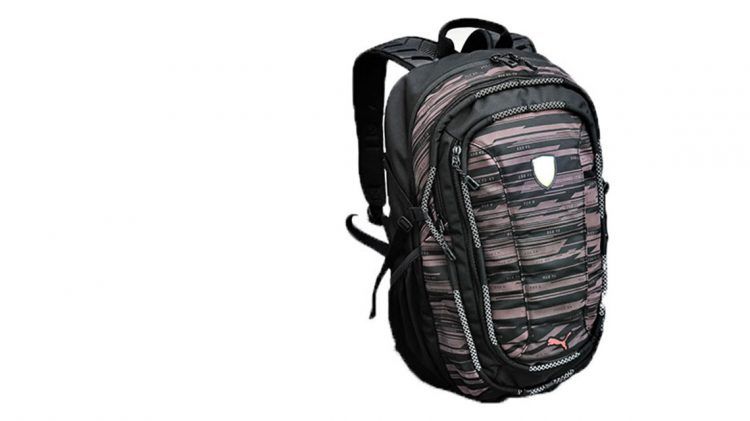 The
Backpack
that blushes
Innovative F1 Backpack wins Design Award
March 13, 2017
Innovative F1 Backpack wins Design Award
March 13, 2017
Whether it is night races in Malaysia in 40 degree Celsius heat, day races in the midday sun in Dubai or competing in heavy British rain: as a Formula 1 race driver, travelling and ever-changing environments are part of your lifestyle.
So it's good to have a brand that makes sure that even your belongings adapt quickly to another climate zone.
The PUMA Transform Backpack, winner of the IF Design Award 2017 in the category Sports / Outdoor / Bicycles, changes colour from black to red when it gets warmer than 20 degrees Celsius. "The idea behind the backpack was to create something adaptive and dynamic to adjust to the different climate zones that a Formula 1 driver has to go through," explains Gareth Bryn Lewis, Designer Accessories.
So Gareth and his colleagues started to look into thermo-reactive prints. "We picked a colour, in this case red, and printed a thermo-reactive pigment on top of it. This pigment basically goes see-through, when you add heat to it and reveals the colour underneath. In the Mexican sun, you would sport a red backpack, while in freezing Europe, it would go back to black."
Funny to see that the backpack even changes colour when you place your hand on it. "That was the hardest part of the development," Gareth says. "With the first sample, we had to hold a hair dryer for five minutes before it worked, and now you simply touch it and it's red."
To make sure that the wearer stays visible at night, the team integrated reflective ropes.
But even more uniqe are the shoulder straps, Gareth adds. "As a sneaker brand, we are famous for making EVA molded outsoles for shoes, so I was really interested in how we can make this relevant for Accessories. I looked into the IGNITE toolings and whatever they were doing to build advanced running shoes." The outcome was an EVA (Ethylene Vinyl Acetate) molded shoulder strap, which Gareth thinks is unique in the market. EVA is the most common cushioning material used for sports shoes. It is light weight, resists compression, is available in almost any color, and is easily formed. "We used the foam, which usually goes into the shoes, to carry your things and weight loadings, so it is lightweight, provides much better comfort, and is simply unique."
No wonder that the innovative backpack impressed the 58-member jury, made up of independent experts from all over the world and emerged as the winner among 5,500 entries.
Well deserved, we think!
.