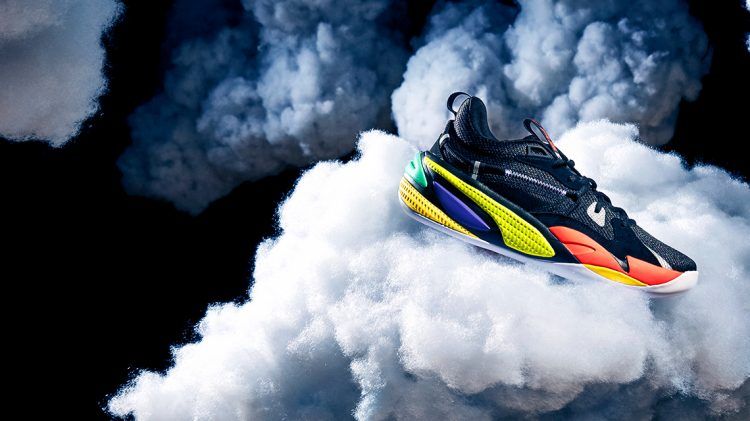 RS-Dreamer
inspired by J.Cole's
audacious dreams
PUMA debuts J.Cole's first signature basketball sneaker, the RS-Dreamer
July 28, 2020
PUMA debuts J.Cole's first signature basketball sneaker, the RS-Dreamer
July 28, 2020
With the NBA 2019-20 season comeback, 
J. Cole's signature PUMA sneaker

has begun popping up on court, worn by PUMA Hoops team members. The new RS-Dreamer kicked off at the league's 'Orlando Bubble'.

This first signature basketball sneaker is intended to be worn both on and off the court – equipped with the latest technology, while having a fashion-forward and disruptive design.
Over the years, basketball shoes have progressed greatly in their level of technology and comfort but have strayed too far away from designs stylish enough for cultural relevancy. The Dreamer hopes to change that reality. The highest level of on-court performance meets the highest level of aesthetic design for daily wear. Once again, you can hoop in the same shoes you wore outside.
The RS-Dreamer will be worn on the court by PUMA Hoops athletes such as Kyle Kuzma, DeAndre Ayton and Danny Green as they ramp up for their respective returns to play this summer.
View this post on Instagram
The Los Angeles Lakers grabbed their first win of the scrimmage against Orlando Magic. With a 119-112 scoreline,  PUMA Hoops team member Kyle Kuzma came out on top as the lead scorer in his new RS-Dreamer.
The RS-Dreamer is a new silhouette that leverages the brand's running system "RS foam" and innovative RS technology for superior on-court mobility. Other RS-Dreamer benefits include enhanced durability and traction, a disruptive cord lacing system and PUMA's signature ProFoam in the midsole for rebound and energy return.
View this post on Instagram
New RS-Dreamer worn by DeAndre Ayton.
The RS-Dreamer will be available exclusively in PUMA stores and online at PUMA.com starting Friday, July 31. Additional iterations of the RS-Dreamer are slated to release throughout 2020.