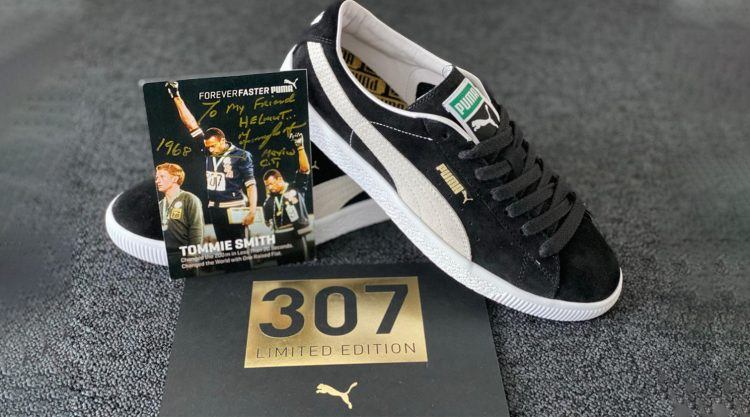 FOR
ALL
TIME
PUMA creates limited edition pair to celebrate legacy of Tommie Smith and the Suede
October 16, 2020
PUMA creates limited edition pair to celebrate legacy of Tommie Smith and the Suede
October 16, 2020
Only
307

numbered pairs were created! PUMA has recently shared a limited edition of the

iconic Suede silhouette

with brand ambassadors, athletes, and key partners – created to commemorate

Tommie Smith's legacy

and his fight for 

universal equality.

The Suede was first worn during the 1968 Summer Olympics. Tommie had his shoes next to him on the podium as he rose his fist, standing up for justice and equality – considered as one of the most iconic and symbolic moments in sporting history. From that day forward, the PUMA Suede became an icon; a shoe made to last for all time.
To me, the historic chapter of the PUMA shoe was the personality of the people that wore it and the notoriety that it brought to me by helping my family out, and now, I'm part of that family – that's why I put it on a high mark.
The Suede hit the scene in 1968 and has been changing the game ever since. While many sneakers have come and gone since then – leaving footprints of varying sizes – it's difficult to argue any shoe having as much of a deep-rooted impact on society and culture as the Suede. From Tommie Smith's protest on the victory stand during the 1968 Olympic games to b-boy crews in NYC adopting the shoe in the 1980s. It's been worn by the icons of every generation – and it's stayed classic through it all. The PUMA Suede is an icon for everyone. With the Suede VTG, PUMA is keeping the model as close as possible to its original predecessors, including a shorter vamp, no SUEDE logo on the quarter and raw edge tongue construction.
The Suede VTG MII 1968 pays homage to the release year of the Suede in 1968 in a premium Made in Italy execution with a premium suede upper and soft real leather lining. Golden metal lace tips round off the pack.
This timeless pair is made to last a lifetime – because true classics are For All Time.