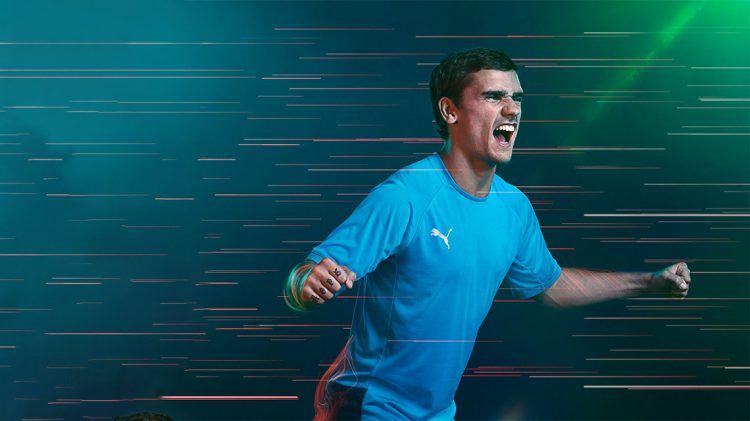 Reaching
New Levels
PUMA showed strong growth in 2018
February 14, 2019
PUMA showed strong growth in 2018
February 14, 2019
2018

was a great year for PUMA. It was a year in which we reached "New Levels", we continued to "Defy" convention and

we worked hard

to be "Forever Faster" every day.
We made a huge splash by re-entering basketball, our football players Antoine Griezmann and Romelu Lukaku were among the top scorers at the FIFA World Cup in Russia and in Motorsport, our partnered teams once again dominated the Formula 1 season.
We also signed up new brand ambassadors such as supermodel Adriana Lima and some of the world's top football players such as Luis Suarez and David Silva.
Our 2018 results, which were announced this morning, reflected our efforts in all of our business areas and are something we can be proud off. After breaching the 4-billion-euro sales mark in 2017, we expanded our sales by another 17.6% in 2018, when adjusted for volatile currency effects, to total 4.65 billion.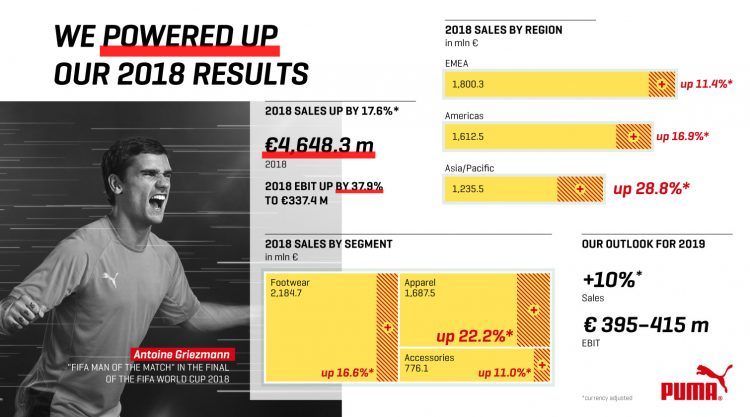 In terms of geographies, the Asia/Pacific region was the fastest growing area for our business, with a sales increase of about a quarter compared to last year. Adjusted for the currency impact, all of our areas grew sales by double digits in 2018.
Apparel overtook Footwear as the fastest growing segment in 2018, as especially "Big Logo" items and new launches in Teamsport and Motorsport did well. But Footwear rebounded strongly in the fourth quarter and continues to be our largest segment in terms of sales. We have now seen growth in our Footwear business for 18 quarters in a row!
Keeping costs low, our operating margin improved to 7.3 % of sales, which means our earnings before interests and taxes increased by more than a third compared to 2017.
We are well on our way towards our target of reaching a 10 % operating margin in the medium term.
As we start 2019, we are confident that our strategy continues to bear fruit and we expect sales to grow by 10 %, adjusted for currency fluctuations, and earnings before interest and tax to come in between 395 and 415 million euros.