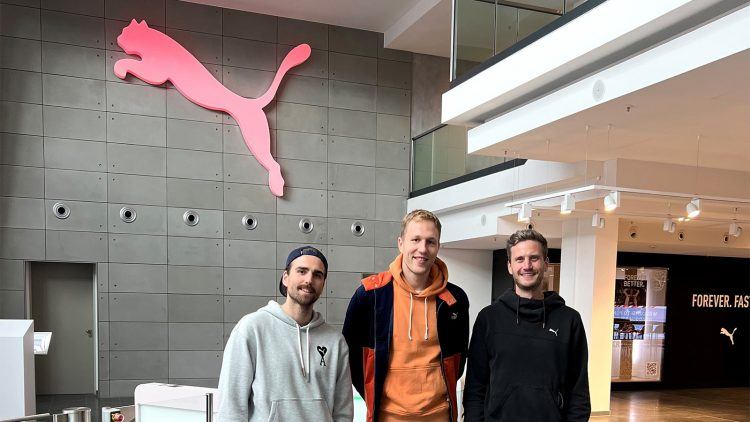 Power forward 🏀
PUMA BASKETBALL PLAYER AND EUROPEAN BRONZE MEDALIST CHRISTIAN SENGFELDER VISITS PUMA HEADQUARTERS
October 12, 2022
PUMA BASKETBALL PLAYER AND EUROPEAN BRONZE MEDALIST CHRISTIAN SENGFELDER VISITS PUMA HEADQUARTERS
October 12, 2022
After a successful tournament that was crowned with a
third place at the FIBA EuroBasket 2022

in Germany, Chris Sengfelder from  Bundesliga & PUMA team Brose Bamberg visited our headquarters in Herzogenaurach. CATch up talked to him about the tournament, his favourite PUMA products, Dennis Schröder and his expectations for the Bundesliga season 2022/23.
Chris, the European Championship just took place, how was the tournament for you? How did you perceive it?
Chris: It was always a dream of mine to play such a tournament in my home country. Since I come from Leverkusen, it was also special to play in Cologne. I have a lot of good memories connected with my youth. The venue was sold out every time, we also played very good basketball and to finish with bronze was just the icing on the cake.
Was the atmosphere good from the beginning or did it get better from game to game?
Chris: It was relatively good from the beginning.At first we didn't show our best performance against the Netherlands and Belgium, but then we fought our way more and more into the tournament. When it started, we basically had two goals: to finish the World Cup qualifying with two wins and to get a medal. We firmly believed in that and finally achieved it. Of course, we wanted another medal, and the loss to Spain still hurts, but finishing third and getting through the group stage was definitely a Herculean task.
What was your highlight?
Chris: First, the opening game, before which you are naturally on fire. Then there was Dirk Nowitzki´s jersey ceremony before the game. It was also the first time I met him – a real goosebump moment.
Did you get a chance to talk to him?
Chris: No, we just said hi, he came by when we were celebrating at the hotel after the third place game. He seems like a very cool guy. Personally, I thought the atmosphere at the game against Lithuania was the best. The game against Hungary was also special because I used to live and play there.
A major German news channel covered the Hungary game and published a picture of you after the game. Did you see it?
Chris: Yes, that was great! Normally I always get my news of that page. Apart from that, I think the basketball game against Spain was a top game.
The level was very good, but unfortunately with a disappointing result for us. It was weird because we had the upper hand for a big period and then the last ten minutes we did not focus anymore.
Do you consider Spain as your hardest opponent?
Chris: I think tactically Spain was the most diverse and an incredible unit.
We just welcomed NBA player Dennis Schröder to the PUMA family…
Chris: Yes, he's a great guy and behaves in a very exemplary way. He shows up on time, pushes himself in training, motivates and inspires people. A real leader, like Johannes Voigtmann, who also leads by example.
Does he also ask you about PUMA products like our shoes?
Chris: Of course. I've been playing with the court rider, and he was curious what I think of it. During the tournament I mainly wore the MB1 Lo White and I'm a big fan of that.
Do you have a favourite PUMA product?
Chris: The college jacket in red, blue, beige with a big P on it. Otherwise, I like to wear PUMA sneakers. I'm also a big fan of the golf collection, it looks very chic.
The season with Brose Bamberg is starting, what are the goals? What can you expect?
Chris: We want to get into the playoffs, preferably with home advantage, and then get past the first round. That has to be the goal. Last year we had a very strong opponent in Alba Berlin, but this round the goal is to get into the second round.
In the cup it's against Bayern – another exciting game?
Chris: Exactly, just like last year. This year we play in Bamberg, but we expect a tough game.
Good luck for that and many thanks for the interview, Chris!