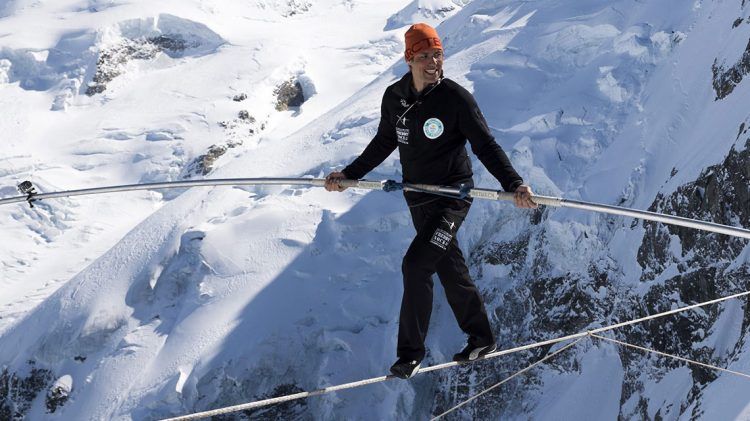 From Peak
to Peak!
When PUMA balanced to New Heights
March 20, 2017
When PUMA balanced to New Heights
March 20, 2017
Did you know that PUMA shoes made it once into the book of
Guinness World Records?

On this day two years ago, the Swiss world record holder and acrobat Freddy Nock redefined the limits of tightrope walking and manifested his name in the book of Guinness World Records. PUMA somewhat played its fair part too – well,

PUMA shoes at least

.
Wearing PUMA shoes, the father of five ascended to roughly 3500 metres and pulled off a breath-taking stunt. Fixing his tightrope between the two Mountains of Piz Bernina and Piz Prievlus in Switzerland, he balanced his way from side to side, leaving behind an exceptional distance of 347 metres. If that doesn't sound crazy enough yet, then you'll probably love the plot-twist that Nock had in store for spectators!
That morning, Freddy Nock decided to break with conventions and threw aside the idea of wearing a special helmet with light-protective visors, literally causing him to walk the tightrope blindly. It took him a good 25 minutes to complete this more than circus-worthy performance.
PUMA is proud to have been able to provide a reassuring shoe choice and still look back in awe as we remember the 20th of March 2015.