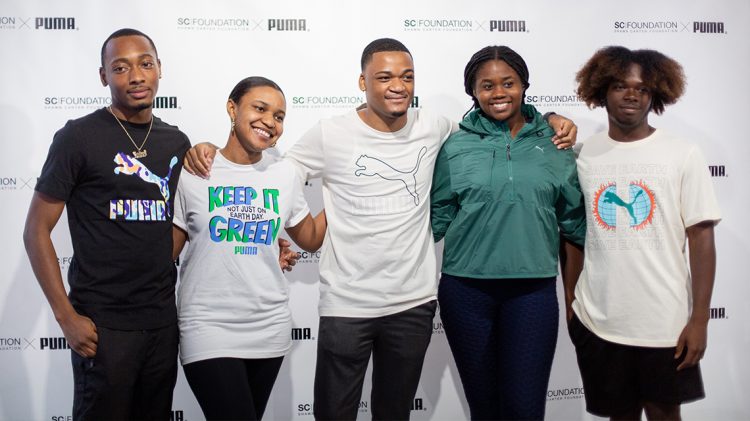 #REFORM
Shawn Carter
Foundation
X PUMA
SCF X PUMA CREATIVE STORYTELLING CHALLENGE
August 16, 2021
SCF X PUMA CREATIVE STORYTELLING CHALLENGE
August 16, 2021
PUMA and The Shawn Carter Foundation (SCF) partner to give students the chance to show off their creativity, individuality, and storytelling skills through the creation of a t-shirt design inspired by their definition of Shawn Carter Foundation pride, and educational equity. 12 finalists were personally and virtually invited to our PUMA NYC Flagship store to press their designs and to meet Dr. Gloria Carter.
We had a chat with project coordinator Chief Johnson (Senior Manager, Brand Activations/REFORM at PUMA) to learn more about the creative storytelling challenge.
Chief, how did the partnership with the SCF come about?
Chief: Jay-Z came to us with a few ideas, and one of them was a design contest. There were a lot of good ideas. That one we thought could be really cool because you get a chance to engage with people that are not necessarily coming from designing. We worked for a few months trying to figure out how the contest could look like and what it would look like in the product. We landed on this one with the t-shirt for now.
What was the creative task?
Chief: The premise of it was to design a t-shirt that showcases your vision for empowering and inspiring our future leaders in a positive way. It could be based around the Shawn Carter Foundation.
It could be based on education. It could be just anything that inspires you. We got tons of submissions and the majority of people that submitted it wrote a brief behind, what their design meant and what the foundation meant to them. I think it was a great way to create energy and excitement around the partnership, but also to our chance to lean into to these students and kids. Some of these kids go to college. They might want to do PR, they may want to do sales, they may want to do other things. I think this is our opportunity to infuse some space to discuss education and also employment. Diversifying work staff is an extremely important topic and I think this is a great opportunity to work with students that are high school or college who may be looking for jobs in the near future and show them what it's all about.
Hear about the experience from all of our 12 finalists
Is the contest still ongoing?
Chief:  The contest is closed and we landed on 12 finalists. Those 12 finalists took a field trip to the PUMA flagship in New York City. They printed all their designs live on site and could see the process of that. Two of these finalists will be selected to win a $5,000 cash award and a $1,000 gift card and will have their designs produced and sold by PUMA. They will also get to take part in a mentoring session with PUMA designers to create a marketing rollout plan to launch their custom t-shirt design to be sold in stores and online, with net proceeds supporting the Shawn Carter Foundation.
We can´t wait to see the winning designs in the store. Thank you very much, Chief!