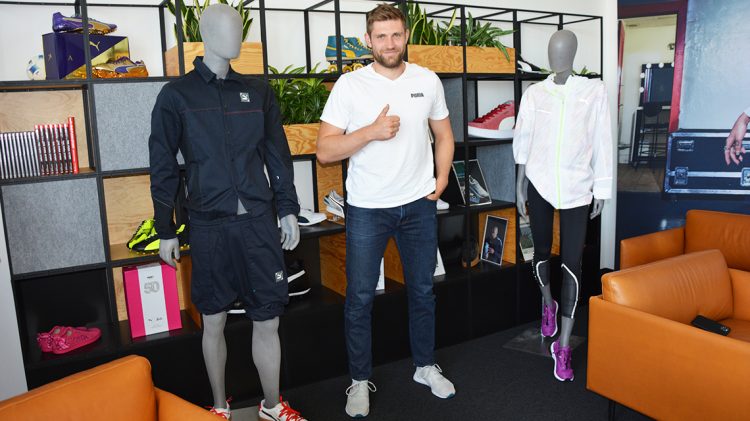 ONLY SEE GREAT
"I feel like I was
born with ice skates."
´Only See Great´ Interview with PUMA Athlete Leon Draisaitl
August 5, 2021
´Only See Great´ Interview with PUMA Athlete Leon Draisaitl
August 5, 2021
Leon Draisaitl is PUMA's first NHL ice hockey player and part of the PUMA family since June this year. This week the NHL All-Star visited the PUMA headquarters in Herzogenaurach. We took the chance and asked the Edmonton Oilers forward about his career in the NHL, his greatest achievment so far and about his favorite music in the locker room.

Your father was also an ice hockey player, when was the first time you put on ice skates?
Leon: I feel like I was born with ice skates. Like you said, my dad was a fairly good hockey player himself. He had a long career. It was kind of always meant to be and always in the family. So, I don't know the exact age, but I was very young the first time I put on skates.
You are playing in the NHL now for the seventh year. How is it to play in the strongest ice hockey league?
Leon: It's great. I mean, it's what I dreamed of doing and it's always been my goal in life to to play in the NHL and obviously to be able to do that is very special to me. It means a lot. My dream became reality, so I really can't complain.
What fascinates you about the sport?
Leon: I think it's just the competitive edge about it, the speed while you're going up against big guys. I think hockey's a very respectable sport where no one wants to hurt anyone. But it's a physical sport and while its physical you still have to be very coordinated. There are a lot of things that go into hockey that make it a very fascinating sport.
How often do you train during the week?
Leon: Every day. Every once in a while we get a day off when the schedule is very tight. But, for the most part I'm on skates every day.
Can you recall the key moment when you first felt you had achieved success?
Leon: The first moment was probably when I was drafted. It was a big step. The next one was when I played my first NHL game and then more and more and when I won some trophies. At one point, I think I just accepted that I had arrived in the NHL and that I am part of the best league in the world.
What has been the greatest moment in your career so far?
Leon: That is probably the win of the trophies last season. Also, winning the German Athlete of the Year award is very special to me. The play offs in 2017 were a lot of fun. There are a lot of great memories.
Why have you decided to become a PUMA athlete?
Leon: I think it is a great fit. PUMA is a company that lives by a slogan that matches very well with hockey. Forever Faster. I think it just works very well with hockey and that's how I live my life too. What I love doing is being involved in fast, exhilarating things, I guess. PUMA is a strong brand and to be able to be a part the PUMA family is very special to me.
Apart from ice hockey, is there another sport you are into, or you like to watch?
Leon: I'm fascinated by every sport. I think it's very, very fun to watch every sport at the highest level and see how players compete and how they prepare.
Now a more personal question – is there a certain playlist you listen to in the locker room before the game?
Leon: Yes, some songs from Cologne, Germany – Carnival songs. No honestly, I'm open minded to all kinds of music.
Thank you very much, Leon.