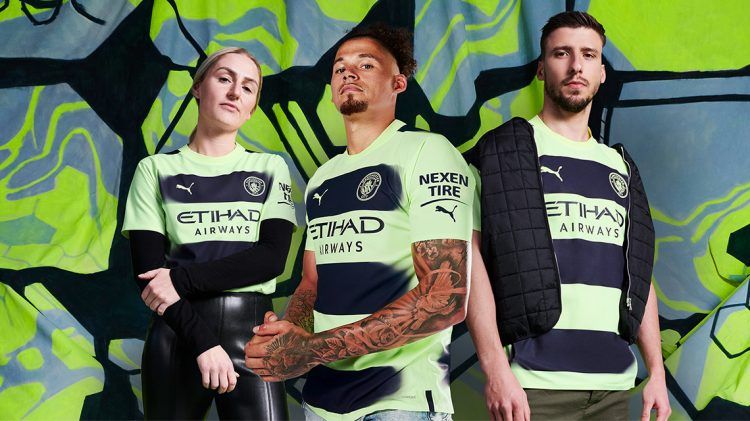 Our first
ever METAVERSE kit launch
PUMA AND MANCHESTER CITY HOST THEIR FIRST EVER METAVERSE KIT LAUNCH TO UNVEIL THE NEW 2022/23 THIRD KIT
August 4, 2022
PUMA AND MANCHESTER CITY HOST THEIR FIRST EVER METAVERSE KIT LAUNCH TO UNVEIL THE NEW 2022/23 THIRD KIT
August 4, 2022
This is the next level! We are proud to let you know about our 2022/23 Manchester City Third kit launch in the Metaverse. Our vibrant new kit was unveiled yesterday for the first time on Roblox (online game platform). Players had the opportunity to explore and interact with the new kit in the PUMA and the Land of Games experience. The new Third jersey revealed in the experience celebrates Manchester creativity with a Fizzy Light and Parisian Night Color palette featuring bold details inspired by the city's street art. Take a look!
The special Metaverse event featured a Manchester City reskin of the current lobby and stadium in PUMA and the Land of Games and for a limited time only, the experience will also feature the Manchester City Home and Third kits. The event brings also new community-created merchandise, new in-experience, Layered Clothing items and updates to featured activities.
"We're thrilled to continue evolving our experience within Roblox with our PUMA and the Land of Games. We couldn't think of a better partner than Manchester City and this kit launch to push the limits by doing something different and innovative. As we continue to test and learn in the Web3 space, we are looking forward to leveraging Roblox as a platform to connect with fans of all ages."
Ivan Dashkov, Creative Culture Director at PUMA
Additionally, for the first two weeks of the launch, users who compete and win in Football Rush in PUMA and the Land of Games are able to redeem a free digital Manchester City Third kit jersey.
THE NEW THIRD KIT –  THE DESIGN IDEA
The Manchester City Third jersey features a hooped design drawing inspiration from the Manchester Worker Bee, a symbol of Mancunian character that found its way from the Manchester coat of arms to the city streets, walls and galleries. For the final touch, the hoops are treated with a special spray paint effect paying tribute to the creativity and artistry synonymous with Manchester.