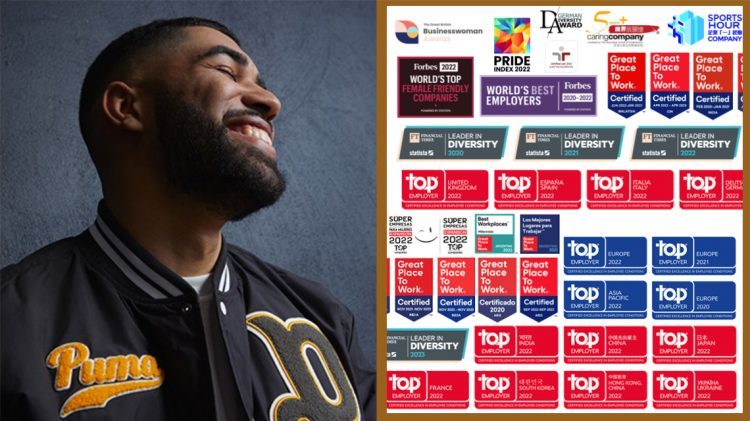 Top and on track
Proud to be a PUMA; Our Employer Awards in 2022
December 22, 2022
Proud to be a PUMA; Our Employer Awards in 2022
December 22, 2022
Big applause PUMA Fam!  clap 👏 All your efforts in 2022 have been recognised also by external institutions and organisations ranking us Top Employer, Leader in Diversity, Best Place To Work and World's Best Employer, just to mention a few. Offering a workplace where our employees can develop, grow and take on new opportunities, is one of our top priorities.
Forbes partnered up with market research company Statista to create the World's Best Employers certification. We are proud to be recognized among the Top 25 companies in 2022.
The work culture at PUMA is unique and driven by our employees. Especially during the COVID-19 pandemic, our culture clearly helped us to make fast decisions, be agile, and have the resilience and trust in one another to find new solutions and ways of working. A key factor is the diversity of our teams and the ongoing effort to ensure that communication with all our employees is transparent and swift.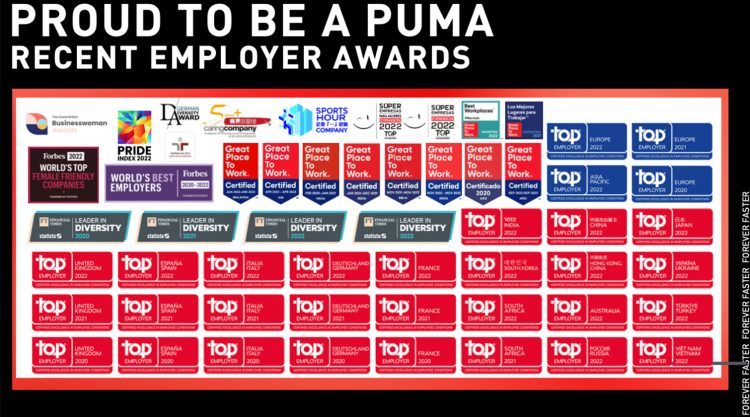 Being recognized as one of Europe's Leaders in Diversity for the fourth year in a row by The Financial Times mirrors our efforts to create a diverse, equal and inclusive company culture.
Our dedication to provide the best work environment for our employees has also been awarded with receipt of "Top Employer" in 16 PUMA subsidiaries, including Ukraine, Japan, India, China, South Korea as well as Europe and Asia Pacific as a whole.