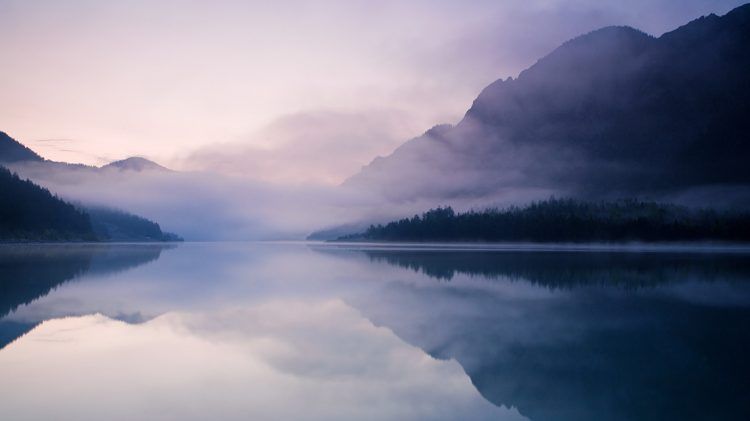 Mindfulness
A beginner's guide
February 11, 2018
A beginner's guide
February 11, 2018
Most of us are used to living fast-paced lives. Juggling jobs, social lives, everyday obligations and (self-imposed) pressure to perform can be tiresome. When feeling exhausted becomes the norm, the
desire to take a break

seems to be inevitable. Do you feel like you need to take a break as well? The magic word might be

"mindfulness"

.
There is no textbook definition of mindfulness. At the core, mindfulness means to be fully present. Further, it describes a state of being "in the moment" – truly aware of your feelings, thoughts and external happenings. For most people, this is far from second nature. Worrying about tomorrow, stewing over yesterday, going through your mental to-do list – this is the kind of internalized way of pondering that takes you out of the moment. Practicing mindfulness can help us to keep the daily stress at bay. Dr. Britta Hölzel, a neuroscientist and qualified psychologist from the Institute of mindfulness and mediation in Munich, elaborates: "Through systematic practice, mindfulness can help us to remain centered on what is important despite distractions, to remain balanced in the face of challenging situations, and to act from a place of greater creativity and compassion in today's fast-paced world".
Mindfulness is directly linked to meditation. Meditation stems from the Latin word "meditatio", which means "to contemplate" or "to ponder". The practice of meditating is meant to promote mindfulness and serenity through a vast set of exercises in concentration and awareness, e.g. through controlled breathing. Millions of people around the globe swear by meditation and companies such as PUMA have realised the potential benefits regular meditation can offer their employees. Roman Klein, Head of Human Resources & Strategic HR Development at PUMA, emphasises that "the effects of a regular meditation practice are: clear thinking and acting, more energy and creativity, stronger concentration ability, more patience and empathy as well as positive thinking".
Meditation has its roots in ancient India. When exactly it originated, is a subject of debate. The earliest written accounts of meditation date back to around 1,500 BCE and are connected to the Hindu philosophy of Vedantism. Other forms of meditation arose hundreds of years later between 600 to 500 BCE in Taoist China and Buddhist India. Meditation-like practices were also common in medieval Christianity but were ultimately forbidden.
It took many centuries for meditation, yoga and other traditionally Eastern practices to become the focus of attention within Western societies. Especially during the 1960s and 1970s spiritual and philosophical teachings rooted in Hinduism and Buddhism became wildly popular in mainstream Western culture. Jon Kabat-Zinn, an American molecular biologist, is considered the father of the modern mindfulness practice in Western cultures. He developed mindfulness-based stress reduction (MBSE) in the 1970s, a program that is still practiced today. Through meditation, yoga and so-called "body scanning" participants learn how to reduce stress through mental awareness.
Mindfulness may be "on-trend" but the concept actually has impressive scientific backing. As Dr. Britta Hölzel explains: "Research of the past years suggests that mindfulness practice has beneficial effects on physical and mental health and well-being. Neuroscience research has demonstrated that mindfulness training is accompanied by changes in the structure and function of brain regions supporting self-regulatory processes, providing an understanding of potentially underlying mechanisms of action".
So, let's just assume that you're not currently on a sabbatical or visiting a yoga retreat in India – how do you get started? Ironically, apps are a great way to start reconnecting with yourself and practice mindfulness. We put together a list of apps that can help you de-stress, relieve anxiety and get you started with meditation:
Headspace
Headspace promises "guided meditation and mindfulness". It's great for beginners and offers a free Basics pack that "guides you through the essentials of meditation".
Calm
Calm is meant to help you meditate, relax and sleep better. The app offers soothing sleep stories for a relaxing way to fall asleep, among other features.
Buddhify
Buddhify woos with an "authentic approach to modern mindfulness". The app features a series of custom-made meditations, depending on where you are (e.g. at home, on a work break or walking in the city) or what you're dealing with at the moment, such as feeling stressed.
Stop, Breathe & Think
Stop, Breathe & Think encourages you to "find peace anywhere". The app includes (but is not limited to) meditations ordered by certain topics and emotions such as gratitude, kindness, compassion, forgiveness or joy.
Whether you decide to start your mindfulness journey using an app or not, we encourage you to give it a try and experience the benefits that come with meditating regularly.
Image by wingmar/iStock