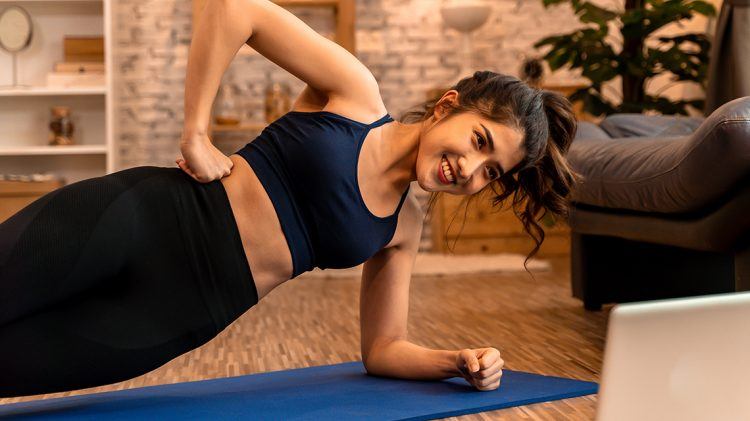 Lockdown Gains
Building strength from home
January 7, 2021
Building strength from home
January 7, 2021
Mandatory quarantining and city lockdowns have meant
huge changes of routine

and this has had a flow-on effect to individuals' health, fitness and strength. As a trainer, I have seen

some people flourish, boosting their strength, fitness and mental health at home despite the lack of equipment and environmental changes. And yet others have really struggled without their standard routine,

feeling flat, weak and overweight. The difference between these two? Creating a new routine, a "new normal" adjusted to this change in circumstance, making exercise an integral part of each week.

The common barriers that crop up working from home are a lack of motivation to train, not knowing how to train without equipment and weak boundaries in regards to work time vs personal time.

Let's run through these aspects to make a plan for your 2021 at-home strength training.
Choosing your training mode:
The level of strength training knowledge and self-motivation will determine training mode. Look through the list below to decide on the best options for you.
Going solo
If you're someone who is self-motivated and wants complete flexibility this is a good option for you. Aim to have pre-planned workouts that you can complete moving toward a specific goal. Check out the examples below, create them yourself or organise a trainer to individualise your programming. Be warned that if you create general strength training programs, you will get a general result. Be clear on your goal and build your training in accordance with that.
Playbacks
Whether solo or with friends, playbacks are a great option in which you don't have to do any programming and can simply follow along with an instructor. Join an online gym or training group with online sessions available or find public videos online. And now we come to the options with accountability.
Buddy Zoom
Training with a friend improves your chance of consistency, results in you working harder and reduces your likelihood of quitting, not to mention the benefit of social connection for mental health. Buddy workouts can be done with your own programming, with playbacks or LIVE with a trainer or group.
LIVE sessions
This is the ultimate form of online strength training. Whether in a group or 1:1, video platforms allow for real time form correction and exercises adjustment by a health professional. This ensures you are moving well and reduces the risk of injury as well as keeping you accountable to complete each session to a challenging level. Committing to a LIVE session makes you more likely to show up consistently and work harder during the session meaning greater results.
Setting work from home boundaries:
Begin by defining set work hours and create a

daily routine that starts and finishes with an activity to build a stop gap between personal time and work.

For example, make a morning coffee and complete a daily workout (strength, high intensity interval training or yoga), shower and start work. Commit to finishing work at a certain time and phone a friend or head out for a walk to signify the end of the workday. Stacking these habits will help to cut decision making resulting in consistent training and better results.
Clear some space in your home, garage, backyard or underground car park and make this a designated workout area.
Each Sunday, make a plan for the week. Schedule in any LIVE sessions and plan solo workouts. Having these as set calendar commitments significantly increases the likelihood of you completing the week's training.
Equipment at home:
Up the intensity with a few simple additions to your at home workouts.
Use stable furniture

like a chair, couch or coffee table for exercises like dips, Bulgarian split squats, step ups or incline push ups.
Purchase a suspension trainer for use in a doorway to improve your pull ups, rows, core and leg strength – there are a number of suspension trainer workout options available online to

fill you with ideas.

Add in a dumbbell or kettlebell to

increase the weight of almost any movement

as your strength increases.
Example at home bodyweight workouts:
WORKOUT 1: Superset Burne
3 SETS
12 x Bulgarian split squats
15 x Glute bridge
3 SETS
8 x Negative push ups
15 x Dips
3 SETS
20 x Squats
20 x Plank get ups
20 x Sit ups
WORKOUT 2: AMRAP Strength
4 SETS
Maximum push ups
8min AMRAP (As Many Rounds As Possible)
20 x Reverse lunges
10 x Pike push ups
8min AMRAP
10 x Cossack squats (each side)
1min Plank hold
Finisher:
3 SETS / 45secs on, 15secs off
Hollow rock hold
Sit ups
Don't let the changes of routine throw your strength gains away.

You can start this year stronger than ever by becoming mindful of boundaries and planning your week well. Take time to build a training program that excites you, holds you accountable and is consistent. So whatever your goal may be, it's time to get stuck into it and

make the "new normal" work for you

by claiming those lockdown gains.