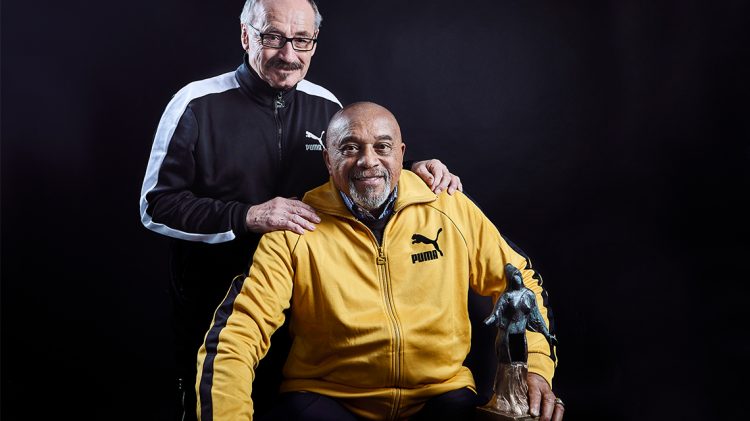 PUMA Archive


"For me, he is
the greatest athlete of all time."
Interview with Helmut Fischer about Track & Field legend Tommie Smith
October 16, 2021
Interview with Helmut Fischer about Track & Field legend Tommie Smith
October 16, 2021
It still matters! October is
Black History Month

and on

October 16

, we

celebrate the brave protest

of

Tommie Smith

and

John Carlos

. It is now

53 years ago

when Tommie and John made their iconic

protest against racial injustice

. The powerful message of their

silent gesture

still resonated today. CATch Up had a chat with Mr. PUMA & PUMA Archive specialist, 

Helmut Fischer

to look back and to talk about the amazing achievement of PUMA ambassador and Track & Field legend Tommie Smith, as an athlete, but also as a human being.
It was my stand for justice. It was the Olympic project, not for Black rights, it was for human rights. For people, for human rights. I do believe that's why it spanned the entire globe.
At the Mexico City Games in 1968, two American athletes stood on the winners' podium – heads bowed, gloved hands raised in a silent salute. One of them was Tommie Smith.
Helmut, you met Tommie a couple of times. How would you describe him?
Helmut: The last time I saw Tommie was in 2018 when he received the Dresden Peace Prize. 2018 was the year that marked the 50th anniversary of his iconic, brave protest. For me, Tommie is the greatest athlete of all time. There have been athletes that are more successful than him in terms of titles, like Usain Bolt, but Tommie, he set an example that goes far beyond sports. This protest changed his life completely. It was the end of his sporting career. This man has courage. In private, he is reserved but friendly and kind. A great man!
What do you think about the gesture today?
Helmut: Sadly, racism is still an issue these days. His gesture is as bold and powerful nowadays as it was back then, inspiring a new generation of athletes to use sports competitions as a platform to stand up against racial injustice. We still need people to have the courage to stand up against intolerance, against xenophobia, against antisemitism and against racism.
What is the story behind the Olympic Project for Human Rights badge?

Helmut: Many athletes were keen to wear the Olympic Project for Human Rights (OPHR) badge, because they believed in human rights and equality. On the 200m podium besides Tommie and John, also silver medalist Peter Norman from Australia was wearing the OPHR badge in solidarity. Back then, this badge caused the involved athletes trouble, already in the run-up.  A large voice and one of the first members of the group were Tommie and John Carlos.
But I had at that particular time the responsibility of standing because I was asked to stand for what I believe in. And I still do that today.