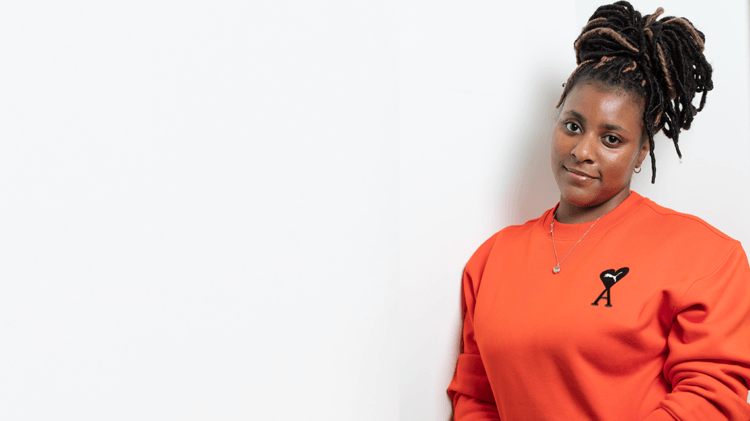 People at PUMA
"Be yourself and
trust your instinct"
Interview with Vaniece Jno-Baptiste, PUMA Manager European Entertainment Marketing
April 28, 2023
Interview with Vaniece Jno-Baptiste, PUMA Manager European Entertainment Marketing
April 28, 2023
Named one of the most influential and successful women across the music and creative industries by Music Week magazine, PUMA employee
Vaniece Jno-Baptiste

has had nothing short of an exciting career. With her recent promotion to PUMA manager European entertainment marketing, CATch Up had the chance to talk with Vaniece about her

career at PUMA and her road to success.

Check out the interview below!
First of all, congrats on being named one of "the most influential and successful women across the music and creatives industries" by Music Week magazine! What does it mean to you to be influential and successful in your career.
Vaniece: It's very strange to hear those words but I'm very grateful that my name has been put in such a sentence! I've always believed in putting your head down and working hard and doing the best that you can, so there wasn't ever a focus to be 'influential'. But I'm rather proud of myself for whatever I do or work on. So, to know that I'm seen as successful and influential based on just working to the best of my ability is humbling and really nice.
For those of us who don't know you, can you share a bit about yourself and your career.
Vaniece: I won't go all the way back to my first job selling diamonds, but for the last 12 years I've worked in fashion and the last 7 years of those specialising in delivering culturally relevant campaigns from product collaborations & music video integrations to live music and experiential events with leading notable companies such as Vivienne Westwood, G-Shock, Huawei and collaborated with global music artists & entertainers such as Gorillaz, Foals, Charli XCX, Kojey Radical and more to make them come alive. My last role was Brand Partnerships Manager for one of the three leading record labels, Warner Music, where I was pro-actively seeking, acquiring and project managing these opportunities for WMG global artists.
What drew you to work here at PUMA? What makes working here different to other places you have worked at?
Vaniece:I had worked with Charlie Groom – PUMA team head, European entertainment marketing –  for a few years before joining PUMA whilst at Warner and always admired the level of care he had when dealing with talent. The strategy he & the team also had in place was admirable working with grass root talent and aligned a lot with how I always wanted a brand to engage with artists. Then when I joined the team, the entrepreneurial spirit of my department and the trust both the team and other areas of the business have in us was refreshing. For us to be successful this is very key as there's a level of risk and personal instinct you must use when making decisions or working with talent and the PUMA family allows us this freedom (with further stats still involved of course!).
Congrats on your recent promotion to manager, European entertainment marketing. Can you tell us a bit about your job and your career path at PUMA.
Vaniece: Thank you! My job at PUMA in 'business terms' involves identifying, securing, contracting, project managing and building relevant entertainment partnerships and opportunities that drive and enhance the PUMA brand! So, whether it's working on global partnerships such as Dua Lipa or Davido to European & local projects involving talent such as D Block Europe or Wireless Festival x JD Sports, I'm involved.
I started during covid, and I've been here 3 years already, which has truly flown by! Which I'm sure is due to working hard whilst having fun.
What do you love most about your job?
Vaniece: The team I work with everyday and the difference we can make together. We also work with some incredible artists and a lot of the time at the start of their careers in the music or entertainment space. So, to grow with them and make an impact in not only their lives and how they reach fans, but for PUMA to gain a new demographic of consumer in the process is always lovely to see. Particularly when our campaigns have a great message that resonates past the purchase and creates a connection.
Can you tell us about a career highlight from your time at PUMA?
Vaniece: One of the standout campaigns of my career in PUMA is one that earned us our first Music Week Nomination amongst some heavy hitters in the industry: the JD/PUMA x Mayze Stack Campaign featuring artists Bellah, Amaria BB, Sha Simone & French rapper Le Juiice. It was a result of pitching to our main account in the UK to try a new direction involving more diverse emerging female talent partners. This was very risky, but the result was something I will forever be proud of as it not only resonated with our consumers, but it allowed a demographic that is never usually tapped into to be seen commercially. It also helped that my 11-year-old sister was amazed by the imagery and felt inspired.
What is one project you worked on that you learnt a lot from?
Vaniece: I wouldn't say I have one project, as I always find myself learning more and more as I take on new and exciting ones. That's the joys of working in entertainment marketing, you may think you've seen or done it before, but a new challenge always finds it way to teach you something.
"Trust your gut instinct because most of the time you will be right."
What is one of the best career advices you have been given?
Vaniece: I'm not sure it's about the best advice I have received – what does it mean to receive the "best" advice? For me, it's more about the advice that has stuck in my mind through all these years. It is hard to think of one particular advice, but perhaps the main one that stood out to me is to be yourself and trust your instinct. And be flexible, it plays a big part in what we do.
The big question in this industry is: who should we get involved with? Who should we be taking a risk on? No matter what someone's achievements are, I have to know who is right for the company or for the project that we are working on. I have to believe in my own thoughts and opinions about things. It is really important to have confidence in your own opinions. There are factors such as statistics to back up your thoughts and ideas, but a lot of the initial conversations and ideas that are put forward, they are based upon your gut feeling. Trust your gut instinct because most of the time you will be right.
In the interview with Music Week magazine, you said making connections is vital in a successful career. What tips would you have for people who don't even know where to begin with networking? How would you go about networking?
Vaniece: Even though this was one of my pieces of advice in the Music Week article, I also struggled in the beginning of my career with the questions, 'where do I network?' and 'how?' – especially as I was very shy. But I found for me, just speaking, and making meaningful relationships with the people you work with on a day-to-day basis is a great place to start. A lot of people may not have the resources, the contacts, or the confidence to go to the major networking events. But you see and talk to your colleagues every day and its those people that will later go on to become the directors and CEOs of companies and be an amazing network to have in the future that you've built genuine connections with.