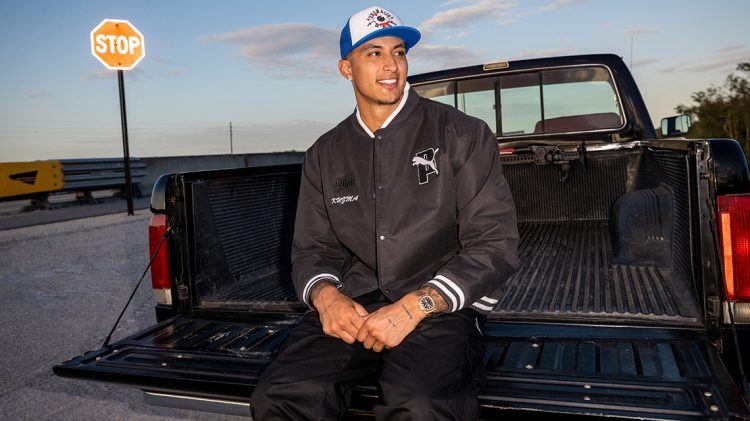 "Every day I go into work,
leading, talking, communicating,
just being myself."
Interview with PUMA Hoops Athlete Kyle Kuzma
June 24, 2022
Interview with PUMA Hoops Athlete Kyle Kuzma
June 24, 2022
He has been playing at the highest level
in the NBA for six years

and he

won the NBA championship

with the Lakers in 2020 –

Kyle Kuzma

is at the top of his game! CATch Up talked to the PUMA Hoops athlete during

his stay at our headquarters in Herzogenaurach

. Kyle spoke about

his influences

, his

first season with the Washington Wizards

, his

to-dos for the summer

and his

passion for design and the Clyde All-Pro Kuzma

. Check out the interview!
Kyle, you played your first season for the Washington Wizards. How do you feel about this season?
Kyle: It´s great. Although we still have a lot of room to grow, a lot of talent. A little more cohesion and better chemistry, and then hopefully next year will be better.

During your time with the Lakers you played alongside one of the best players ever. What did you learn during that time?
Kyle: I learned a lot. I learned how to be a pro, a professional, how to take care of my body, how to approach a game.
Coming to the Wizards, as an experienced player & NBA champ, you are a leader for this team – how do you like your new role on and off the court? What has changed for you?
Kyle: I love my role. Every day I go into work, leading, talking, communicating, just being myself. I'm naturally a talkative person. And it's super, super fun. Being in DC is a great experience for me. It´s a place where I've grown so much in twelve months, obviously, because of my role. That role helps me grow not only on the court, but off the court, every day, through my decisions and my actions. That has been great.
As a Leader, you must motivate your teammates on and off the court – how do you inspire others to be great? How do you help new team members to adjust?
Kyle: I think the most important thing is to show people that you care about them, that you don't just need them for work. Show them that you like them as a person. Once you achieve that, it's a little easier to lead and ask people to do certain things. But in order for all of that to happen, you have to be able to do those things. You can't tell someone to do something that you don't do yourself.
Coach Wes Unseld Jr. described you as Washington's Swiss Army Knife – Would you consider versatility your biggest strength? 
Kyle: Yeah, definitely versatility. I can really play one through five position wise. I can guard point guards and guard some centers. I could pass, I could shoot, I can defend, I could rebound. So Swiss Army Knife has like eight different gadgets on it, and I got about eight different gadgets in my game.
In November, you played an away game in Cleveland. Cavs fans taunted you all game – as response to that you probably played one of the best games all year. What moments/situations inspire you to be the best you can?
Kyle: Close to the game when you need a win and both teams are scoring you need to score. I love being in those type of moments.
Your mom played two years of varsity basketball, volleyball and won multiple titles in shot put and discus. How did she inspire you to achieve greatness?
Kyle: Yes, she was an athlete. So, of course, I got a lot of my sports skills from her. I think she was a very dedicated person in sports. She worked in two jobs and did a lot for us. That's hard work and dedication, and I think I got a lot of that from her.
It's the offseason – What are you working on this summer? What are you goals for the upcoming season?
Kyle: I think the most important thing is the psyche. We always think we need to improve, but many things in life are mental. I've been in the NBA for six years; I know I can play basketball at a high level. I know I'm good at basketball, but the mindset changes the way you go and the way you do things. So that's one thing. Working on my mindset, that's something that helps me a lot in golf, to stay balanced, and then just trying to get strong, just lifting really, really strong every day. I think those are the two things: mental training and strength training.
When you signed with PUMA, you were fascinated about the idea of being involved in the design process. With the Clyde All-Pro Kuzma (Mid) you created a special vibe. How did you like the process? What does it feel like to design your own shoe?
Kyle: I love to design and create things. I also love to paint. I was always drawing as a child. So, designing shoes and clothes go hand in hand. To have the opportunity to work with PUMA on certain things is super fun. I can really express my creative side, which is a great feeling.
Thank you so much for the interview, Kyle!
View this post on Instagram