The vision behind
"Hometown Heroes"
Interview with Irene Montes, Product Line Manager Accessories at PUMA about the vision behind the "Hometown Heroes" headwear collection
September 27, 2022
Interview with Irene Montes, Product Line Manager Accessories at PUMA about the vision behind the "Hometown Heroes" headwear collection
September 27, 2022
Cap on! Designed in collaboration with Upscale Vandal, the Hometown Heroes collection was created with sports culture and team spirit in mind. This caps collection pays homage to PUMA's heritage and is available in many different styles. Each of these caps has a unique design on the front of each model, a special message under the visor and is inspired by a sporting decade.
CATch Up chatted with Irene Montes San Martin, Product Line Manager Accessories at PUMA, about the vision behind the cap collection and the beauty of working in a department with no size restrictions, Accessories.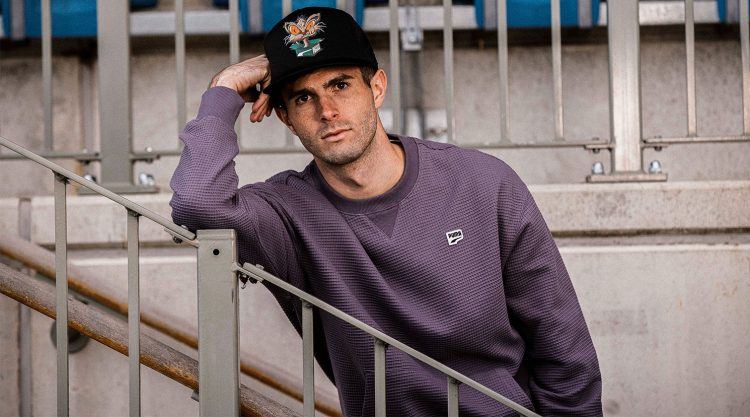 How important is headwear for PUMA?
Irene: At PUMA we love headwear! We've always loved making great headwear pieces for our consumers, but a few seasons ago we also recognized a white space in the market, that other brands were not tapping into. We wanted to take this opportunity and create something special for our consumers that are into caps and give them the chance to express themselves with PUMA. We have such a strong heritage in sports and streetwear that we really wanted to bring it forward through our hat collection.

In your own words "what is a hometown hero"?
Irene: While working on the collection with Upscale Vandal, we came up with the concept of "Hometown Hero." Community was a term that kept coming up in conversations, and we wanted to celebrate people in the community, much like Upscale Vandal himself, who want to give back and make the place they come from a better place. So a "Hometown Hero" is someone who wants to make a difference and support their fellows  by giving back to the community in which they grew up and developed.
Where did the creative idea come from?
Irene: We want this project to be a turning point for PUMA, to reinvent our headwear category. We wanted to celebrate and position our product by staying true to our roots in sports and music culture in an authentic and unexpected way. For the continuation of the collection, we especially wanted it to be much more playful and youthful, while still honoring and celebrating our brand heritage. There is a hat for everyone in this collection, we really wanted to cover all styles and ways of wearing.
Any style tips?
Irene: Caps and hats are an essential accessory essential for any sneakerhead. Style is very individual; you can use a cap to style down or up your outfit. For example, you could have an outfit with a blazer, woven pants and sneakers and style it down with our Vintage Dad cap.
How long did it take from design process to instore date?
Irene: This was a journey of passion, collaboration, and long hours to bring the collection to life. We worked with Upscale Vandal for almost two years before the collection was released. So, we are confident that the products in this drop 2 will reflect this journey and will inspire consumers out there.
What were the biggest obstacles along the way?
Irene: When we started this project, our vision was to position PUMA as a pioneer in the headwear market. There are already some big players doing amazing things, but we felt there was a white space for our brand to explore based on our tradition, values and sense of style.
So we started by gaining experience step by step, reaching out to consumers, street style gurus like Upscale Vandal, and some of our sneakerhead staff, all of whom gave us insight into the direction we wanted to take with this project.
Do you also target a female audience with this capsule collection?
Irene: We know that sneakerheads are predominantly male, but we are convinced that our female customers are also strongly influenced by street culture. Our long-term vision is to serve all genders with products that speak the universal language of street style, and we will continue to invest in developing products for all. What we LOVE about accessories is that it is the most inclusive category, where there are no size restrictions.
Thank you very much for the exciting insights and your time, Irene!