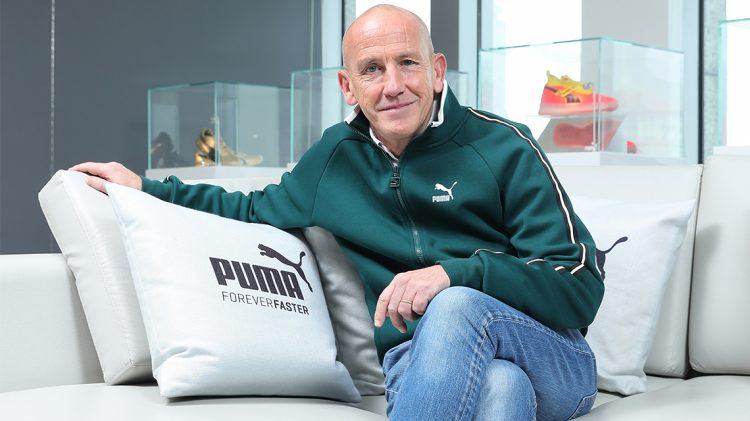 This Pandemic showed us
that communication is the key
Interview with General Manager for PUMA Greater China, Philippe Bocquillon
September 30, 2020
Interview with General Manager for PUMA Greater China, Philippe Bocquillon
September 30, 2020
This year is exceptional in many ways: We're facing a global pandemic, which hit the world hard.

China had to deal with it first

and aside from health risks, there is also an economic impact. CATch up spoke to the General Manager of PUMA Greater China P

hilippe Bocquillon

about the COVID pandemic as well as diversity & inclusion at PUMA.
The COVID 19 crisis has eased off a bit. Does this make you less concerned?
Philippe: We still have to remain vigilant and on watch, things are far from being over. Most importantly from a business angle, we have to understand the new habits, how our consumer has evolved to better cater to new trends. Because we will have to live with that pandemic for some more time, we need to understand the impacts in our different markets: the importance of sustainability or digital business for instance.
 How do you feel PUMA has weathered the crisis so far?
Philippe: Very well in my opinion, externally and internally by the whole PUMA global team. Not only from a numbers point of view, but also from a discreet communication standpoint. PUMA showed agile and responsible behavior. This pandemic showed us that communication is the key. Talking about it the right way, followed by the necessary steps. Here in China, we were the first ones to deal with it. China took the blame from the beginning because all of this started here, so they felt full of shame. Everything has changed since then. Cleaning everything, making a plan about how to deal with this strange situation. How are we going to schedule the shifts? How do we care about everyone, especially the sick ones? How do we deal with closing all stores? How do we handle the cancellation of online-orders? And how do we deal with the fear and ease the fear of our employees? Going back to normal business again felt so far away. We took all the issues one by one and had a lot of calls and chats with everyone. We made a plan and hoped for the best and it went better than first expected – I am super happy and proud of that!
What are the learnings that you have taken from the crisis?
Philippe: In a fast changing environment, you have to be pragmatic. Defining a vision is key, but many ways can lead to it and adaptation is necessary.

 What do you think we could have done better?
Philippe: First of all, there is no one to blame for this. Despite that all of us could have done better, no one believed that it would become like this. We could have started believing in the magnitude of this pandemic earlier. I started talking about the virus on January 2020. I called my colleagues and we talked about the potential impact. Maybe stores are going to be shut, maybe we are going to face a state we haven't had before. No one of us wanted to be too dramatic about this because it might be just a flu. I am happy to say that we rang the bell pretty early.
How do you think the employees managed the crisis?
Philippe: I have a fantastic team; they were ready to rock that thing and go back to work. I cannot say it enough: Thank you to the whole team! We probably did the right thing, the whole PUMA team remained confident, disciplined and in my opinion extremely resilient. We had the best attitude towards this, and we are just hoping the best for the future!
What is the most important part in PUMA's work culture that helped us to get through the crisis?
Philippe: True willingness to be themselves, with a strong personality in sharing common values : humility and efficiency. The positive attitude of the people became a matter of confidence. The matter of working together and being willing to go back to business was recognized by the customers. Finally opening the stores again felt just amazing.
In a fast changing environment you have to be pragmatic. Defining a vision is key, but many ways can lead to it and adaptation is necessary.
Although we already have a very diverse employee base, what would you still like to see improving?
Philippe: We do have  an extremely diverse employee base at PUMA, but as long as we need to talk about it, that means we still need to improve the representation of diversity.
Are there any plans how PUMA will help achieving that, like trainings or initiatives?
Philippe: Both training and initiatives could be conducted: Trainings to increase awareness within our employees' mindset and some initiatives for creating rules for a better balance in all parts of the game, all regions, all businesses.
Which developments in PUMA's company culture are you most proud of?
Philippe: Most probably audacity and disruption. I do believe that as a group, we can tomorrow achieve things that we yesterday thought were unreachable.