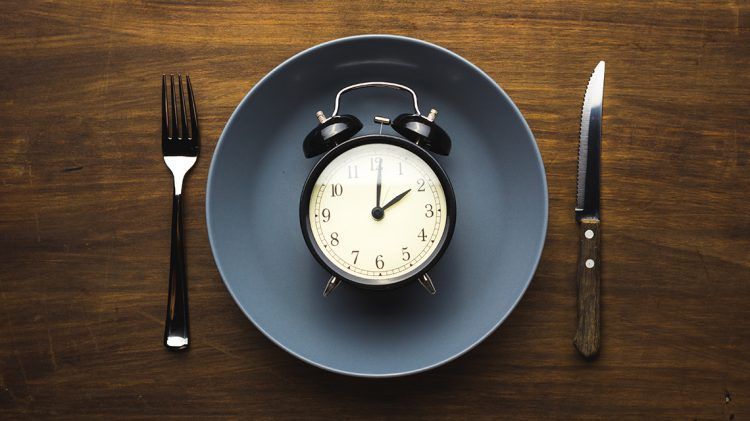 In Focus:
Intermittent
Fasting
The benefits of conscious meal skipping
March 11, 2018
The benefits of conscious meal skipping
March 11, 2018
We've all probably heard the saying (or some variation of it): "Eat breakfast like an emperor, lunch like a king and dinner like a beggar". Breakfast is often referred to as the "most important meal of the day" and many dieticians advise to eat small portions at regular intervals during the day.
Intermittent fasting

goes against all that and establishes

controlled fasting

as part of a daily dietary routine.
What:
Let's take a closer look at what intermittent fasting comes down to. The guiding principle is quite simple: intermittent fasting means skipping meals on purpose. Its main focus is when to eat, not what to eat. It's important to note that intermittent fasting is not a temporary fix such as a fasting cure or a juice cleanse, it's basically a dietary change. There are different ways to practice intermitted fasting. A tried and tested variation is the 16:8 method, which divides the day into 16 hours of not eating and 8 hours of eating. When it comes to intermittent fasting, the intervals for the "feasting" periods can vary, e.g. between 8, 6 or 4 hours. With the Warrior Diet for example, you essentially have one main meal a day and thus increase your body's fasting periods.
USP:
Intermittent fasting is an effective (and healthy!) way to kick-start your metabolism reduce your overall calorie intake without tedious calorie counting.
Why:
Intermittent fasting can be beneficial to boosting your metabolism, reducing body fat, increasing your energy level and more. Besides promoting weight loss and decreasing your overall feeling of hunger, fasting can also lead to lower blood sugar levels. Therefore, chances of developing type 2 diabetes are minimised in the process.
How:
Let's say you'd want to start by sticking to the 16:8 method. If you have your first meal of the day at 12 pm, you'd last eat at 8 pm. The time between 8 pm and 12 pm of the next day would be your time of fasting. You can decide what times work best with your daily schedule. If you're a breakfast person and you don't want to skip your morning meal, you can also decide to eat between 8 am and 4 pm or 9 am and 5 pm. That means you would cut out dinner instead of breakfast.
Image by nehopelon/iStock