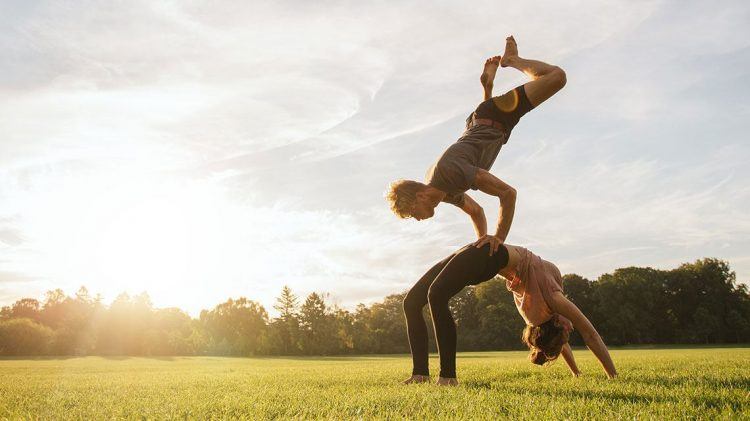 In Focus:
AcroYoga
Turn your Life Upside Down!
July 28, 2019
Turn your Life Upside Down!
July 28, 2019
What is AcroYoga? Is it yoga, circus, acrobatics or some alternative form of dance and massage? When it comes to AcroYoga the answer is 'all of the above'.
This dynamic practice draws on
the wisdom of yoga, the power of acrobatics and the health benefits of therapeutics,

making it a great way to mix up your workout routine. Step out of your comfort zone and flip your perspective Now!
What
AcroYoga has been around for the past century, but is an ever-evolving discipline, constantly changing as it becomes adopted in the modern day.  It is a form of partner yoga that brings in the playful and powerful aspects of acrobatics with the healing aspects of massage.
There are essentially two types of practice:
Lunar—a softer more therapeutic style of practice, with passive movements that help the person being supported to relax and experience his or her body better.
Solar—a more acrobatic and empowering style, where everyone involved is moving dynamically. This is the style where you get to try out some neat tricks and additionally work on building your strength.
Why
AcroYoga is a great way to move beyond your comfort zone. It is appealing to everyone from long-time yogis and athletes looking to add a new dimension to their routine, to complete beginners who search for something playful and exciting to try out. It is said to promote a wide range of physical and mental benefits including strength building, kinesthetic awareness and flexibility.
The defining characteristic of AcroYoga is the use of gravity for strengthening and stretching. Partner work is another key feature and since personal connection is a built-in aspect of the sport, it can really help you to build trust. Among Acro-Aficionados, the sense of community is super strong, and the partner-based practice helps you to socialize with a wide variety of people on a totally different level.
USP
AcroYoga is for everybody – you don't need to be a gymnast or experienced yogi to get started.  Anyone who is dedicated to training their strength, flexibility and technique can participate, no matter their skill level.
How
A typical session starts with connecting to yourself and others around you through breathing techniques and slow Movements. After that you transition into acrobatic techniques, working on alignment, safety and strength.
There are three roles in AcroYoga:
The Base is the person with the most contact with the earth. This position supports the flyer, usually through their feet and hands. The Flyer is the person who is elevated and balanced. This position requires significant strength in the core, good balance and a healthy dose of confidence! Finally, the Spotter is the person on the sidelines who focuses on the safety of the flyer. They move fluidly around the duo and are ready to jump in if need be
If you're curious about AcroYoga, try it out! The easiest way to get started is to check if there are any classes in your area. In a class, the instructors should be able to evaluate your level and get you started with a program that fits your abilities and needs.