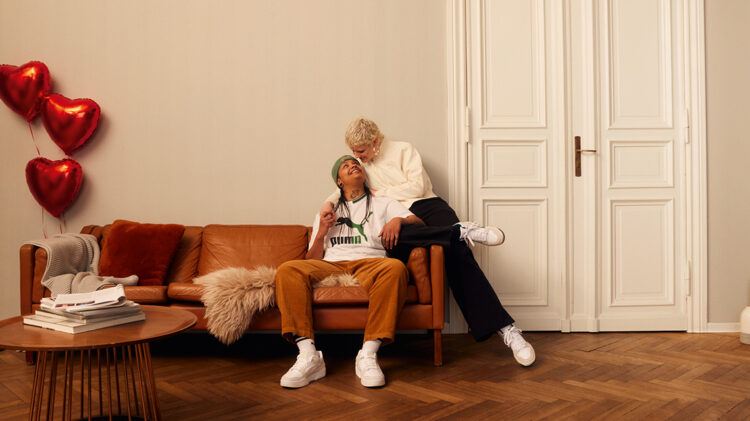 Get the Look
Let the Love In
Get the Look: Valentine's Day Edition
February 14, 2023
Get the Look: Valentine's Day Edition
February 14, 2023
Love is in the air… all the time, of course, but Valentine's Day can give us a nice excuse to acknowledge that and celebrate the special people in our lives.
Cherishing that love can be shown in many ways ─ including the way we dress

and display ourselves to the world. We've styled

two V-day love-inspired ensembles that are perfect for a PUMA cat date night

or feeling fly in your own manner and style.
THE SHOES
A good sneaker should be stylish yet comfortable, fashionable yet practical. Multifaceted, just like you. For the footwear we went with an icon: the PUMA Suedes, all quality and satisfaction. For the two looks it was a bit 'same, same but different' ─ we have a pair of Suedes from the PUMA x VOGUE collection in a deeper shade of red with tan trim on one hand (or foot), and the classic colourways from the 75th-anniversary range on the other. Subtle matching without being too much.
Outfit #1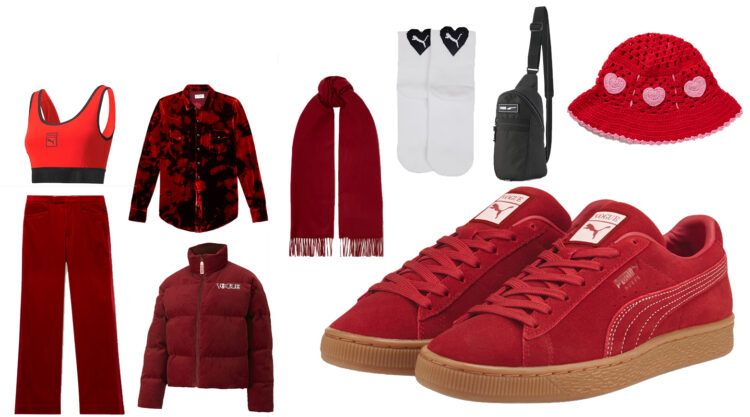 THE OUTFIT(S)
The two looks today are interchangeable and largely ungendered, emphasizing the multiplicity and many forms in which love can manifest. Look numero uno is slightly more dressy ─ the bottom half is clad in a pair of bootcut silk satin-trimmed stretch-velvet trousers. An abundance of textures! Up top, the fiery red PUMA x VOGUE sports bar showcases that special gym-meets-runway pairing… a relationship that we can totally get behind. Then comes a gorgeous bleached velvet button-up for that extra elegance and a puffer jacket from the same line for a forever fashionable finish.
The second outfit embodies a little bit more sportstyle nonchalance, pairing sweats with sweats for a loungewear suit suitable for the ages. On the bottom, a black pair of pants from the PUMA x AMI collection strikes just the right pose between relaxed and sophisticated, plus the co-brand detailing, inspired by the Parsian fashion label (hello city of love), even has a little embroidered heart on the hip. Up next, throw on an essential─ this red hoodie is a fan favourite never to be forgotten. Then finish off with a little bit of edge… a black leather overcoat is one of the season's 'it items' and the relaxed tailoring leans into the chill date night vibe.
Outfit #2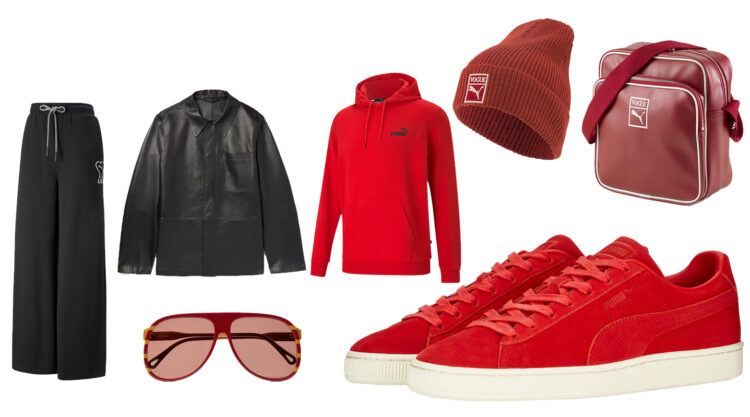 THE ACCESSORIES
The accessories can make or break any look, so we kept it lowkey with hints of Valentine-inspired cheese sprinkled here and there. Outfit one alternates between practical and whimsical:</span< a rich rouge cashmere scarf elevates and accentuates the sense of vogue and a pair of PUMA socks with a sweetheart neckline spread a little love with every step. A black shoulder bag is effortlessly edgy, while a crocheted bucket hat with pretty pink hearts softens and sweetens the final effect.
Outfit two goes casually chic: a flight bag and high-top beanie are both plucked from the PUMA x VOGUE collab for a super stylish impact, while a retro pair of red aviators pull it all together for a minimal yet dramatic final statement.
Love is love is love. This Valentine's Day, dress up or dress down ─ whatever your heart desires.
You do you, while celebrating the essence of love in your love

and expressing it where and how you can.