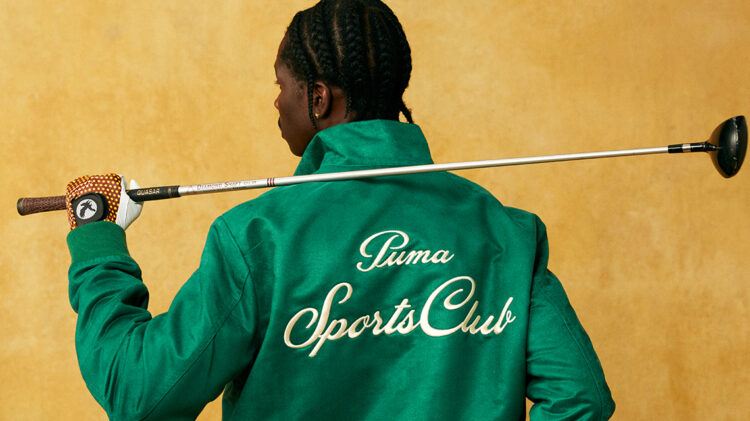 Get the Look
Hole-in-One
Get the Look: PUMA's Fast Green
February 10, 2023
Get the Look: PUMA's Fast Green
February 10, 2023
Asserting its aesthetic into another sports category, the PUMA cat hits its stride on the golf green.
The new Fast Green concept changes things up with premium craftsmanship, quality materials, and elevated details, offering a contemporary take on traditional golfing apparel.

The accompanying outfit is styled with items from the drop for a fresh swing at the classic game.
The Shoes
Tucked under PUMA's MMQ (Machts Mit Qualität) range, the Fast Green release features reimagined footwear from the archives. The iconic Clyde, Slipstream Lo and Prevail sneakers are given an updated look, refreshed with modern elements and fairway colour amendments in vine-green and off-white. Designed for the next generation of golfers, we went with the Prevails for today's look.
The whole Outfit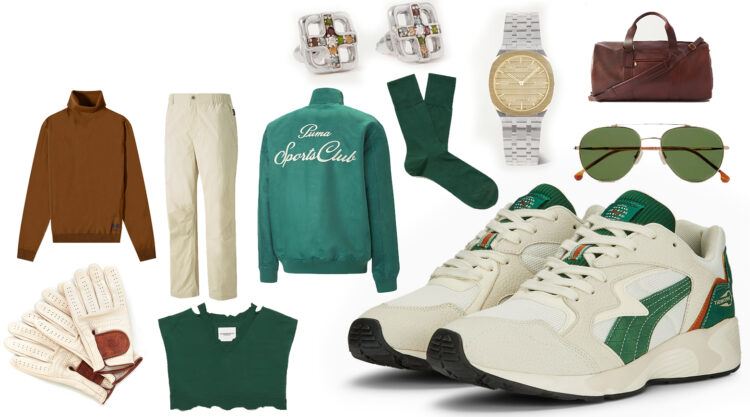 The Outfit
With Fast Green, traditional golf attire is given a sportstyle subversion for a freshly minimalistic feel. The signature piece for this outfit is an elegantly embroidered Harrington Jacket in that naturally eye-catching green. Delivering a refined take on the golfer's uniform, this item gives off a laidback yet elevated vibe that makes it current while still acknowledging a sense of legacy.
Living for that contemporary chic meets fashion heritage mood, below the jacket we paired a rich brown cashmere rollneck with a funky cropped (and slightly distressed) sweater vest in a complementary green. The juxtaposition between the lush jumper and the disheveled vest plays with the slightly stringent stereotypical golfer style. Plus the mock turtleneck is a nod to the 1970s trends in golf fashion. On the bottom a pair of relaxed-fit pants from the line are the modernized final element; practical and versatile, they're designed with robust CORDURA® material and made to look timelessly cool on (or off) the green.
The Accessories
The accompaniments for the look are a balanced combination of elevated and practical, sticking with the high-end functionality ethos of the MMQ line. Vine-green wool socks encase your feet in supreme comfort, and slick aviator-style sunglasses with green lenses lend the look a more laidback effect. A pair of criss-cross silver and topaz earrings remix old-school style with modern flair. Then for that extravagant feel, a fine gold and silver watch pops out from the cuff of the Harrington jacket and a rich leather weekend bag with gold hardware can hold all the golf essentials (okay, maybe not the clubs…but everything else). The finishing touch is a pair of creamy golf gloves with a sleek design and contemporary appeal that captures the essence of golf pro aesthetic
The latest addition to the MMQ range,
PUMA's Fast Green is golf, reinterpreted.

Classic apparel and footwear are given a modern and stylish renewal for a fresh and minimal aesthetic that redefines the golfer's uniform.