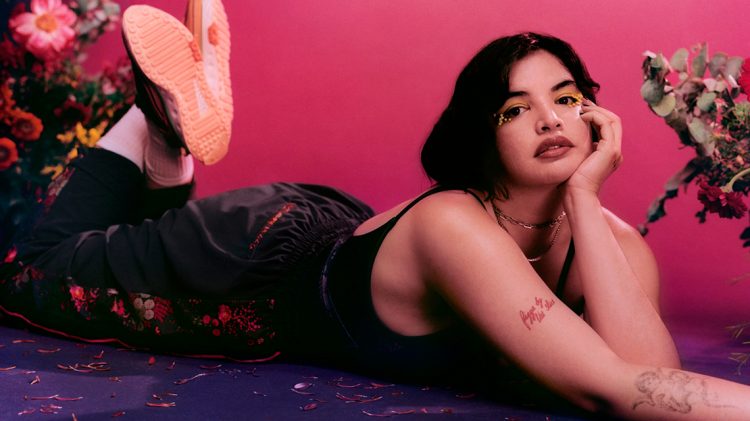 Get the Look
Get the Look:
PUMA x Liberty
Main Character Energy
September 23, 2021
Main Character Energy
September 23, 2021
We are partnering with design house/ department store

Liberty

 to luxe up the streetwear scene. This iconic collaboration plays with the soft connotation of florals, delivering a bright and bold series that
celebrates the powerful, creative and fearless women of today

. Harnessing that *main character energy* we styled a

fresh and feminine OOTD

with some of our favourite items from the line.
The Shoes 
With embroidery and vibrant colors that reflect the sweet strength of a wildflower, this collab brings a natural feminine touch to some of PUMA's classic footwear styles. It's your choice between the Wild Rider, Basket, Cruise Rider, Suede Mayu, and the Forever XT — a training shoe with plush instant cushioning that offers a responsive ride — all ready to be plucked like fresh garden blossoms.
The Whole Outfit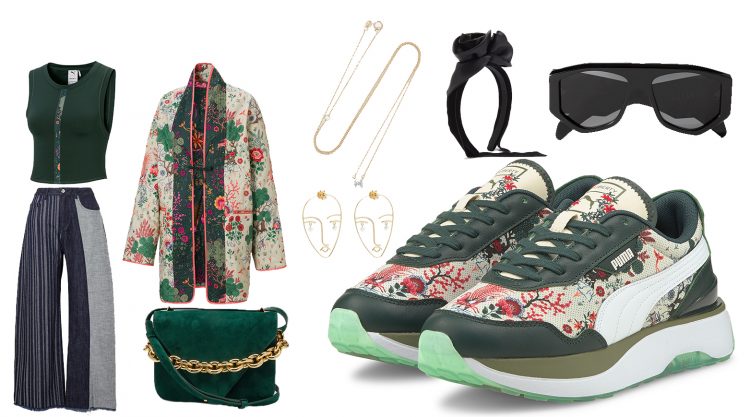 The Outfit
Incorporating Liberty's signature floral prints, apparel items in the collection bloom beyond PUMA's classic silhouettes, including iconic pieces like this reversible kimono. Kimonos are super easy to style and go with just about anything, plus the voracious floral design breaks free from the season's (sometimes dull) greys and neutrals, reminding us that florals aren't just for spring … they're an anytime thing.
Moving on, we're loving the multifaceted styling that's being displayed on runways this autumn: mixing, matching, and juxtaposing different patterns and materials all in one outfit. Pair the plush botanical kimono with some denim to create a more modern heritage look. Something quirky and creative works well, like these slouchy boyfriend jeans with recycled patchwork that sling low on the hip. To balance out the looser layers, try the gorgeous forest green slightly cropped top from the collection, because skin is (still) in this fall and the tighter fit lets you stand in your confidence without getting drowned in fabric.
The Accessories
Leaning into the high-end fashion and luxury craftsmanship that Liberty is famous for, with accessories we kept it refined and elegant. Matisse-inspired gold wire earrings stick to the arts & crafts vibe of the company, while a looping gold chain with diamond pendant keeps the jewelry matching without overpowering. A green suede bag with gold chain plays with the lush flora and earthy shading running throughout the outfit. Chunky aviator-style sunglasses are handy for reflecting those last summer rays (plus they upgrade any look in an uber cool way). Wrap it up with a messy bun and tie it off with a sleek silk and velvet headband for a fiercely femininine final touch.
Inspired by the idea that we turn to flowers to show our love and support in tough times, the new PUMA x LIBERTY collection adopts a theme of 'Still Growing'—
honouring the women that are still growing and thriving

despite it all. Like a wild garden.