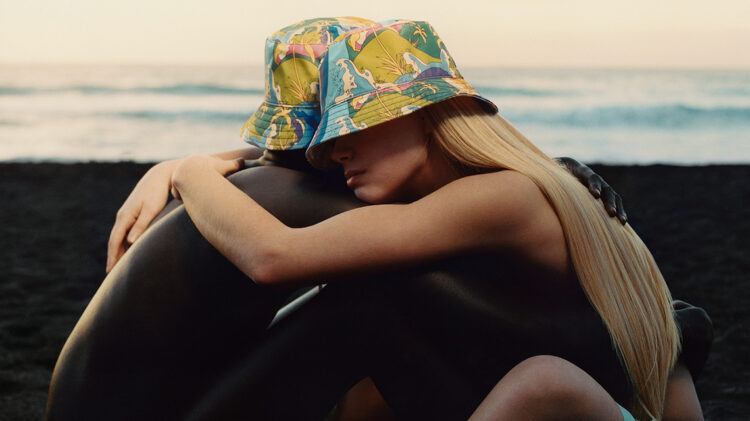 Get the Look
Ride Your Wave
Get the Look: PUMA x Palomo Spain
March 21, 2023
Get the Look: PUMA x Palomo Spain
March 21, 2023
Teamwork makes the dream work ─ PUMA and Palomo partner up once again to create
a dreamy collection that dips into surf culture and vintage vibes.
With an immersive and genderless approach, this series splashes out in a gentle and bright palette perfect for the spring and summer seasons. Expressing this laid-back aesthetic we've styled two low-key looks with pieces from the launch.
The Shoes
Footwear in the collection includes two different versions of the Slipstream sneaker. The first look steps out with the Slipstream Lo with its lovely bicolour leather material in light mint and pristine white plus a suede lace-up that feels perfectly vintage and modern at the same time. The second look stands proud in the retro mules with chunky hook-and-loop straps in a pretty pink. Casual and cool.
Outfit #1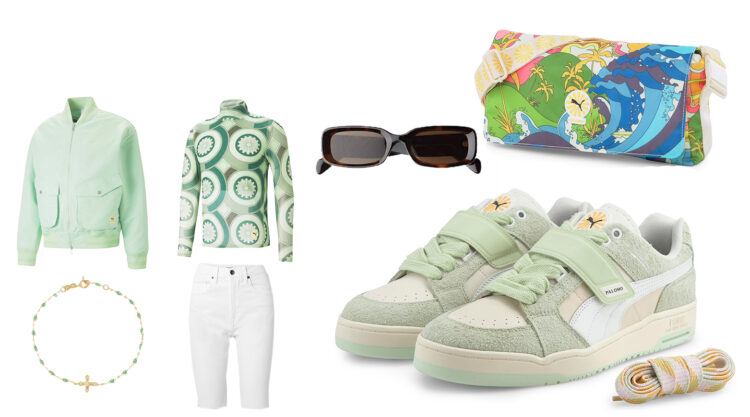 The Outfits
The PUMA x PALOMA Spain wardrobe weaves stylistic inspirations from surf culture in the 60's and 70s to offer an iconic final product that evokes the memory (real or imagined) of catching summer waves in the south of Spain. Classic sportstyle PUMA pieces are gently filtered through the couture lens of Palomo for a colourful gender-neutral collection with five different ready-to-wear styles including lightweight moiré cargo pants, bomber jackets, printed hoodies and more.
Inspired by the freeflow feeling of the collection, the outfits of the day are purposefully interchangeable. The first look starts with the fluid long-sleeve top that mimics a surfing rash guard, made avant-garde. The piece makes a clear statement in aqua green with a psychedelic print. Overtop comes the bomber jacket in a matching green that is athletic, aesthetic, and adventurous all zipped into one. Below this comes a pair of cotton bermuda shorts ─ an essential for the warmer seasons ─ kept feeling fresh in white with frayed hems.
The second look layers up, making it perfect for warming up after a strong surf session. At the core is a mega versatile cotton tee with a bold and colourful co-branded graphic that states: Palomo Spain, Catch the Wave in PUMA Style. Over this comes a beloved comfy hoodie that pops out in a shade of bubble gum pink with its own splashy graphic on the back. This approachable soft-yet-bright shade is taking over the runways this season, so it's a wise time to think pink. Below all of these waves and shades comes an understated and effortless baggy pair of jeans ─ well worn and super comfortable to best slide over your sandy legs.
Outfit #2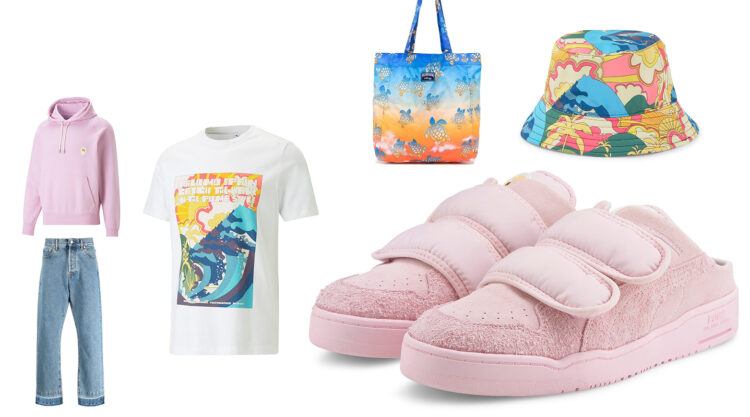 The Accessories
The decorations and doodads here are kept simple and funky while staying on theme. The first look leans into the complementing colour scheme with a simple bracelet in gold and green, and throws in a 70's-inspired pair of round frame sunglasses in awareness of the retro aesthetic. Finish off with a super eye-catching crossbody bag from the line which shows off that (now familiar) wave graphic.
The other outfit stays free and functional ─ a reversible bucket with that same pattern pops up top (and protects you from the sun) while a whimsical ombré tote bag with a turtle print and sunset shades playfully stays on theme and holds all your beach goodies.
The second PUMA x PALOMO Spain collab is both timely and timeless.
Embodying the freedom and adventure of vintage surf culture,

the wardrobe is relaxed and free of conformism. Embrace this gender free form of expression and overall grooviness and

get out there to ride your own wave.

🛍 Shop the collection HERE.