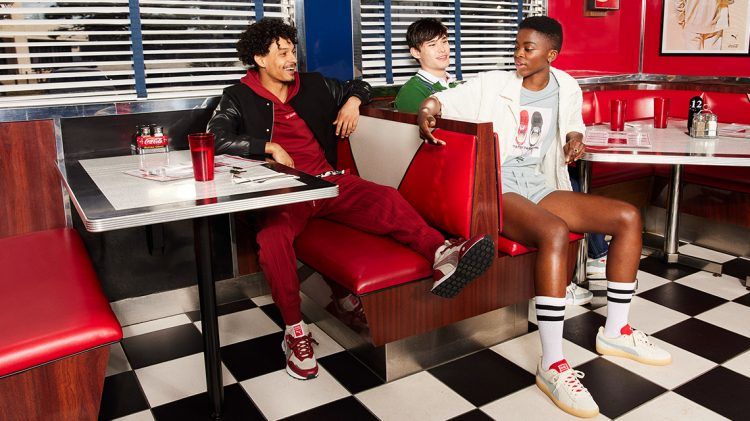 Get the Look
Classic
Taste
GET THE LOOK: PUMA x COCA-COLA
August 15, 2022
GET THE LOOK: PUMA x COCA-COLA
August 15, 2022
PUMA and Coca-Cola® join forces for a nostalgic new launch with
classic vintage flavours that celebrate each brand's profound heritage

. Brimming with old-school Americana vibes, the collection includes all your favourite wardrobe essentials. Here we've styled

two fresh looks that incorporate pieces from the line and throw back some love to stylistic treasures of yesterday.
The Shoes
The bubbling collection will be launched in two parts, with fresh footwear featured in both drops. This time around we're focusing on the Slipstream sneaker, a court classic now reimagined with a retro colour palette and thoughtful new touches. Molded hang tag, co-branded woven labels and elevated details drop this classic sneaker straight onto the modern streets. The humble sneaker is an icon of urban fashion and the perfect base for any fresh look, so we've placed the Slipstream in both outfits.
Outfit #1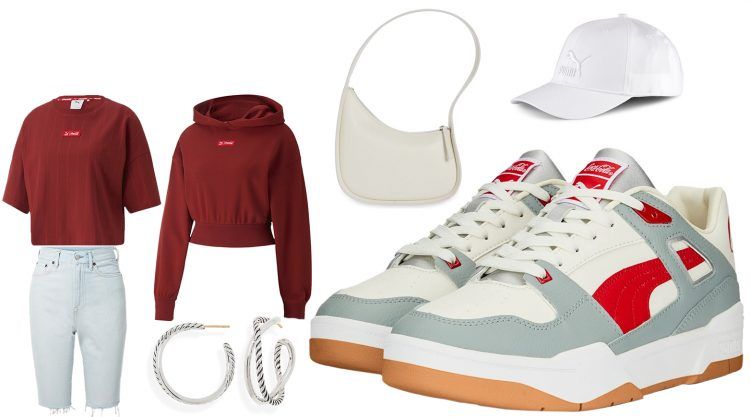 The Outfit(s)
The range includes co-branded wardrobe staples and classic PUMA silhouettes like the T7 tracksuit, as well as a variety of hoodies, shorts and graphic tees. For the first look we went more monochrome with a matching hoodie and tee combo that feels crisp and sweet, like cracking open a can of Coke. Both items are snatched from the line and cropped at the waist, featuring the words "Things go better with Coke" embroidered on the back of their intense (and familiar) red fabric, which makes us feel all sorts of nostalgia. Below we have a pair of jean shorts ─ jorts, for short ─ which are, have been, and will forever remain an Americana staple. The cut of jort seen in style this summer is decidedly longer and more streamlined than it has been in the past; this pair with their light wash, high-waist and slight fraying perfectly complement the tee and hoodie.
The second look plays the perfect counterpart to the more feminine first outfit. Also on the base is a stylish pair of mid denim shorts, this time with Western-inspired side embellishments made up of leather and studs that call out to vintage Americana, Route-66 diners and the wholesome American things we know and love. Above comes the cut and sew relaxed Polo from the line, with a colour-blocked panel insert and vintage collar. On top you can throw on a classic and reliable black hoodie from the drop, complete with the upgraded details, and find yourself with an effortless retro look perfect for today.
Outfit #2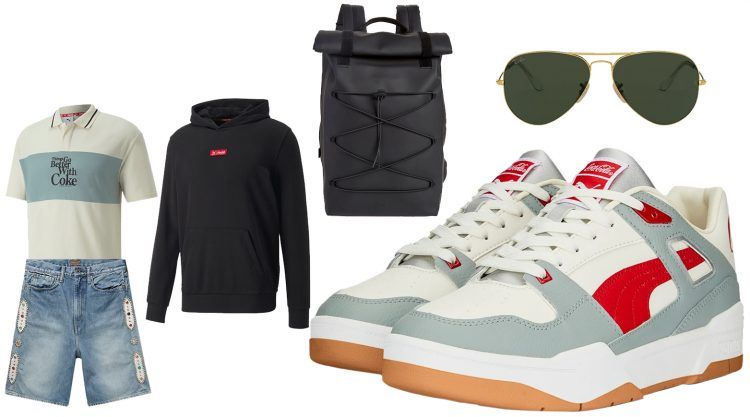 The Accessories 
Staying minimalist and classic with the accessories, for the first look we have a traditional and classic style staple: the always cool baseball cap ─ here in an ultra-crisp white tone completed with embroidered big cat details. Then a pair of elegant silver crossover hoop earrings sparkle away for that little bit of bubbly and playful detailing. Finish up with a luxe little handbag with unique curvy design (in line with the season's trends) and you have a lewk.
On the other side, keep things simple and practical: a black leather rolltop backpack is retro and modern in the same moment, while a pair of aviator sunglasses is the perfectly fitting final touch. With roots in US aviation, the aviators were popularized in film and pop culture in the 80's and 90's and now represent a timeless and stylish choice.
Both PUMA and Coca-Cola® are
iconic brands that have a rich heritage interwoven with American culture.

This new collaboration bears fruit with a series of footwear and apparel items that

herald back to vintage Americana and leave you with a fresh and familiar taste in your mouth.
Shop the collection

here

.