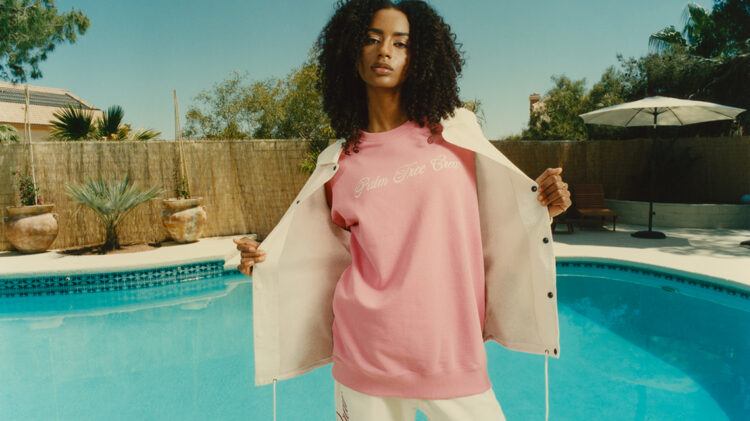 Get the Look
Get the Look: PUMA x PALM TREE CREW
Summertime & The Livin's Easy
August 3, 2023
Summertime & The Livin's Easy
August 3, 2023
PUMA and Palm Tree Crew pair up once again, this time pivoting away from golf gear and embracing their first
lifestyle collection that's brimming with sweet summer vibes.

The line showcases

streetwear silhouettes invigorated by breezy materials

and preppy details. Inspired by the summer sun, we've styled two classy and carefree looks.
The Shoes
The collection's footwear has an array of options in beachy and neutral colourways including the PUMA Suede, PUMA RS-X, PUMA CA Pro, and PUMA Leadcat. For the first look, the chunky silhouette of the funky PUMA RS-X catches the eye, with perforated detailing, the Palm Tree Crew's script logo emblazoned across the upper and a golden palm tree tag dangling off the side.
On the other hand (foot), the pool-ready PUMA Leadcat slides are the ultimate laid-back option, showing off the collection's colourful monogram pattern on the forefront and co-branded elements throughout.
Outfit #1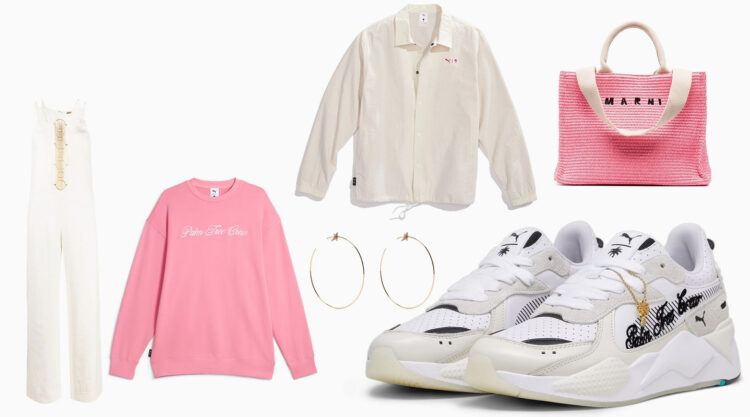 The Outfit(s)
PUMA and Kygo, DJ, producer, and co-founder of Palm Tree Crew, designed the line with an easy-going and everyday kind of style in mind, coming up with apparel items that display bright colours and cool accents perfectly fitting for the peak of summer celebrations.
Outfit number one offers a more feminine approach with a supremely comfortable white linen-blend jumpsuit at the base. Understated and flowy, the piece is elevated by gold ring hardware detailing that climbs up the chest. Over this comes the relaxed fit Crew Sweater from the collection and the co-branded Coach Jacket, both featuring that same script logo graphic seen in the sneakers. The jacket also has the additional element of PUMA and Palm Tree Crew logos peeping out on the chest.
Outfit number two hits hard with the matching monogrammed Short Sleeve Shirt and Short combo from the collab. The bright colours and funky pattern on both the top and the bottom make a vibrant statement, but by pairing it with the slides below and a slightly more structured corduroy overshirt on top you keep it all poised, with an air of preppy nonchalance.
Outfit #2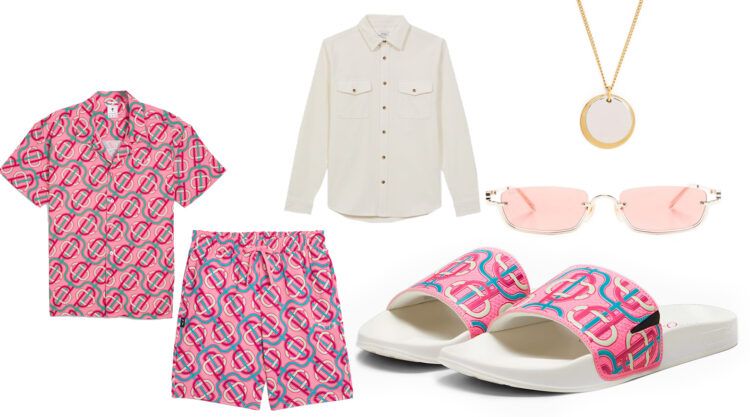 The Accessories
As the vibe of the line leans into the effortless and everyday, it's cool to keep your accessories simple and even slightly understated. The first look is completed by a delicate pair of rose-gold hoops and a pink-hued woven raffia tote bag that matches the sweater and is perfectly practical for the beach or the streets.
The second look cinches things together with a classic gold-tone medallion chain necklace and a rectangular frame pair of sunglasses with gold rims and pink tinted lenses that give off a final flair.
PUMA and Palm Tree Crew partner up once again, this time making magic happen within a brand-new lifestyle collection.
Exuding laid-back summer style,

the collab is full of day-to-day staples that are revitalized with cool accents and vibrant colour schemes,

just in time to take your summer celebrations to the next level.