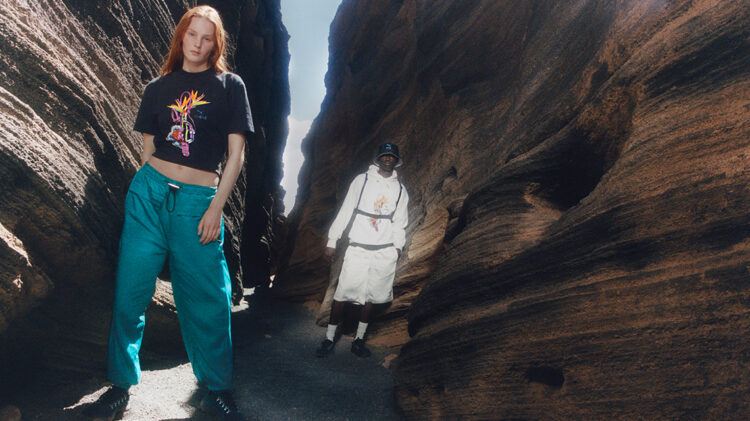 Get the Look
Get the Look: PUMA x KOCHÉ
Naturally Extraordinary
June 29, 2023
Naturally Extraordinary
June 29, 2023
Drawing inspiration from the infinite power of nature, the second drop of the exciting collaboration between PUMA and KOCHÉ strikes again with fresh and functional pieces
crafted in recognition of the natural beauty of gemstones and crystals.


Styling items from the new line we've come up with

two extraordinary looks imbued with the positivity and peaceful energy that runs through the line.
The Shoes
The second offering from sportswear superstar PUMA and Paris-based couture craftsmanship king KOCHÉ delivers two complementary footwear choices, both PUMA PLEXUS designs infused with French artistry: a sleek mid-boot sport sneaker with a clean upper, zip closure and moulded heel piece (seen in the first look), and a hiking-inspired shoe with a visually striking lace system, nubuck leather and some pops of silver hardware (sported in the second look).
Outfit #1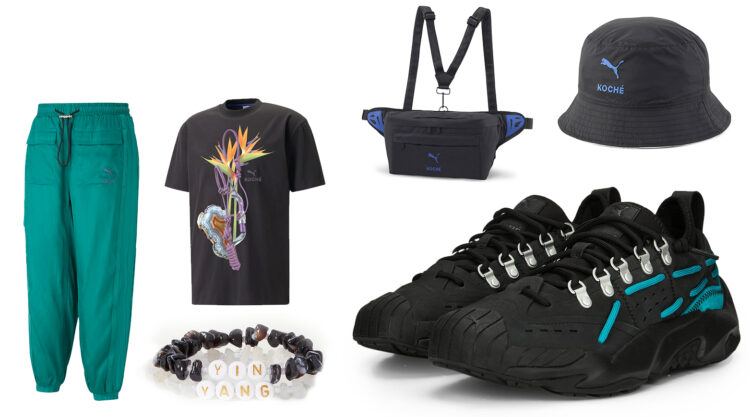 The Outfit(s)
Streetwear staples like shorts, sweatshirts, pants and tees are all elevated with technical details, jewel tones, and crystalline graphics that are anything but ordinary in this second wave of the collaboration.
The first look revolves around the reversible shorts from the series in a gorgeous gemstone tone of teal, with transparent ripstop fabric and roomy pockets. Embracing that sense of outdoorsy adventure, we styled an edgy printed one-piece swimsuit, bringing another aspect of artistry into a look that is ready to become one with nature. Pop an airy crocheted crop up top, with its relaxed flared sleeves, asymmetric hem and wispy fringe in a very down-to-earth brown, to finish things off. Plus the fringe is a design accent that's big in fashion trends this summer season.
The second outfit leans more heavily on items from the collab, opting for the reversible track pants, kin to the shorts styled in the first look, that showcase function and flair perfectly balanced. Then comes a graphic tee that really understood the assignment, flashing a giant crystal design across the front of the chest to make a unique statement.
Outfit #2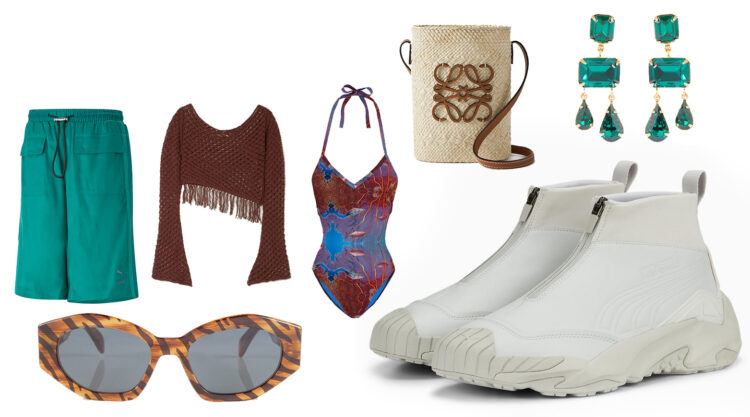 The Accessories
The accessories advance the whimsical yet grounded theme and continue with the striking colour palette – the first look adorns itself with a chic pair of cat-eye sunglasses that combine Parisian sensibility with an animalistic quality, that are then paired with bright teal-blue crystal earrings that glitter with every step, and a leather-trimmed crochet bucket bag that screams 'free spirit'.
The second look finishes strong with the on-point reversible bucket hat from the line, and the convertible waist bag that really captures the versatility of the collection. A simple set of Yin/Yang bracelets made of natural gemstones – onyx and moonstone – is the final touch, winking at the gender-neutral design approach of the collection.
This second installment of the PUMA x KOCHÉ collection
beckons you to explore the natural world,

showcasing the power of nature in its aesthetic colors, tones, and textures.
🛒 Head to puma.com to shop the collection!