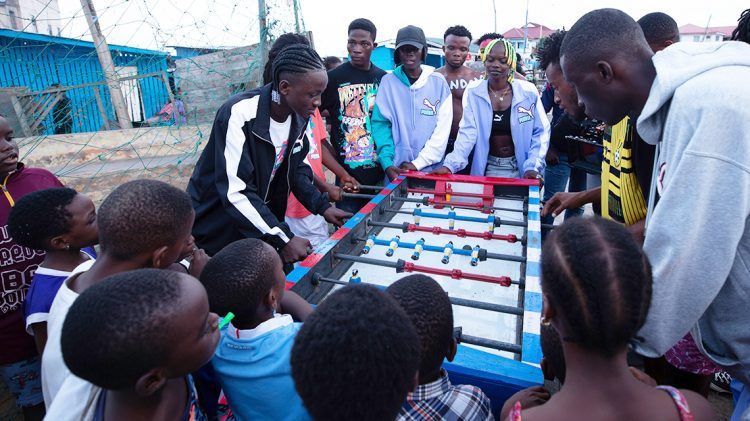 Get the Look
For the
fans
Get the Look: PUMA FANDOM
October 7, 2022
Get the Look: PUMA FANDOM
October 7, 2022
Encapsulating the vibrant spirit of loyal sports fans around the world, our
PUMA Fandom capsule brings out the energy which radiates when passionate people unite around sport

. Inspired by the ones that play the game and the ones that always cheer them on, the collection bursts with bold and bright elements.

We've styled a sporty and lively look with pieces from the series

to bring that cheer out.
The Shoes
Paying tribute to a new generation of football fans, the collection celebrates fan culture in Accra, Ghana, with a colourful campaign shot on location in the hometown of Ghanaian football star Mohammed Kudos. Freshly designed footwear from the series incorporates dynamic colouring like greens, pinks and lavenders splashed out over timeless PUMA silhouettes. You have the Suede, CA Pro, Rider FV and the TRC Blaze with pops of colour and energetic graphics ─ classic cool combined with a new flair and technology.
The whole Outfit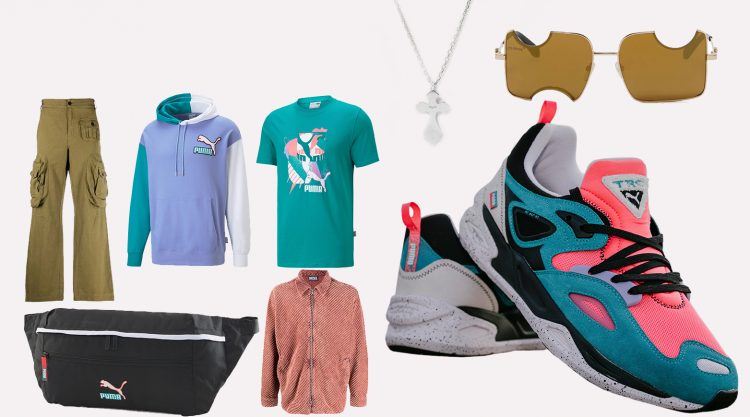 The Outfit
Designed for loyal fans, this collection seeks to showcase what football means to those who love the game. Apparel in the line has vibrant graphics, all-over prints and colour blocking that displays a loud and proud personality. The first layer of our outfit is the Fandom Graphic Tee ─ a modern piece with retro vibes that comes in a funky deep aqua colour. Overtop is the relaxed and cosy Fandom Hoodie, perfect for lounging at home while watching the game, or heading out and hitting the streets. Chenille PUMA branding adds a varsity-inspired touch.
Below comes a pair of mid-rise cargo trousers bringing an earthy and utilitarian aspect to the look. You could easily pair this versatile hoodie and tee combo with some denim or even some sweats if you wanted to lean into the athleisure vibe a little more. Finally, top it off with a textured zip-up shirt jacket in a soft pink that matches tones in the sneakers and tee.The texture adds another element of interest and the humble shacket is the ideal piece for transitioning between seasons.
The Accessories
Elevate your accessory game to the next level ─ a pair of quirky and understated sunglasses go along with the playful feeling established through the bright colours and bold graphics, while a sterling silver statement necklace with a slender pendant is both elegant and simplistic. Finish up with the Fandom Over Waist Bag: practical, stylish and trendier than ever. This edition comes with some subtle splashes of colour, embroidered logo and plenty of pockets for your convenience.
The Fandom Collection seeks to capture that spark of authenticity and the spirit of sport that brings fans together all over the globe. Put your fandom on full display… this one's for you!
🛍 You can shop the collection here on puma.com.