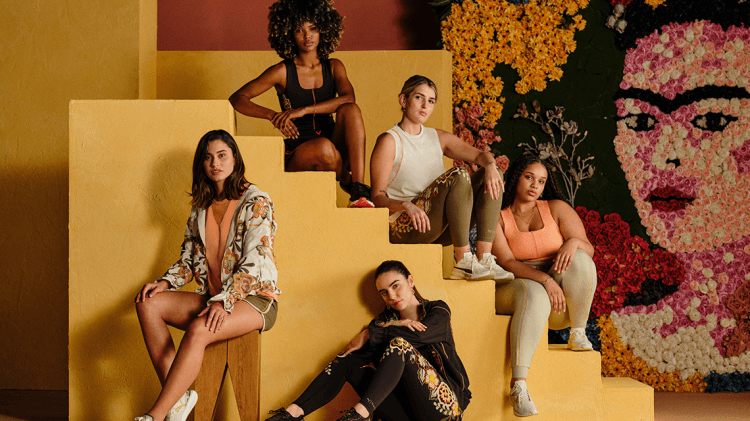 Get the Look
Get the Look:
PUMA x FRIDA KAHLO
Work of Heart
July 7, 2022
Work of Heart
July 7, 2022
PUMA's Female Artists series honours powerful women from all around the world and today we're celebrating one of the most iconic figures from the creative arts – Frida Kahlo. An enduring icon of female empowerment and freedom of expression, Frida has certainly left a legacy! Inspired by the new

PUMA x FRIDA KAHLO

collection, we've styled an outfit that celebrates the essence of her passionate and bold (life) style.
The Shoes
Modern art ─ including the world of fashion ─ has been majorly impacted by the legendary Frida Kahlo. An activist, artist and outspoken feminist, her evolution of style and art can be traced through her unique form of self-expression and iconic aesthetic. Walk a mile in shoes that pay homage to Frida's masterpieces with the new Electrify Nitros, which were used as the base of today's look. With built-in NITRO FOAM tech, a ProFoam midsole and PUMAGRIP outsole, they have the grip and comfort to help you really dig in your heels and stand up for what you believe in.
Also available in the line are the Run XX NITRO with a specially tailored design and the PWRFrame TR Frida Floral with blooming prints and a 3D support system.
The whole Outfit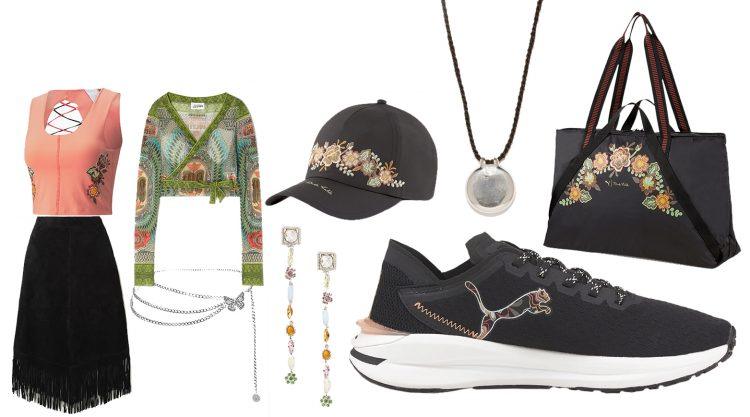 The Outfit
This powerhouse collection includes an abundance of apparel items which showcase gorgeous graphics inspired by Kahlo's iconic artwork. Renowned for her vibrant use of colour and profound expressions of the female experience, her story is one of fierce self-expression.
At the heart of today's outfit is the peach-pink bra top from the collection. With contrast stitching that mimics the embroidery used in Frida's iconic artwork and an open back with criss-crossing cutout details, it is perfectly on-point with both theme and fashion trend. Although in past years it has been all about a bare shoulder, in 2022 we've pivoted and it's now the midriff which everyone is embracing. Wear this crop solo or play up the drama by adding another layer, such as this gorgeous wrap made from wispy stretch-mesh, for a silhouette that boldly accentuates your figure and adds a splash of creative juice.
Match with a funky midi skirt like this chic black suede number with a stylish fringe finish. Slung slightly low around the waist to showcase just a sliver of skin, the length feels both timeless and contemporary. Kahlo's personal style has often been recreated on the runway, incorporating aspects of traditional Mexican wear such as rebozos (fringed shawls), embroidered huipiles (square-cut tunics), enaguas (long skirts) and more. Draw inspo from her special kind of styling and then weave in elements of athleisure for a fresh take on a classic vogue.
The Accessories 
From embroidered blouses and billowy skirts to unique treasures and trinkets, Frida's style was an ever-evolving continuation of her expression. For today's look, skip the chunky jewelry and reach for more crafty pieces that lend an artisanal touch to your outfit. A braided black silk necklace with a sterling silver pendant adds texture and shine, while silver-tone earrings (with multi-colour jewels that hang almost to the collarbone) add a hint of that surrealism which Kahlo loved so much. Continuing with the daring additions, an adjustable silver waist chain pops against the black suede skirt and the butterfly detail gives a dash of whimsy while nodding to the current Y2K trends we see everywhere at the moment.
Then comes the PUMA x FRIDA KAHLO Training Shopper which is versatile and stylish, once again proudly displaying Kahlo's infamous garland graphics. Finally, top it all off with the innovative running cap from the line that comes with a little bit of inspirational wording stitched in, so you can keep some of that Kahlo magic on your mind all day.
Dedicated to celebrating and amplifying the voices of female artists, PUMA's Female Artists series now turns the spotlight to yet another deserving character with the latest launch of the

PUMA x FRIDA KAHLO

collection. Frida Kahlo was a woman of immense talent and strength of character, and the new line pays homage to this inspirational being, fusing art with high-performance pieces that are perfect for boldly striding out into the world.