Get the Look
Get the Look:
PUMA PALERMO OG
Refreshing Sport-Style
July 28, 2023
Refreshing Sport-Style
July 28, 2023
Harkening back to an 80s terrace legend,
PUMA marks a return to Italy with the refreshed PALERMO OG.

Infused with a vibe of quiet luxury, this vintage low-top was

originally part of a series of sneakers paying homage to some of Europe's most famous capital cities.

Inspired by the sneaker's heritage and slick colourways we've styled an elegant and sporty outfit to accompany the drop.
The Shoes
Originally debuting in the 1980s, the Palermo OG was a hit in football stadiums among the terrace crowd, and the remake definitely does not fall short in terms of nostalgic football feels. Featuring original blue and white tones, retro T-toe construction and a classic gum sole, the shoe's signature tag also flashes a bit of gold in its PUMA lettering.
The whole Outfit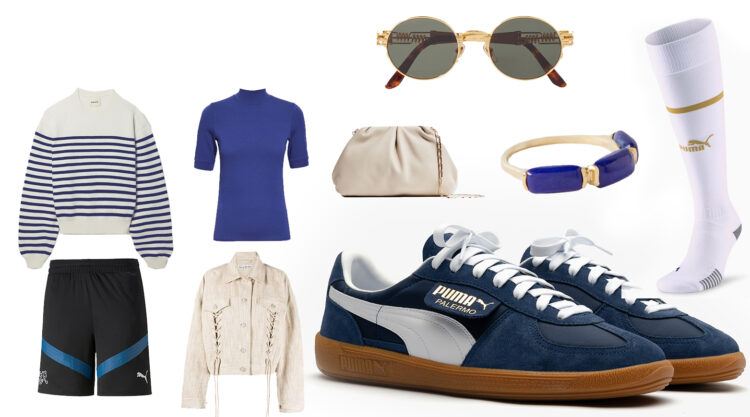 The Outfit
So the fashion scene is currently screaming (or whispering) all about quiet luxury, making it a highly coveted contemporary aesthetic. However, this sense of luxe is meant in a 'less is more' kind of way, with simple but timeless pieces being the name of the game. So, starting with the OG's sports DNA as our inspiration, we wanted to show a little support to the ladies that are currently playing in the FIFA World Cup 2023, with a pair of Team Switzerland training shorts in black and blue. Casual sportstyle at its best, the shorts pair extremely well with longer layers on top to ease into that transition from summer to fall.
Pulling in elements of European elegance, next up comes a high neck short sleeve t-shirt in a royal blue that plays with your expectations of lengths and materials. Over that comes a relaxed sweater knitted from cashmere with white and navy stripes and tapered sleeves that call to mind the French Riviera. Finally, a creamy and creative lace-up denim jacket harmonizes with those notes of nostalgia and vintage vibes that emanate from the shoes, while still being classic and understated.
The Accessories
Take some liberty with your accessories and feel free to play a little; for example, this fun mix of athleisure and luxury gives a new spin on both style genres. First up, a chic clutch bag is the season's 'it' option. Practical, perhaps not, but definitely fashionable ─ shown here is a creamy leather and gold option that matches elements in the rest of the look. Then a pair of round-frame gold-tone sunglasses have unexpected touches like springs and other minimalistic hardware detailing that keep things interesting, while a gorgeous oblong gold ring with lapis lazuli matches shades of blue throughout the outfit. Finally, a classic pair of white and gold football socks, perfect for the street or the stadium, grounds the look back into its sports heritage.
A new drop with an old favourite,
PUMA's Palermo OG is an excellent sneaker to play around with and experiment with your expression and personal fashion.

The classic silhouette and classy colourways lend themselves perfectly to

freedom in finding your ultimate combination

of sport and style.
The drop also includes
two new colorways with vibrant tones

inspired by the iconic fruit vendors of Palermo, as a tribute to the sneaker's Sicilian namesake.
🛍️ Get your terrace style now on puma.com!