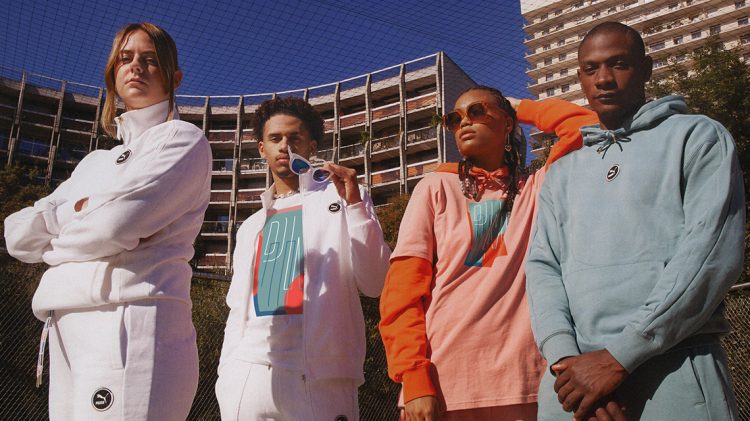 Get the Look
Get the Look: PUMA Go For
It's not all about the win…
February 27, 2022
It's not all about the win…
February 27, 2022
The new PUMA Go For collection celebrates all aspects of sport ─
from the team spirit and inclusive culture to the pure joy of playing the game.

With designs inspired by this peace and togetherness, we put together two gorgeous gender-fluid looks composed of items from the line. Mix and match as you see fit!
The Shoes 
Have your pick of the bunch: the capsule features a large range of footwear styles including the RS-Z, Mirage Sport, CA Pro, Suede and a pair of slides. Old is made new as some of our favourites are done over with a fresh colour palette, inspired detailing and retro-esque designs.
Outfit #1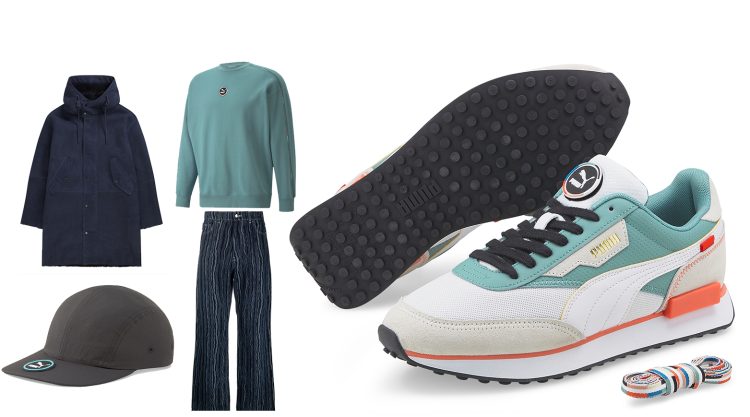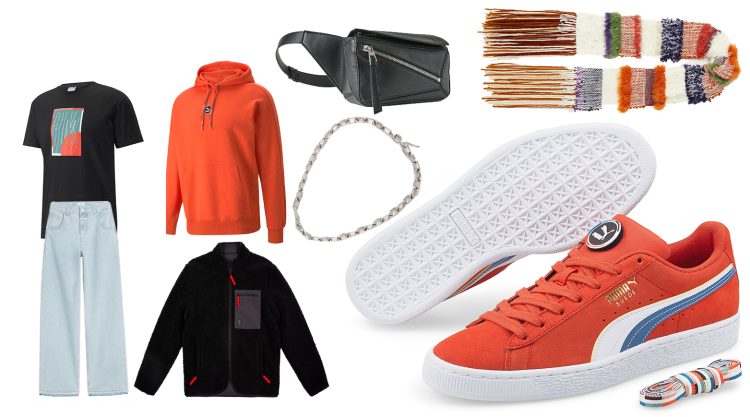 The Outfits
The capsule delivers a soft yet bold assortment of colours splashed across a range of vintage style tees, hoodies and T7 tracksuits. For the sake of inclusivity, items from both looks can be totally mixed and matched to any individual's specific fashion taste.
Outfit number one starts off strong with a crewneck hoodie in a delightful blue hue specific to the spectrum of the capsule. Accompanying this exemplar essential is a pair of wide-leg jeans in a funky abstract print. Flared pants are back with a vengeance in 2022, and this darker wash with ripples of lighter blue perfectly goes with the shading of the sweater. Then keep warm and wrap up with a relaxed lambskin parka in a rich navy. Expansive outwear is in this season and a nice slouchy overcoat is a great addition to the casual shapes created by the sportswear pieces from the collection.
Kicking off the second look is a voluminous and bright hoodie with a matching tee layered underneath, both hot off the new line. You can keep these items on the baggier side, adding to the lux loungewear feel (plus oversize sweaters are the trend to end all trends, aren't they?). Then the bottoms are flexible ─ you'd be equally chic opting for a matching track pant from the collection if you want to continue that sport suit look. Otherwise, choose something a bit more basic like this pair of organic denim pants with a super loose fit and slightly higher waist. The light wash coordinates with the retro aspects of the capsule, and the soft material keeps things relaxed and comfortable. Finally, there is a definite revival of the fleece this season. Thick-pile retro fleeces have been super popular this winter especially when layered with textured fabrics to bring a new tactile dimension to your cold-weather look. Plus the zipper detailing plays with the bright hues of the sneakers and sweater in a subtle way that really ties the whole look together.
Outfit #2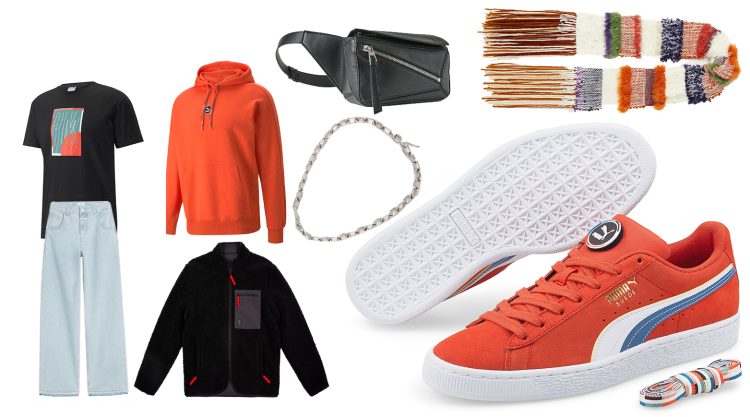 The Accessories 
Keeping up with the whimsical nature established by the abstract pants, a quilted leather belt in minty blue gathers at the waist to bring a point of focus amongst the baggier fabrics. Then an effortless black cap with minimal branding gives a nonchalant final nod to the whole look and drives home the semi-nostalgic sportstyle vibes.
On the other side, a chunky chain is right on the money for both men and women's fashion this season. Wear it solo or layered up, however suits your taste. A miniature leather belt bag is popular and timeless (black leather will never go out of style) plus the artsy panelled design adds some interest to an old school piece. Finally a loud and rather out-there (dare we say, ugly) fringed woven scarf brings contrast and interest and doesn't take itself too seriously.
With a
retro design range, gender-neutral silhouettes and inclusive sizing options

the new PUMA Go For capsule keeps things playful and really celebrates the comradery of sport, reminding you to go for it!