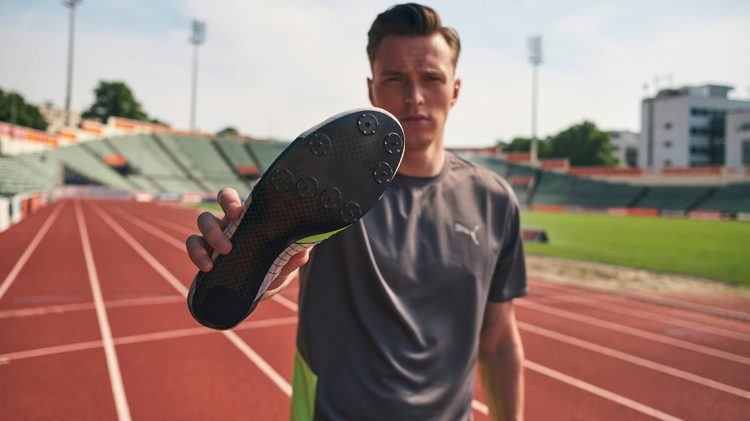 FASTER+
PUMA joins forces with Mercedes AMG Petronas F1 to create its fastest ever Track & Field spikes
July 12, 2021
PUMA joins forces with Mercedes AMG Petronas F1 to create its fastest ever Track & Field spikes
July 12, 2021
Forever Faster! We have teamed up with Mercedes AMG Petronas to create PUMA's
fastest, lightest and most propulsive Track & Field spike to date

. Welcome to the world of

Faster+

.
To make the best spikes for our athletes, that comply with the regulations, we connected the engineers of Mercedes AGM Petronas F1 with our best footwear people. With the input from our athletes and their coaches, the team developed the best spikes PUMA has ever made.
Together with Mercedes AMG Petronas F1, PUMA applied engineering insights from the world of Formula 1 and automotive to design the EVOSPEED TOKYO FUTURE FASTER+ and the EVOSPEED TOKYO FUTURE NITRO FASTER+ for our athletes, including Karsten Warholm, Norwegian hurdler, World Record holder, World Champion and European Champion, and André De Grasse, Canadian sprinter and Olympic silver medalist.
Learnings and technological advances from the FASTER+ program were also passed down and integrated into other track and field spikes for athletes such as Ukrainian high jumper Yaroslava Mahuchikh, Swedish pole vaulter Armand "Mondo" Duplantis and Swiss sprinter Ajla Del Ponte.
PUMA's FASTER+ program applies engineering insights from every corner of sport culture to our PUMA sports products. Benefits are focused on helping our athletes excel in their sport by looking beyond their typical field of play to make them better, faster, stronger.