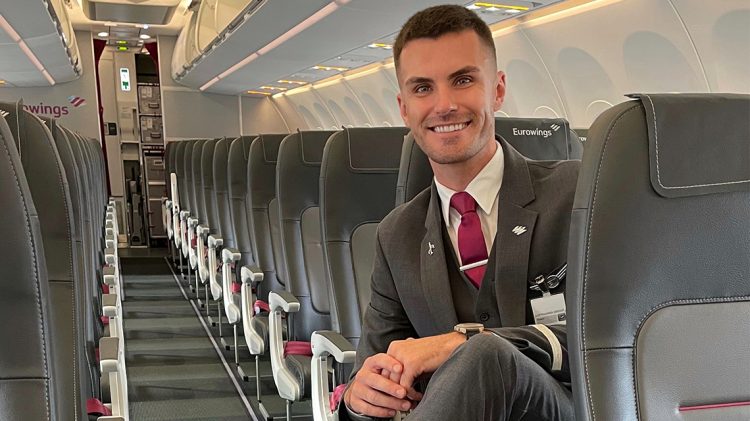 PUMA Smash
take off ✈️
Eurowings flight attendant Paul Henry Duval talks about wearing the PUMA Smash on board
October 13, 2022
Eurowings flight attendant Paul Henry Duval talks about wearing the PUMA Smash on board
October 13, 2022
After German airline Eurowings announced that its cabin crew is free to wear PUMA Smash sneakers on the first Friday of every month ("Sneaker Flydays"), we wondered how they'd be received by the flight crew. "CATch up" now had the chance to talk to one of the Eurowings flight attendants,

Paul Henry Duval

. We asked Henry about his experiences and about the improvement and trends in uniforms.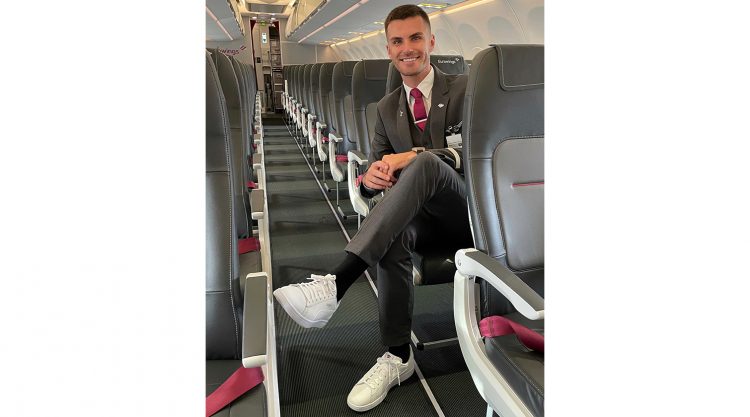 How long have you been a flight attendant?
Paul Henry Duval: I have been working for Eurowings as a flight attendant for six years ✈️.
In your experience, to what extent has board staff attire changed in recent years?
Paul Henry Duval: I think the uniforms have already changed in recent years. In the past, everything was very conservative and plain. Today, the uniforms are more colorful, are cut more modern and the airlines also dare a little more.
Would you like to see a more comfortable outfit/workwear in general?
Paul Henry Duval: I am very happy with the current style of uniforms. It is important that the crew is serious, because in an emergency we save lives. However, I find it cool to be able to make the uniform a little more "casual" with the sneakers.
Regarding the PUMA Smash sneakers, how are they received internally? What are your experiences with the sneakers?
Paul Henry Duval: The PUMA Smash sneakers in Eurowings design are very well received internally! Especially our female colleagues are happy to change their high heels for comfortable sneakers. But not only internally the sneakers are well received, also our guests find them great. Many colleagues have been asked by guests whether the sneakers can be purchased and that they would absolutely like to have some. That says it all!
What is your everyday life as a flight attendant like? Traveling can be quite exhausting. What is your compensation? Do you have time for sports?
Paul Henry Duval: As a flight attendant, you travel a lot, of course. That's why I also try to use the gym in hotels. When I'm in Düsseldorf (in Germany), I have regular training sessions with my personal trainer Manuel Gajus. We've been training together for a year now, and sports have become an important part of my life and very important as a balance to my job.
Thank you for the chat and for sharing your insights, Henry!
View this post on Instagram