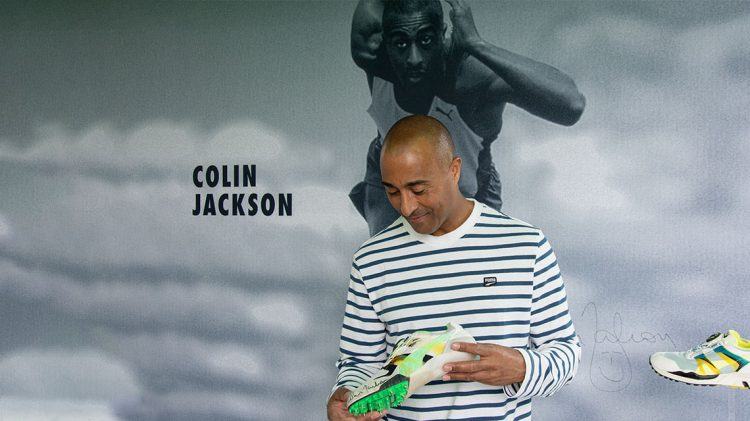 "The most
important thing
is to have fun"
PUMA ambassador and Olympic athlete Colin Jackson talks about his athletic career and his job as a sports commentator
August 10, 2020
PUMA ambassador and Olympic athlete Colin Jackson talks about his athletic career and his job as a sports commentator
August 10, 2020
British hurdler Colin Jackson stopped by at the PUMA Headquarters last week to moderate the press conference of PUMA´s new cushioning technology XETIC. CATch Up took the chance and met him for an inspiring interview. The charismatic Welsh talked to us about his
athletic career

and his step into the

world of moderating

.
Sports was and is a huge part of your life. How do you integrate sports into your life now after you ended your active sports career almost 20 years ago?
I feel like I'm still very active. I ski, I snowboard, I swim, I play tennis, I lift weights, I do circuits, so I still keep myself very active and I make time for all of those because I enjoy them. I think one of the things that is really crucial is that there is sports for all – you just got to find which one suits you. And then you have that real desire to improve. Some people take up golf, I don't like golf, to me it is like a good walk. But that's what some people fully enjoy. And if it means it gets them out to walk for miles, fantastic. I would rather have a go with some light water, canoeing or rafting. But that's me. So sport is still very much part of my lifestyle.
What did you do during quarantine with limited options? Did you workout at home?
I mean, your house becomes everything to you during quarantine. It was my office place, it was where I did a class, it was where I trained. I was doing four pilates classes a week, four yoga classes a week and a circuit training class for people four times a week as well. I was very active during the lockdown period.
That is an intense program.
Yes, but it was fun. Again, it's finding what you want to do, what you enjoy and I think when you're in that circumstantial situation, you can dip in or dip out as you feel fit and for your pleasure. But during the lockdown, sport was really important because you still have that connection with people and you see them on the screen.
As a former world champion and former world record holder, what advice could you give young aspiring athletes to become successful in what they do?
The most important thing is to have fun. Because if you're not smiling and have fun, you can't work hard, and you can only get to the top of your game by hard work and commitment to the hard work.
And you have to stay consistent. I think the term we use in English is consistent application. So you're applying everything, every single day. If you have that consistent application, you will get success. That's really for me the real equation. Then you got to understand that the days when you're not gonna feel great, there will be days where you don't feel a million dollars and you have to accept those days. But don't make those a regular. Just have them, you know. Enjoyment has to be right at the very top.

Once you were performing on the field, now you are commenting outside of it: How would you describe your job at the BBC?
You know what, I think I have the world's best job.
What do you like more, the BBC job or your former active sports career?
Good question. If I had known what I was gonna be doing after I retired from athletics, I would have retired ten years earlier. Now with that in mind, it didn't mean I didn't enjoy athletics. I certainly did enjoy my performance career, but this is why it's equally as attractive to me. I think the pressure is off you and I can always have a good night's sleep and a glass of wine before an olympic final that I have to commentate on. It's not a problem. If you're performing, I guess, you better leave that way, way, way in the background. So yeah, I enjoyed my athletic career and I enjoy what I do now. I do genuinely think that I'm lucky. I really do.
So the difference is that the pressure is off now?
Yeah, I think that is one of the biggest things. Because nobody teaches you to deal with pressure when you're a young sportsman or -women. Nobody teaches you that. All they coach you to do is to perform. But nobody tells you that there's gonna be huge expectations of you. So all of a sudden, there's demands from partners, there's demands from the world, press, there's expectations from your country.
How would you say, you learned to mentally deal with this pressure?
That, I believe you're built with. I shut off the external pressure and just believed what I was capable of delivering. I knew I had to deliver while I was capable of delivering. If it was gold on the day, I would take the gold. But that I think comes very much from you internally.
If I had known what I was gonna be doing after I retired from athletics, I would have retired ten years earlier.
Colin on the PUMA bridge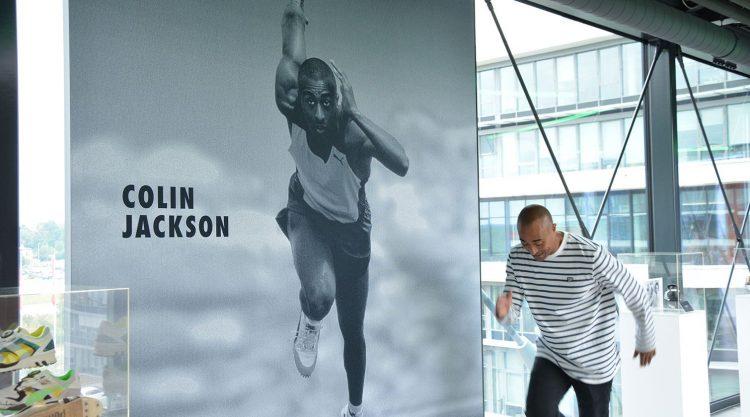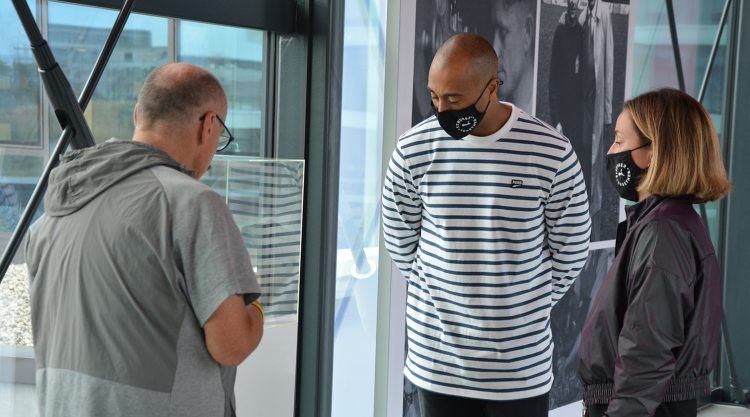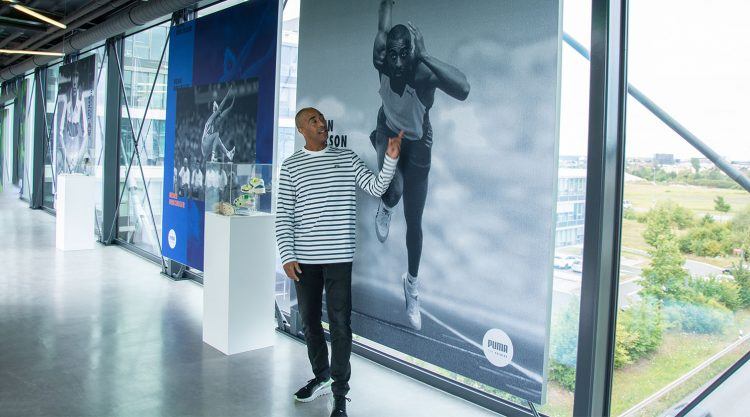 What do you enjoy the most about being a TV host?
I love the live interaction. I love just people seeing you for more than the athlete. They get to know your personality, a little bit more when you're you. I try to show that all the time. I try to bring that up at those who are sitting alongside and present that kind of energy. I just try to do that, because when you learn about TV, I think straight away, it's very transparent. People instantly see if you're faking. I just try to be the person that I am. The other thing is to understand. When you're doing live broadcast, there's no added pressure because you fear you make a mistake. If you're just you, then you can't make any mistakes. Because this is just the way you are. People either love you or they don´t. And that's fine. Not everybody can love you. I think if you accept that not everybody is gonna go: "You're brilliant and you're fantastic" then you can genuinely be happy with what you do.
Besides your successes in sports, what would you say is your biggest achievement in life so far?
I think I have been lucky to use my voice in many ways, in my life experiences, in many dimensions. I love raising funds for charity for example. This is important for me, because I only get involved in charities that I believe in. So I won't lend my name to anything just because.
Which one would that be for example?
Well, first of all for prostate cancer in the United Kingdom. We did something called "Go Dad Run" which is fantastic and PUMA helped us set that up as well.
It is about raising awareness at men's health issues, because men don't talk and prostate cancer is one of the biggest killers certainly in the black community. So it's really important to get the message to guys out there to be tested. If they find it early enough they can find a cure. It's really important for me that I use my voice to get that message out. Two of my uncles unfortunately died because of this illness, so it is something that is very very close to my heart.
Last question is a food question. We learned from your Instagram account that you are a foodie. What dish do you personally like to cook?
Kaiserschmarrn, I love that. The sweet. Get it with some plums or some apple, oh man! Especially when you're skiing in the mountains. Fabulous! I have so many favorite dishes to do. I love chicken. I would do really spicy buffalo sauce chicken wings, which are really nice and easy to make. You gotta be comfortable in getting your fingers dirty and you gotta make them a bit crispy. There's a couple of techniques: If you look on my Instagram, you'll find out how to. You can use a blue cheese dip as well and you can have it for a salad or you can go down with curly fries, for example. So yeah, those would be my kind of faves.
Delish! Thank you very much Colin!