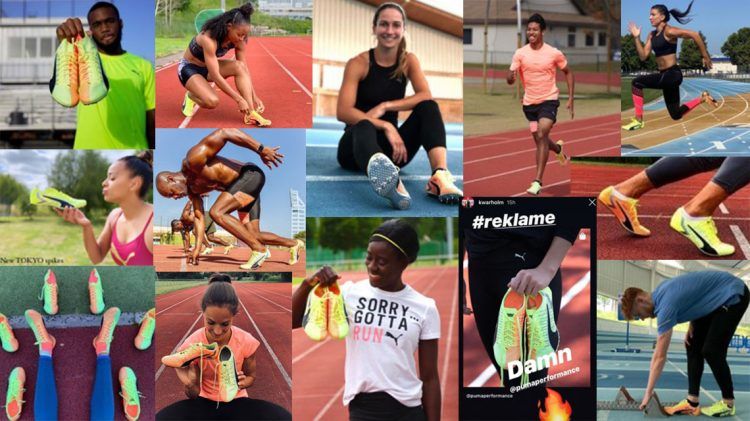 Speed up
with the
evoSPEED TOKYO
Top athletes celebrate PUMA's new sprint spikes
July 7, 2020
Top athletes celebrate PUMA's new sprint spikes
July 7, 2020
PUMA just released its most technical track spike in years, the
evoSPEED TOKYO

including the FUTURE & BRUSH versions. Only one week after launch, the new spikes were promoted by our athletes around the globe in a Forever Faster manner, with a total reach of 2.7 million on Instagram.
The spike is created for the fastest athletes, who are in need of maximum speed. The evoSPEED TOKYO comes with four versions: FUTURE and BRUSH, which are both available as MID.
Some of the technical highlights include 8 pins (permanent for the FUTURE and replaceable for BRUSH), which guarantee lightweight grip for the professional track and field athlete. Secure fit is ensured by single-piece MATRYX MICRO TECHNOLOGY upper infused with Carbon Fiber treads helping to lock the foot securely in place. On top, the open woven construction supports breathability during hot on-track summer conditions. So far the feedback on the new spikes is promising and we can't wait to see our athletes competing in them. They'll beat the clock before it even started to count.
Here in Jamaica it's all about speed and going faster for us and the new PUMA evoSPEED TOKYO spikes delivers that. They even look fast.
Over 50 international track and field athletes, including Karsten Warholm, Blessing Okagbare, Andre De Grasse, Mondo Duplantis and Yasmin Kwadwo, helped to spread the news about this unique spike. They got creative on their Insta feeds and in their stories by sharing their insights and experiences they've had so far with these shoes.