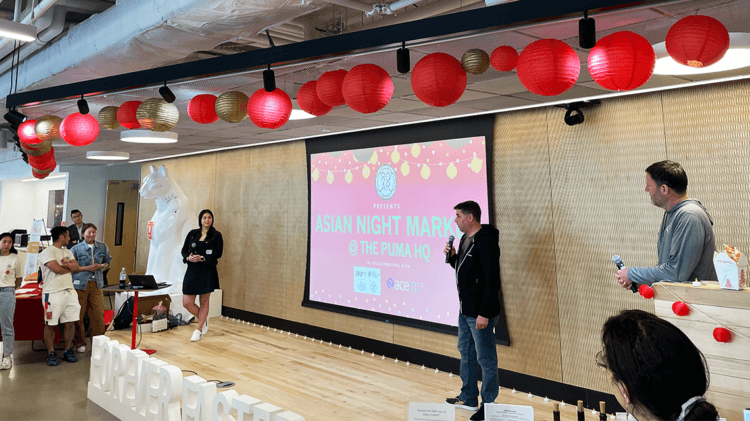 Celebrating Our
Asian Diversity at PUMA
Asian American and Pacific Islander Heritage Month
May 29, 2023
Asian American and Pacific Islander Heritage Month
May 29, 2023
PUMA North America (PNA) hosted the first ever PUMA community event in office celebration during AAPI (Asian American Pacific Islander) Heritage Month.
The event took place on May 10th at the PNA HQ in Somerville, MA and coincided with the official launch of ROAR (Recognizing Our Asian & Pacific Islander Reach), the Employee Resource Group (ERG) for AAPI employees. With a goal of promoting and educating our broader community on the diverse experiences and cultures of AAPI, ROAR's mission is to create opportunities for engagement, empowerment and advancement for its' members and the PUMA community alike.
The Asian Night Market event was created as a fun social gathering for our employees to encourage peer-to-peer engagement, introduce elements of Asian culture to PUMA, but also to support small, local, AAPI and women entrepreneurs. Over 300+ PUMA employees as well as neighbors from 455 Grand Union Blvd were in attendance with raffle prizes, door prizes and a grand prize of a pair of Taylor Swift Eras Tour Tickets!
The afternoon activities were kicked-off by Bob Philion, President, PNA and ROAR's Executive Sponsor, Peter Mastrostefano, SVP, General Counsel and was attended by 20+ vendors, 7+ food/drink vendors. Along with the physical event, ROAR hosted a virtual shop-along site to engage our remote and work from home employees.
Also, during AAPI Heritage Month, PUMA North America is partnering with streetwear brand and longtime collaborator Jeff Staple for a screening of a conversation on Gidra, an Asian-American student-run newspaper created in response to anti-Asian sentiment in 1969.  Jeff recently partnered with PUMA to release his recent collection of footwear and apparel which was inspired by Gidra.
Lastly, PUMA North America hosted a virtual AAPI Heritage Month conversation on May 18th with PUMA Ambassador and Peloton Instructor Aditi Shah which was moderated by Michelle Marshall, Director of Diversity, Equity, and Inclusion.