When it comes to Health and Safety,
does the West know best?
Anne-Laure Descours talks to the latest episode of our RE:GEN Reports Podcast
July 20, 2023
Anne-Laure Descours talks to the latest episode of our RE:GEN Reports Podcast
July 20, 2023
In the latest episode of the RE:GEN podcast Anne-Laure Descours, Chief Sourcing Officer at PUMA, sheds light on the significant improvements made by suppliers over the years. We had the chance to chat with her about these advancements and the importance of recognizing and promoting them together with our partners. Read on!
Where did the podcast title "When it comes to health and safety, does the West know best?" come from?
Anne-Laure: The idea behind the title was to highlight the efforts and progress made by suppliers in the area of health and safety. I wanted to make people aware of the tremendous improvements and investments made at the factory level by our suppliers, which often go unnoticed by consumers  but also by our people internally. Additionally, I also discussed how the dynamic has shifted from the West guiding the improvements ten years ago to a more collaborative approach with suppliers, who have even overtaken us in certain areas, such as automation and manufacturing transformation. 
So, the West does not necessarily know best when it comes to health and safety? 
Anne-Laure: Personally, having lived in Asia for 30 years and regularly visiting suppliers, I don't believe we Westerners should tell our suppliers what they should do anymore. It's more about engaging in conversations and collaboration. In fact, we now learn from some of our suppliers. A rebalance of power has taken place and many countries, for example China, have considerably modernized in areas like health, safety, and environmental practices. During my last visit in the country, the first after 3 years of Covid, I was impressed by the significant reduction in noise pollution due to the widespread use of electric cars and buses. 
Can you explain PUMA's "10FOR25" target on health and safety? 
Anne-Laure: We have set several targets to ensure safe working conditions. These targets include achieving zero fatal accidents within PUMA suppliers, reducing the injury rate to below 0.5% for PUMA suppliers, conducting safety training for 80% of PUMA staff globally once per year, and building safety policy programs in high-risk countries. While there are multiple targets, we aim to simplify them for better clarity in the future. 
Besides accidents, what are the key focus areas under health and safety for PUMA?
Anne-Laure: Apart from preventing accidents, we prioritize improving working conditions in the factories. Enhancing working conditions not only benefits the well-being of employees, but also increases efficiency and productivity. Moreover, as labor costs have risen in many countries, providing better conditions through manufacturing investments in robotics and automation has become economically viable, helping to improve worker retention. So, upgrading the working environment makes sense for the people, but also for the business.
What are you most proud of regarding PUMA's progress in health and safety with its suppliers?
Anne-Laure: I am proud of the long-standing relationships we have built 
with our suppliers, some of whom have been with us for 15 to 20 years. When I visit the factories, I can witness the significant improvements in working conditions over the past decade. Our commitment to staying with our suppliers, collaborating as a family, and sharing benefits has resulted in a win-win situation. To continue investing in better manufacturing and working environment, our suppliers need to know that we will stay with them for the long term. This requires trust. And over the years with our suppliers, we have built that trust. This partnership approach has not only sustained long-term business relationships, but has also helped to improve working conditions.
And what is the key ingredient to ensuring continuous improvement in health and safety?
Anne-Laure: Collaboration and transparency are crucial for continuous improvement. It's about engaging in dialogue, sharing visions, and aligning our goals with those of our suppliers. This collaborative partnership strengthens us as a group and contributes to better working conditions. 
Another key element is to be present on site, and with a significant number of our PUMA sourcing teams being located at the factories, it allows regular conversations, not just on business but also on people.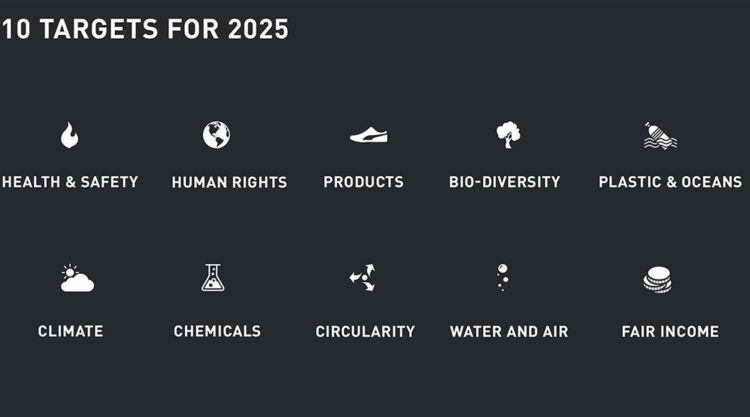 Aside from the progress made, where does PUMA need to focus its efforts to improve in health and safety?
Anne-Laure: Continuous improvement is key. Today, if you visit manufacturing floors, you would be really surprised by the improved working conditions. The next big step for us is to make consumers aware of the significant progress made by suppliers and the efforts they have put into making things better for their people. We need to help change the perception in the West. It's important to showcase the transformation that has occurred over the past 10 to 20 years. My ambition is for the PUMA community and consumers worldwide to recognize the work that has been accomplished. Hopefully, we can become ambassadors of these positive transformations. I recently visited factories in Brazil, Argentina, Mexico, China, Vietnam and Bangladesh, and the manufacturing transformation and improvements in health and safety have been impressive. We need to shed light on what our suppliers have achieved, give them the credit they deserve, and incentivize them to continue making progress. Currently, the recognition for suppliers who have made efforts is lacking.
What are your top three takeaways for listeners from this podcast interview? 
Anne-Laure: My biggest takeaway would be to make an effort to learn. In a world filled with negative stories, it's important to highlight the positive and share the good examples. We need to understand and appreciate the significant contributions made by these individuals and the manufacturing industry as a whole. It's essential to take the time to listen to podcasts like these and gain knowledge about the reality of sustainability and the remarkable stories behind it. I would like people to recognize that we are operating in nations that have made significant progress and are committed to continue doing so. It's time to change the perception and acknowledge their accomplishments. We have  examples within the PUMA sourcing base on our commitment to improvement. Of course, there is still work to be done, not only in Asia or Latin America but also in Europe, but the industry has  made substantial advancements that are not widely known. I hope these podcasts will create an opportunity to shed light on the progress that has been made and provide a more accurate understanding of the current reality.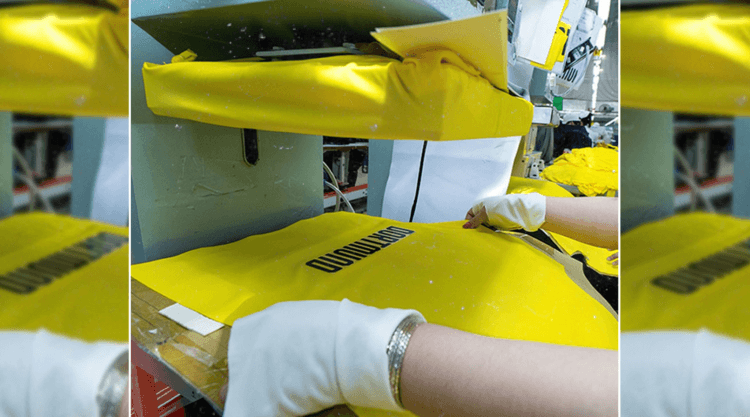 And lastly, where can people find these stories about PUMAs progress in the area of health and safety?
Anne-Laure: We have a comprehensive annual report spanning 160 pages that I would encourage people to read. However, I understand that it can be quite extensive. This is why we have also taken the initiative to create podcasts. The podcast series consists of ten episodes, each lasting 15 minutes. It is a fantastic resource that deserves attention not only from external audiences but also from our PUMAs. Taking just 15 minutes to listen to the podcast episodes during your morning commute can provide valuable knowledge about what is truly happening in the world of sustainability. It's a good way to stay informed, not just for yourself but also to share the information with your family and friends. 
Thank you so much for your time, Anne-Laure!
Listen to all Episodes of the RE:GEN REPORTS 👇
EP 01 / HUMAN RIGHTS
Join community organiser Anya Dillard on the RE:GEN REPORTS podcast as they speak with PUMA's, Viola Wan about the challenges garment workers face.
EP 02 / CHEMICALS
Tune into content creator Luke Jaque-Rodney and ZDHC's Klaas Nuttbohm discussing the future of chemicals in fashion – on our second episode of the RE:GEN REPORTS.
EP 03 / CIRCULARITY
Listen to fashion designer Andrew Burgess chat with PUMA's, Simon Hessel, about 'circularity' and PUMA's RE: FIBRE project – only on RE:GEN REPORTS.
EP 04 / FAIR WAGES
Human Rights Student Amina Shakeel talks to Shelly Han from the FLA on creating a fairer labour market in the global south – only on RE:GEN REPORTS.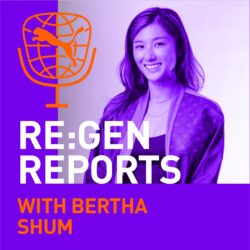 EP 05 / CLIMATE ACTION
Fashion Designer Bertha Shum is joined by UNFCCC's, Lindita Xhaferi-Salihu on RE:GEN REPORTS to discuss radical collaboration and climate change.
EP 06 / BIODIVERSITY
Eco activist Ripu Daman Bevli talks with Nicole Rycroft, of Canopy Planet on RE:GEN REPORTS on how fashion impacts our ancient forests' biodiversity.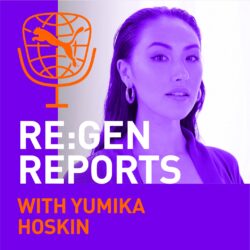 EP 07 / PLASTICS AND OCEANS
Founder of sustainable bag company (Peco) Yumika Hoskin joins PUMA's Jordan Eichenberger on RE:GEN REPORTS to discuss the use of plastic in the fashion industry.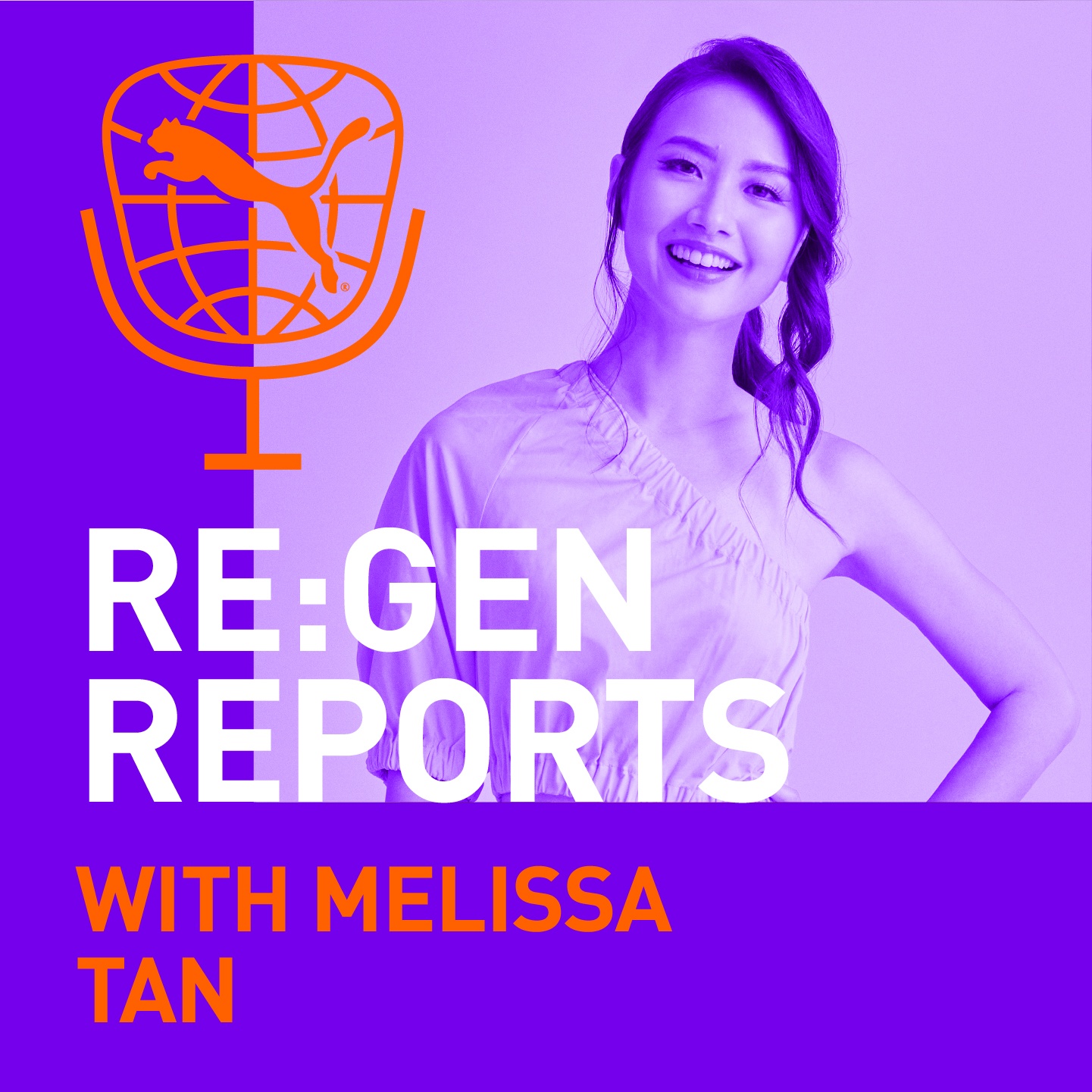 EP09 / WATER & AIR
Malaysian based eco-conscious Earth Day Ambassador Melissa Tan discusses how fashion's thirst for water is impacting our changing climate with Kurt Kipka from the Apparel Impact Institute.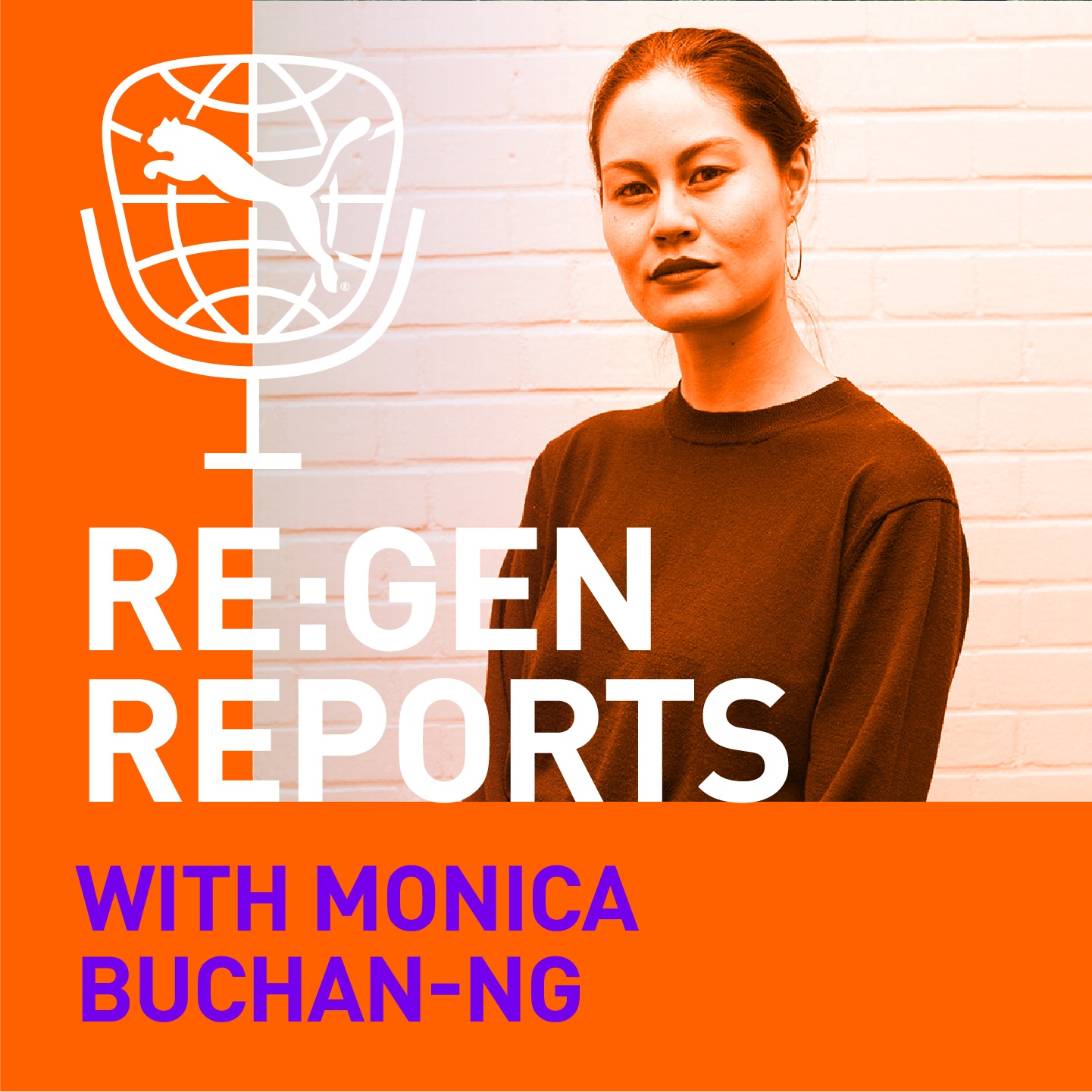 EP10 / HEALTH & SAFETY
Monica Buchan-Ng, Acting Head of Knowledge Exchange at the Centre for Sustainable Fashion speaks with PUMA's Chief Sourcing Officer, Anne-Laure Descours, about working conditions in the textile industry.