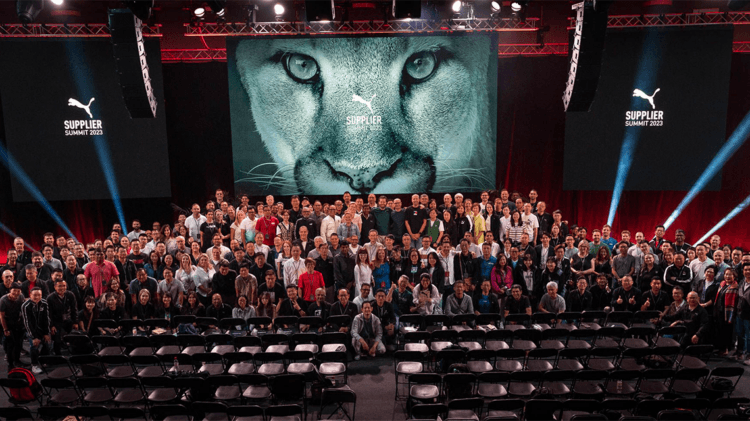 Suppliers are PUMAFam
A Recap of PUMA's Supplier Summit 2023
June 22, 2023
A Recap of PUMA's Supplier Summit 2023
June 22, 2023
Last week, PUMA's Herzo HQ played host to an exceptional gathering as the Supplier Summit 2023 brought together 150 partners from 80 suppliers worldwide. The event proved to be a resounding success, fostering collaboration, innovation and sustainability and reinforcing the strong bonds between PUMA and our valued suppliers.
The two-day summit, which took place for the first time in 6 years, was marked by insightful discussions, inspiring speeches, and engaging activities, all aimed at sharing our strategic priorities and setting new milestones for the future. Led by Anne-Laure Descours, our Chief Sourcing Officer, the entire team worked tirelessly to bring this remarkable event to life.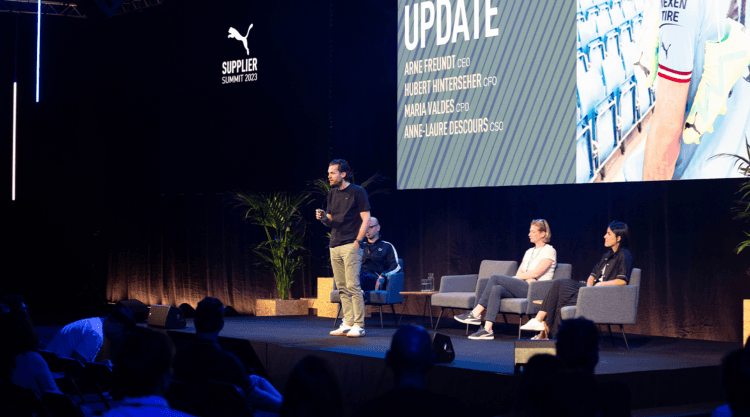 Thursday, June 15th, kicked off with a warm welcome of our CEO ARNE FREUNDT and an invigorating board update speech. Strategic focus was at the forefront of discussions, emphasizing the value of long-term partnerships and presenting our shared approach on sourcing in the future.
Suppliers were welcomed as an integral part of the PUMAFam, highlighting the shared commitment to elevating our brand to new heights. With an unyielding hunger for success, we aim to disrupt the industry and be known for our innovative prowess – together with our suppliers. Sustainability and empowering women were also key areas of focus, underscoring our dedication to social and environmental responsibility.
The Tech Panel provided invaluable insights into the world of 3D prototyping and its transformative impact on digital product development. It showcased how PUMA and its suppliers are embracing innovation, efficiency, and sustainability in their quest to provide better products and services to customers worldwide, while becoming more and more sustainable and efficient at the same time. The Supplier Summit 2023 once again demonstrated the power of collaboration and the collective drive to push the boundaries of what is possible.
The day concluded with an offsite activity in the picturesque Franconian region, where participants bonded and used the platform to exchange and network over golf, wine tasting, and a delightful dinner.
Friday, June 16th, began with an energizing morning run, where over 50 of our guests participated, setting the tone for an impactful day ahead. Operations and sustainability updates were presented, reaffirming PUMA's commitment to excellence in all areas of its operations and sharing the progress of our sustainability 10 FOR 25 goals. The Sustainability Panel sparked engaging discussions on the path toward a more sustainable future, and elaborated the different measures that we can take together with our partners and suppliers to elevate our brand and have an impact on a FOREVER.BETTER. future.
The event culminated in an award ceremony, recognizing outstanding contributions in the four categories "Performance", "Sustainability", "Innovation" and "Special Efforts" and celebrating the collective achievements of our suppliers.
The Supplier Summit 2023 not only fostered collaboration and knowledge sharing but also highlighted the exceptional spirit and mindset of our partners. Each interaction demonstrated the immense value of these long-term relationships, as we continue to push the boundaries of innovation and sustainability together.
We are grateful to our #PUMAFam for exceeding our expectations time and time again. With the Supplier Summit 2023, we have fortified our bonds, setting the stage for an exciting future of growth and success.
Together, we are FOREVER.FASTER. Together, we become FOREVER.BETTER.