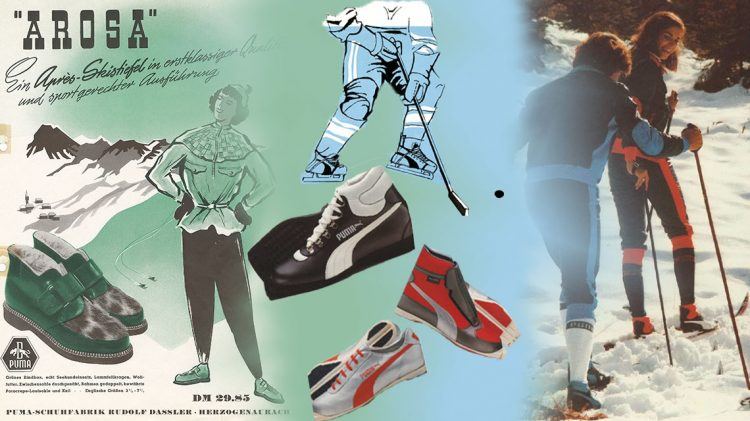 PUMA Archive
Caution! Don´t
slip!
A journey through time: Ice skates made by PUMA
December 15, 2020
A journey through time: Ice skates made by PUMA
December 15, 2020
Did you know? Our founder Rudolf Dassler was also an enthusiast of
winter sports

. Because of this, in the early days of the PUMA shoe factory, he produced

ice skates

,

ice hockey skates

and a bit later also 

cross-country ski boots

.

PUMA is deeply rooted in sports. And guess what? Also in winter sports. To give it a bit more detail: Between 1935 until 1948, the Dassler brothers also manufactured ice skates in their shoe factory. After they both went their separate ways, Rudolf Dassler began making his own ice skates in his PUMA shoe factory in 1949. The leather shoe part of the ice skate was made in the shoe factory, the necessary blades were bought and then fitted.
In our childhood it was great fun for me and my brothers Adolf and Fritz to ice skate and to play ice hockey on the small local lakes during winter months. So it was a matter of manufacturing ice skates in our own factory.
FROM THE PUMA ARCHIVE
Here you see a few ice skate models over time:
This was followed by the production of ice hockey skates and cross-country ski boots. Until the 1964 collection, products for both, amateur athletes and professionals were made in Herzogenaurach. Manufacturing the ice hockey boots was unfortunately very time consuming and took a lot of work, which is why Rudolf Dassler decided to stop the production in 1965.
The ice skates had a special side padding to protect against ankle injuries and a leather sole. The PUMA ice hockey skids were made out of Swedish steel.
PUMA back in winter sports
In 1981, Rudolf Dassler´s son, Armin Dassler gave it another try and began developing and producing cross-country skiing boots and textiles. However, he quickly faced a decision. The growing trend towards tennis tied up all existing production capacities at that time, which is why the production stopped with the 1986/87 winter collection.