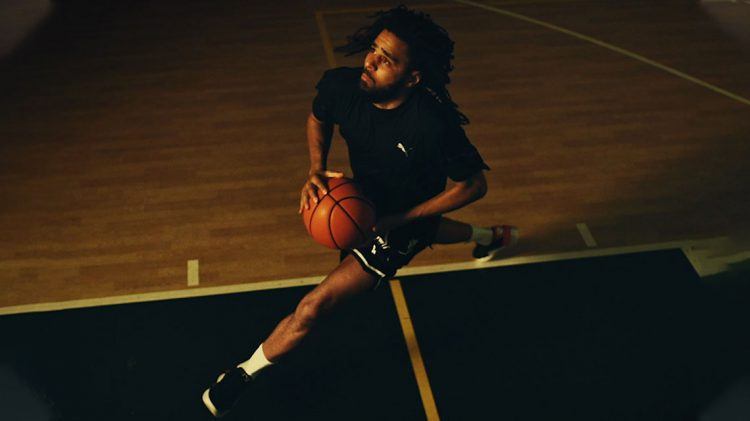 Welcome to the fam
J.Cole
Grammy-award winning artist J.Cole is joining the PUMA family
February 13, 2020
Grammy-award winning artist J.Cole is joining the PUMA family
February 13, 2020
PUMA is excited to announce its future partnership with the American rapper, songwrinter and producer J.Cole with a short film concepted and co-directed by Cole himself. 
At PUMA, we strive to understand sports as a whole culture, which means everything that surrounds sports is a part of it – be it fashion, art or music. The culture behind a certain sport is crucial to the sport itself. And this trend towards culturally-driven sports is particularly evident in basketball. This is why we are thrilled to announce the partnership with American rapper J.Cole.
The multi-year partnership was announced using a short film co-directed by the rapper himself. The spot encourages everyone to pursue their dreams and never give up, despite the obstacles faced along the way. During his youth, Cole discovered his affinity for basketball and music, which affected his future. Cole gained recognition as a rapper in early 2007 with his debut mixtape ´The Come UP´. Later on he worked with Jay-Z and produced singles for different artists. His latest achievement is the Grammy Award this year.
At PUMA, Cole will go on linking music and sports. Doing so, he will be involved in product creation, marketing campaigns and cultural guidance.
We´re excited to work with him not only on a product level but even more importantly as one of our athletes. Cole sits at the intersection of music and sport and represents everything that PUMA stands for as a brand.
The Sky Dreamer, PUMA´s latest Hoops silhouette, will hit shelves on February 13. The Sky Dreamer is a relaunch of the original style, the Sky LX, which was worn on the basketball court in the ´80s. Almost four decades later, the Sky Dreamer returns to the court infused with a touch of today's style, including a Dreamville "Dreamer" emblem, which draws inspiration from Cole's brand, Dreamville. The shoe will be available on PUMA.com and at Foot Locker in the U.S.