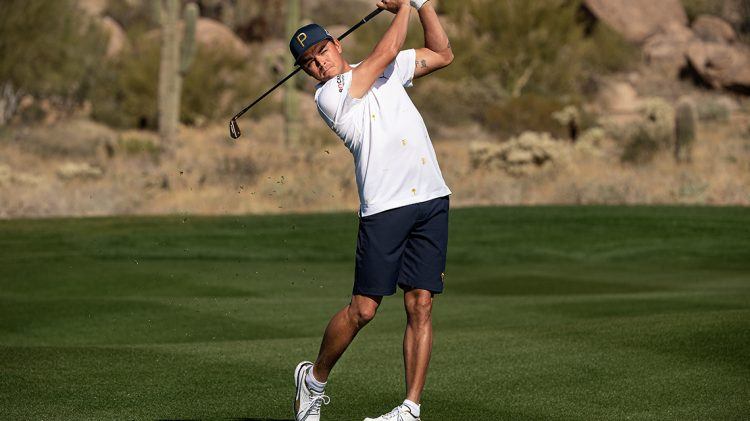 Golden
Palm
Tree
THE PUMA GOLF X PALM TREE CREW COLLECTION DELIVERS PREMIER, TROPICAL VIBES TO THE GOLF COURSE
March 13, 2021
THE PUMA GOLF X PALM TREE CREW COLLECTION DELIVERS PREMIER, TROPICAL VIBES TO THE GOLF COURSE
March 13, 2021
Welcome to the Crew! PUMA athlete 
Rickie Fowler has joined forces with PUMA Golf and world-renowned DJ, songwriter and record producer, KYGO, to bring to life a new, exciting collection –
PUMA Golf x Palm Tree Crew

. 
The collection is inspired by Rickie´s and Kygo's jet-setting, dream-chasing lifestyles.
The Palm Tree Crew (PTC) is a lifestyle brand, founded by KYGO and his manager Myles Shear, that encapsulates tropical vibes and is represented by its iconic golden palm tree ? logo. The PUMA Golf x PTC collection stemmed from a long-standing friendship between Rickie, also a long-time Crew member, and KYGO, himself an avid golfer, partnering to deliver official Palm Tree Crew gear to the golf course.
PUMA designers created the collection to capture KYGO's laid-back vibes, blending golf and lifestyle silhouettes, fabricated to perform on the course yet deliver comfort and style for everyday life. A deep navy blazer colorway and bright gold hits elevate the collection, with each piece featuring the iconic PUMA cat and Palm Tree Crew logo.
In addition to the apparel, footwear and accessories, the collaboration also includes a one-of-a-kind COBRA RADSPEED Palm Tree Crew Driver. Featuring all the key technologies incorporated in COBRA's RADSPEED drivers, this Limited-Edition version comes in a striking navy and gold colorway with the Palm Tree logo on the toe.
KYGO

, can you tell us …
How often do you and Rickie play golf together? And how many strokes do you get? 
We actually haven't ever got out on the course together! We've been good friends for a while now, but it's so hard to line up our schedules between my touring and his tournaments. I just started golfing last summer so I'm not very good yet, but hopefully I'll get to play with Rickie soon and pick up some tips.
Talk a little more about the Palm Tree Crew? How it started? 
Palm Tree Crew is our way of building a community of people who share the love for tropical vibes all over the world. It started when Myles and I began giving out the golden palm tree necklaces to our friends and when people started to pick up on it, we realized that we need to bring it to the whole world. Palm Tree Crew is a brand that looks to capture the feeling you get when you are sharing some of the best memories with your friends & family, like what I also try to do with my music. We are super excited to be bringing more of PTC to people!
What's the connection with you and Rickie besides being golf buddies?
I knew Rickie enjoyed my music and we first met up in Ibiza when I was there for a residency and he came with a few buddies after the British Open. From there we began to be good friends spending time together when we could whether it be him coming to my shows or catching up about life on tour. Rickie has really made himself a part of the crew and I'm excited to continue collaborating with him on projects we are both passionate about.
Rickie

, can you tell us …
Considering that golf and music are two different worlds, can you elaborate on how you came up with designs for the Puma x PTC collaboration and also discuss the limited edition RADSPEED driver?
I've known Kygo, Austin and Myles and been part of the Palm Tree Crew for a while now. PUMA Golf has supported me since I turned pro. It was really exciting to bring these two worlds together, to create this cool collection. It was a collaborative effort, I had a vision for what I thought this could be, and PUMA and PTC took those ideas and did a great job bringing it to life. We nailed it.
The PTC RADSPEED Driver I'm really excited about. To make this a full 360 collection with apparel, shoes, accessories and a driver is pretty special.
Who are some other people that you look to for inspiration?
Michael Joeday, Mr. Nicklaus, and MJ are very inspirational to me.
What's your favorite golf tournament to play? And which is the one you're itching to win?
The Masters and The Masters
Were you involved in the designs of the collection?
It was a collaborative effort, I had a vision for what I thought this could be, and PUMA and PTC took those ideas and did a great job bringing it to life. We nailed it.
Rickie Fowler is slated to wear the new collection during this weeks' THE PLAYER'S championship.