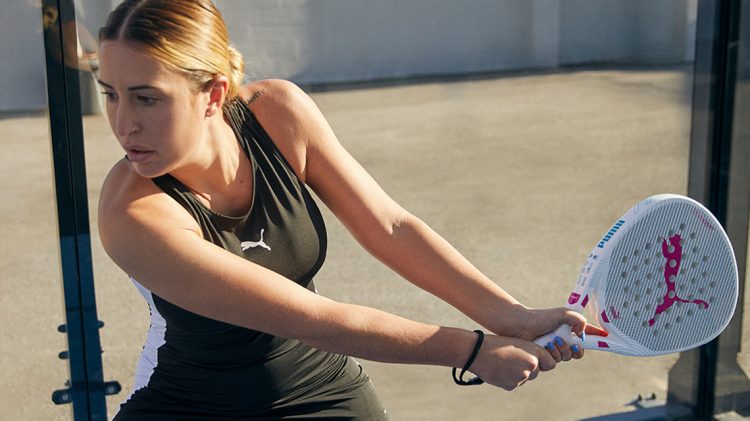 GET READY
FOR FASTER PADEL!
PUMA PRESENTS ITS NEW PADEL COLLECTION
April 8, 2022
PUMA PRESENTS ITS NEW PADEL COLLECTION
April 8, 2022
A new chapter is about to be opened! 🎾🔥 We are so excited to officially enter the world of padel now with our
FASTER PADEL

campaign and the launch of our collection for all styles and levels of play. Padel is not just a sport. It is a culture. This is why the PUMA padel collection includes everything from

shoes

to

racquets, apparel

and

accessories

. A complete line for a complete game! Take a look and also learn about our fantastic four PUMA padel athletes:

Jerónimo 'Momo' González, Victoria Iglesias, Marco Cassetta, and Xènia Clascà

. Join our PUMA FASTER PADEL movement!
ABOUT FASTER PADEL
With our FASTER PADEL campaign, we want to create a movement that supports all types of players, from professionals to amateurs. We want to push their boundaries, looking for performance, high-tech gear and fun. Padel players require high-performing products to give the MAX on court. When it's about to have pace control you need high-tech materials to absorb the impact of the ball, or lightness to speed up the game when it's needed. Plus not lossing style outside of the court. That's why we worked harder and faster to incorporate the latest and most innovative engineering to the game. To play fearless and have fun.
GET TO KNOW OUR PUMA PADEL TENNIS ATHLETES!
OUR FOOTWEAR
This line starts with the high-performance model, PUMA solarATTACK, designed for professional or advanced players. It incorporates exclusive WEBCAGE+ technology. Lightweight and flexible, it provides improved protection and ensures greater lateral and medial support.
For intermediate players who want to improve their level, we offer the PUMA solarCOURT model with excellent lateral and medial stability, lightweight EVA foam for better cushioning and energy transformation, and a layer of support in the heel for better support. This model is available in two different colours: cherry tomato and yellow alert.
This line of shoes is completed with a high-performance model: the PUMA solarSMASH. This model is available for both adults and children in three colours: cherry tomato, yellow alert, and deep orchid & porcelain, a combination more geared toward women. This model is designed for amateur or beginner players.