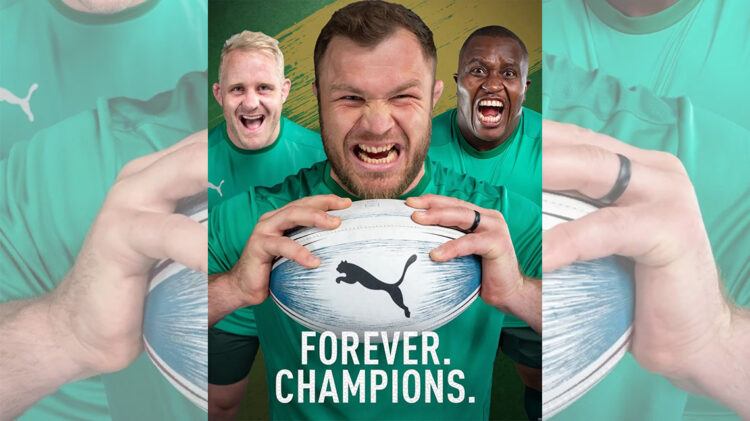 Forever
Champions
South Africa, with 11 players in PUMA boots, wins Rugby World Cup
October 30, 2023
South Africa, with 11 players in PUMA boots, wins Rugby World Cup
October 30, 2023
South Africa on Saturday beat New Zealand 12-11, in a nail-biter of a final at the Rugby World Cup to become champions for a record fourth time. With 11 players in the South African squad wearing our boots, PUMA is proud to have contributed to this remarkable success.
In the two months since the start of the Rugby World Cup in France, South Africa came second in their group and fought its way through the knockout stages with impressive victories against France and England before facing New Zealand in the final. The final was tense and extremely physical on Saturday but with four successful penalties, the springboks did just enough to take home the Webb Ellis Cup for a record breaking fourth time after 1995, 2007 and 2019.
"It's honestly unbelievable. There are so many South Africans in the stands tonight, I didn't expect that. You see everybody sticking around afterwards, you can really feel what it means to everyone," PUMA player and South Africa lock RG Snyman told reporters after the final.
"It's amazing. I really can't put it into words. All I can do is dance all night. In 2019, I got injured in the first game against the All Blacks and I worked so hard to stay in shape since then and here it is, this is it." said South Africa prop Trevor Nyakane, who like Snyman plays in the PUMA FUTURE boot.
From all of us at PUMA, congratulations to South Africa and the many PUMA players in the team!