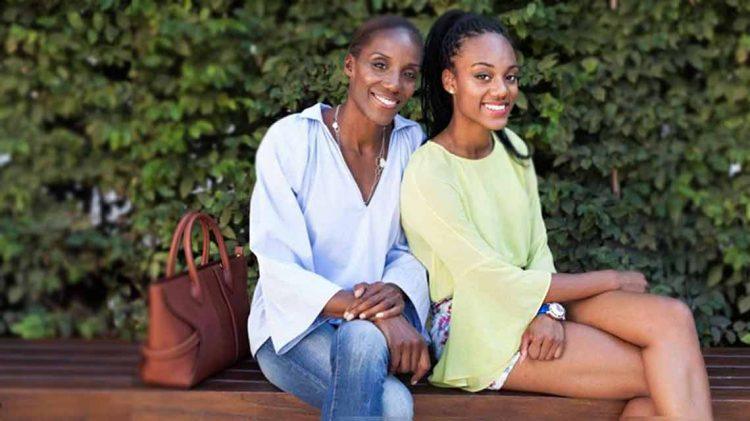 SHE MOVES US
Home work
and world records
She Moves Us - Mothers' Day Interview with Fiona May and Larissa Iapichino
May 7, 2021
She Moves Us - Mothers' Day Interview with Fiona May and Larissa Iapichino
May 7, 2021
Ahead of
Mothers' Day

, we caught up with PUMA supervisory board member Fiona May, a former World Champion long jumper, and her daughter Larissa Iapichino, who just equalled her mother's Italian indoor record and set a new U20 World Record at just 18 years of age. We talked to Larissa and Fiona about their careers in athletics, what it was like to set a new record and the importance of homework.

When both of your parents are athletes, it seems only natural to also dream of a career in athletics yourself.  But nothing was further from the truth for Larissa, who grew up a keen dancer and gymnast.

"Growing up, it was always so strange to see my mom compete, and I guess that that was the reason I didn't want to do that, because I didn't want to copy my mom," Larissa explained.

But that attitude changed when she was 13 years old and she wanted to try out something new. Larissa didn't tell her mother immediately that she wanted to go into athletics but picked a special occasion to announce her plans.

"She actually announced it when she was in England at my parents' house. She said she was going to do athletics. I thought: 'God help us!' Because I knew what was going to happen. She was going to be good because I could tell straightaway," Fiona said.

A new passion was born right away. As soon as Larissa finished school, she was anxious to go down to the track to compete. There were some arguments about getting homework done, but Fiona knew too that Larissa had made the right choice.

"I was very happy for her, but I didn't push her. Far from it," she said.

As a double World Champion and Olympic medallist, Fiona has a world of experience in the long jump but she's holding back with giving Larissa any advice about technique and training.

"I did it once and never again. She bit my head off literally," Fiona laughs. Larissa strikes a conciliatory tone: "I do ask her how I can control pressure and anxiety during the competition. We recently talked about what it felt like to compete in the Olympics as a teenager. I mean, it's fantastic, but it scares me a little. But otherwise, we don't talk about athletics at home."

This kind of support was also crucial for Fiona when she competed. While her mom was a midwife, not an athlete, Fiona knew she could rely on her. "My mom didn't interfere. And the thing is, when I went to the Olympic Games, my mom was always there. She was my rock. It wasn't like she knew exactly what I was doing, but she knew how I felt and she was always there, Fiona explains.

Larissa qualified for the Olympic Games in style with an enormous leap of 6.91 meters, which equalled the Italian indoor record set by her mother in 1998. It also meant she set a new U20 World Record. Until the last moment, she did not know her mother was among the spectators.

"She never tells me when she comes to watch but it feels really good to see her on the bleachers unexpectedly. It was the same when I set the record that day," Larissa said.

"I knew she was going to jump far. There was a competitor breathing down her neck and I knew she wanted to give more," Fiona remembers.

"I think I realized I did something amazing the second I saw the result, because I usually don't think much during the jump. I just go for it. Like it can be really long or really short. I just go for the jump and try not to think much," Larissa explains.

"So she did 6.91. Not 6.90. Not 6.92. She equalled the record," Fiona laughs. "It was pretty emotional. I now know how my mom felt after seeing Larissa compete."

2021 is a very important year for Larissa. Not only will she compete in her first Olympic Games, she will also have to do her final exams at school. That means a strict schedule of school, training and homework. Fiona still insists that Larissa spends too much time on social media when she should be studying. But can't we be a bit more forgiving on a teenager with such a packed agenda?

"I know. I know. But, you know, I'm the mother here and I'm sorry, education is very important. She knows I'm really tough on her. I really want her to do well, not only physically but also at school. But I'm really proud of her," Fiona smiles.

For Mothers' Day both say they will take it easy: "I don't want to stress Larissa out, to tell you the truth. Maybe when she gets older, she'll probably celebrate Mother's Day like I do with my mom. It's nice to hear your daughter say 'Happy Mother's Day'," Fiona adds.

From all of us at PUMA: Happy Mothers' Day to all the mothers out there and join us in wishing Larissa "In bocca al lupo" (good luck) for her final exams at school and her first Olympic Games!!