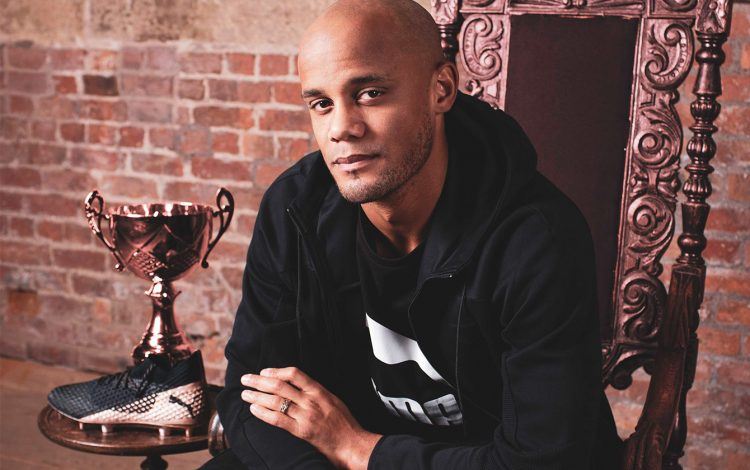 Kompany strikes
with PUMA Future
PUMA's thunderous Vincent Kompany puts ManCity in pole position for English title
May 7, 2019
PUMA's thunderous Vincent Kompany puts ManCity in pole position for English title
May 7, 2019
PUMA player and Manchester City captain
Vincent Kompany

scored a terrific goal in the English league last night, sealing his club's narrow victory against Leicester City, which could prove crucial in the

title race.
Kompany, wearing the PUMA Future, came out of nowhere to thump the ball into the net some 25 yards from the goal, after his team had been trying to crack Leicester's defense for 70 minutes.
Man City manager Pep Guardiola said he was nervous when he saw Kompany going for the long distance shot. "I said, don't shoot Vinnie," Guardiola told reporters after the match. Kompany's team mates could also be seen yelling at him not to strike from such a long distance. But when the ball hit the net, Manchester's Etihad Stadium erupted in celebration.  "Vincent is an incredible player," Guardiola added.
"In the big moments I always feel I'll do something," Kompany said after the match. "Today was a bit frustrating as everybody was telling me not to shoot, I could hear it. And I said, hold on a second, I've not come this far in my career and have young players tell me whether I can take a shot or not. And I just took it."
With the 1-0 victory over Leicester, Man City, which will be wearing PUMA next season, could clinch the English title in the final match of the season against Brighton on Sunday. City could still be leapfrogged by second-placed Liverpool, but only if Liverpool wins and City either draws or loses.