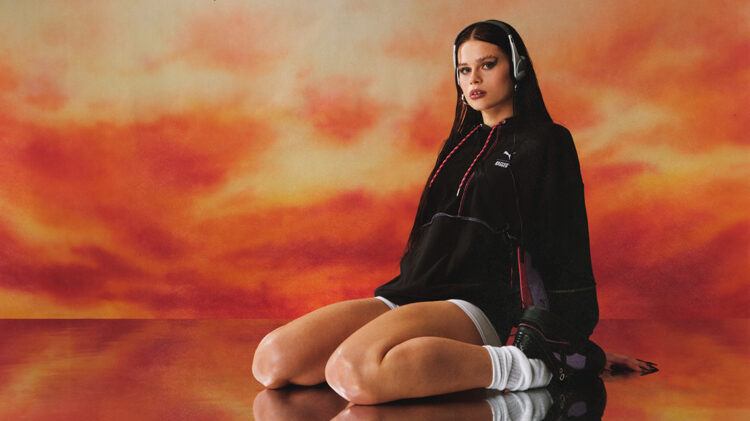 Get the Look
Get the Look:
PUMA x THE RAGGED PRIEST
Creative Clash
April 17, 2023
Creative Clash
April 17, 2023
The first-ever partnering between PUMA and British brand The Ragged Priest births an
expressive collection which sits poised in a distinctive niche between subculture and sportswear.

Combining the signature design styles of both brands, the series features neon and classic black asymmetrical stand out items that

seamlessly clash and yet somehow manage to still work together.

We've styled items from the line for an everyday look that strikes a pose on the edge.
The Shoes
Paying homage to The Ragged Priest's grungy roots and unapologetic moods, OG PUMA silhouettes like the Slipstream and Mayze Stack (seen in this outfit) have been taken and remodeled with contrast stitching and asymmetrical elements to convey a modern perspective on an 80s-inspired kick. With vivid colouring offset by neutral black and white shades, metallic eyelets, recycled materials and subtle co-branding, they're a fresh take on a fan favourite.
The whole Outfit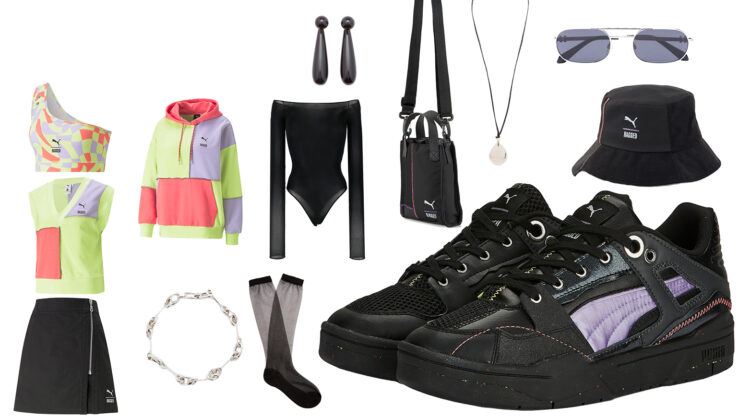 The Outfit
This disruptive collection has a distinct flavour of grunge with hardware detailing and aspects of worn-in knit, hallmarks of the brand that has been shaking up British fashion for the last 15 years. The collab pays homage to this heritage and applies it to characteristic PUMA sportswear for a series of wearable essentials ─ think hoodies, sweats and skirts ─ featuring warped neon prints fused with black cult classic silhouettes. Psychedelic patterns are offset by muted blacks and greys with subtle co-branding diffused throughout.
Starting from the base we were drawn to the overlapping A-line twill skirt from the line, with its statement-making asymmetric silhouette and silver-toned hardware that sets the tone for the whole look. Moving up, we became a little obsessed with the collection's vibrant neon print and layered it several times. At the core comes the vivid single-shouldered crop top with its trippy all-over distorted check motif. Then, to agitate all the colours up top, we broke it up with a sheer black long-sleeve bodysuit that leans into the grunge-inspo and emphasizes the asymmetry of the crop top. If you prefer to keep it simple, you can stop here, but if you want to take it a bit further add the blended French terry vest for some warmth and extra style. With contrast topstitching and distinct colour blocking it gives a delicious twist on a preppy classic. Once again, feel free to stop right there, or go the extra mile and layer on the matching patchwork hoodie (extra baggy please) for that slouchy final touch that serves a dash of extra attitude.
The Accessories
Accessories are always a great opportunity to express your individuality, and this drop is completed by several small but powerful adornments. Up top it was a no-brainer to go with the deconstructed bucket hat that merges sport and grunge by using mixed materials and bright zigzag stitching. Then we layered up some unique necklaces ─ a simple geometric choker made more complex with interwoven links, and an elegant silver pendant on a satin cord which can also hold your favourite scent, adding another sensory aspect to the outfit. Black onyx earrings dangle down, adding a flourish of punk, and black sheer socks on the feet match the bodysuit for a bit of edgy allure. Finally, the mini tote bag hangs from the shoulder with zip detailing that echoes the skirt and that same zigzag stitching we see in the hat, giving an offhand sense of cohesion.
The brand new pairing between PUMA and The Ragged Priest
celebrates the British fashion brand's grunge roots,

apologetically melding it with sportswear flair. Inspired by self-expression and subculture niches,

this is a collab that was 'made in heaven, with a touch of hell'.

 🛍️ Shop the Collection now on puma.com !