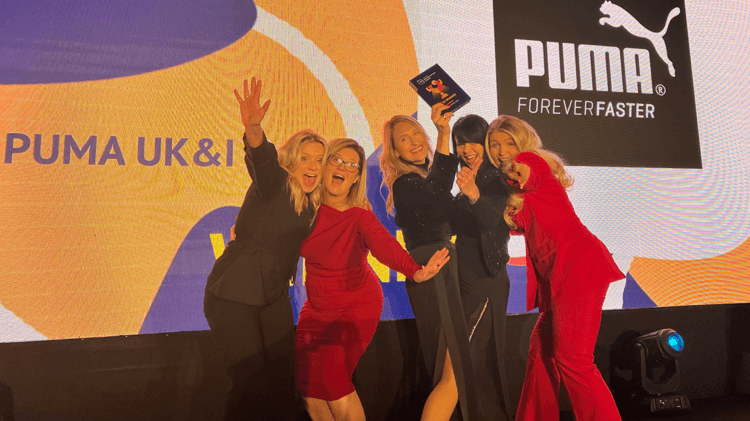 Celebrating our Female PUMAs
PUMA UK&I Awarded Team of the Year at the Great British Businesswomen Awards 2022
February 21, 2023
PUMA UK&I Awarded Team of the Year at the Great British Businesswomen Awards 2022
February 21, 2023
A huge congratulations to our UK&I PUMA women who were crowned with the Team of the Year Award at the Great British Businesswomen Awards 2022!

The Great British Businesswomen Awards (GBBA) celebrates and recognises inspiring businesswomen across the UK, and our UK&I P&O team's achievements were put into the spotlight. CATch Up spoke with

Leigh Gannon

, head of P&O UK&I, to discuss why our PUMA businesswomen are deserving of the award.

Located at De Vere Grand Connaught Rooms in London, the event honoured women in business and fostered the next generation of female business leaders. PUMA UK&I's P&O team was nominated for the Team of the Year Award, with their win highlighting the hard work of our female employees. UK&I P&O employees Leigh Gannon, Tammy Thornton-Wood, Magdalena Gajdur, Charlotte Clarke-Brown, Roz Noden and Bryony Humm are the proud winners of the award!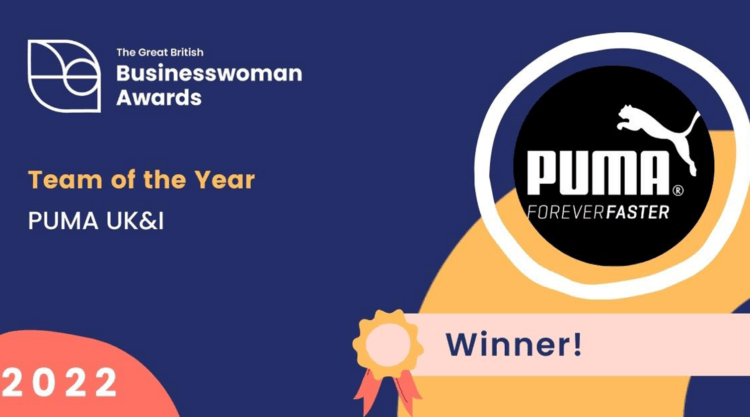 The Great British Businesswoman Awards celebrates women changing the face of business in the UK. In your opinion, why is PUMA UK&I deserving of the award?  
Leigh: One of our strategic priorities is to support women in business. For us this means leading the team with heart. To care and want the best for them, supporting and mobilising their aspirations, aligning their personal goals with the business goals. We encourage them to be GOal getters, knowing that your network is your net worth, and we coach teams to make investments in relationships, be authentic and kind to best support our most valuable assets… our people. Being vulnerable nurtures trust and I believe being gentle is as important as being strong. We want our teams to love coming to work, of course there'll be not so wonderful days, but that's life and just like families we create a framework so that we know how to make decisions, have disagreements, find consensus, and celebrate successes. We champion innovation, doing things differently and challenging the status quo.
What can you share about our UK&I female employees that demonstrates why they won the award? 
Leigh: Our team DNA is vastly different with a number of us from around the globe, you can imagine our cognitive diversity, it's priceless. We constantly check each other, support, challenge and cheerlead each other. We have created unwavering trust and refer to this as our VAULT. We will always have each other's back and call time if we need to verify information. We have an amazing measured mix of drive, innovation, action, affability which allows us to deliver best in practice support to our 400 + employees.
What does the award mean to you and our UK&I PUMA family?
Leigh: Two years ago, we established our new Team Purpose, really interrogated what we wanted to achieve, what the business and our people needed from us. We have introduced a leading with heart program which we are taking our entire business through. This program facilitates better behavioural choices and allows individuals to understand why they behave the way they do and what impact that has on others in the work place and also in their personal lives. The feedback has been amazing and the awareness of how we treat each other is always top of mind. This means a shift, a real foundation for continued growth, opportunity and space for women, in fact everyone, to thrive and be the best version of themselves.
What do you hope to see in the future?
Leigh: We will see many more advocates for women amongst us, those who are willing to change the narrative of a traditionally patriarchal system, allowing women to flourish and be stronger together.