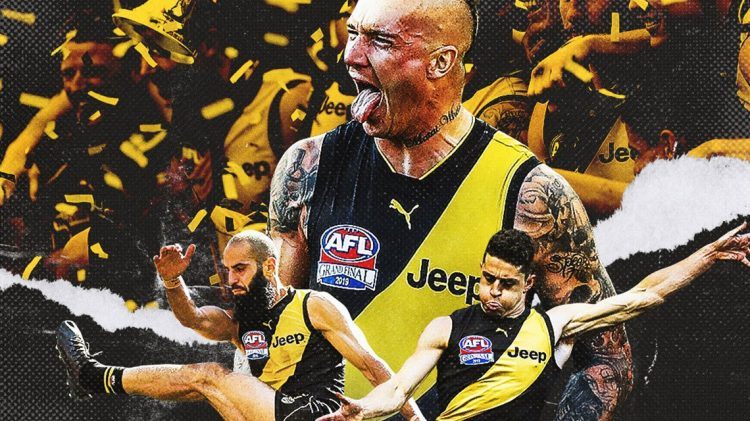 PUMA's Tigers
beat the Giants
PUMA Team Richmond Tigers win the Australian Football League's Grand Final
September 30, 2019
PUMA Team Richmond Tigers win the Australian Football League's Grand Final
September 30, 2019
It was a master class of sustained pressure, untiring defense and exquisite forward craft:
On Saturday, PUMA Team Richmond Tigers won the
Australian Football League's Grand Final,

beating the Greater Western Sydney Giants and taking the premiership for the 12th time!
Having had a slow start to the 2019 season, the Tigers were long sitting outside the top 8 teams in the competition. With key players being injured, the road leading to the finals was a tough one.
Thanks to their relentless commitment and a great team effort, with players stepping up and supporting each other, the season came their way in the end. In front of 100,014 spectators, the Tigers pulled off an outstanding win against Greater Western Sydney, the Giants, with a final score of 17.12 (114) for the Tigers and 3.7 (25) for the Giants, meaning the Tigers scored 17 points worth 6 points and 12 points worth 1.
Best on the ground, receiving the Norm Smith Medal, was Richmond Tigers' Dustin Martin. He cemented his status as one of the all-time greats on Saturday by collecting 22 disposals, 12 contested possessions and kicking four goals.
Footy explained
Australian Rules Football, or Aussie rules, or footy is a contact sport played between two teams of 18 players on an oval-shaped field. Points are scored by kicking the oval-shaped ball between goal posts worth 6 points or between goal and behind posts, worth 1 point.
In Australia, footy has the highest spectator attendance and television viewership of all sports. The Australian Football League (AFL) Grand Finale is held annually at the Melbourne Cricket Ground and is the highest attended club championship event in the world.
PUMA and the Tigers
PUMA teamed up with the Richmond Football Club, known as the Tigers, in November 2016 becoming the club's official apparel partner. Since they partnered, PUMA and the Tigers have won two premierships (2017 and 2019) and made the preliminary final in 2018.